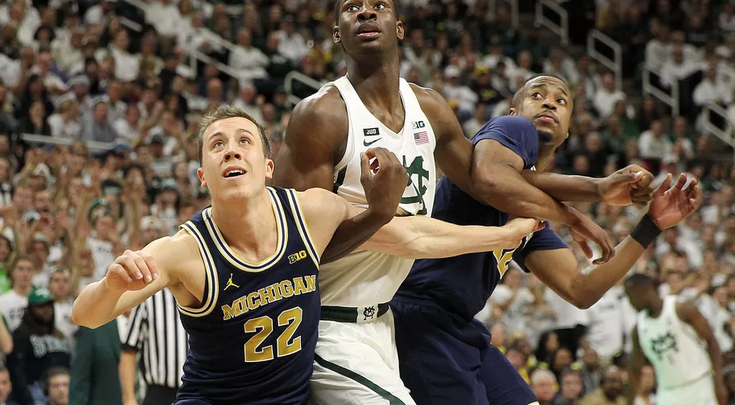 Sunday's Big Ten Championship Game will be an in-state rivalry matchup between the no. 6 Michigan State Spartans and no. 10 Michigan Wolverines. After Michigan State won both meetings during the regular season, the Spartans are 1-point favorites in the Big 10 Championship Game.
After losing their regular season finale to Michigan State, the Wolverines have quickly gotten back on track during the Big Ten Tournament. Michigan has manhandled both Iowa and Minnesota, a pair of NCAA Tournament teams, winning those two games by a combined 48 points.
The Spartans, meanwhile, have played slightly more competitive games against Ohio State and Wisconsin the past two days. With those two wins, Michigan State has won nine of their last 10 games coming down the stretch, including their two wins over Michigan.
It's worth noting that both teams are probably locked into being a no. 2 seed in the NCAA Tournament no matter what happens in this game. However, the intensity level should remain high for both sides.
A Little Thin
As well as the Spartans have played late in the season, it's hard not to be a little worried about their lack of depth, especially as they play their third game in as many days. With Joshua Langford out for the season and Nick Ward only just returning from injury, Michigan State's starters have played major minutes during the Big Ten Tournament. That could make the Spartans a little vulnerable to fatigue.
At the same time, Michigan State isn't getting much scoring from their bench. If you take away Langford and Ward, Cassius Winston is the only player averaging double figures on the season. As mentioned Ward has returned from injury, but he's not yet back up to full speed and playing at a high level. Until Ward starts to settle in, the Spartans need complementary players like Matt McQuaid, Xavier Tillman, and Kenny Goins to rise to the occasion and make a significant contribution.
The Missing Link
The Wolverines are also trying to get one of their key players back in the groove. Charles Matthews missed the last three games of the regular season and hasn't made much of an impact during the first two games of the Big Ten Tournament. Michigan has been vulnerable this year when Matthews, Ignas Brazdeikis, or Jordan Poole have an off night. That's been the case in both of their losses to Michigan State, as Matthews missed one game and scored just four points in the other. Needless to say, he needs to get it going for the Wolverines to be at full strength.
The silver lining is that Michigan hasn't needed much from Matthews the past two games. Complementary players like Jon Teske and Zavier Simpson continue to step up down the stretch. Isaiah Livers has also emerged as an extra offensive threat late in the season. However, none of those three left their mark on the season finale against Michigan State, and if Matthews isn't back to his normal productivity on Sunday, at least one of them will need to have a big game to help out Brazdeikis and Poole.
Who Wants It?
After losing twice to their in-state rivals during the regular season, the Wolverines will want this game just a little more. They also have a more balanced attack, especially if Matthews can get back on track. In a virtual PK, bet on Michigan to win the Big 10 title game.