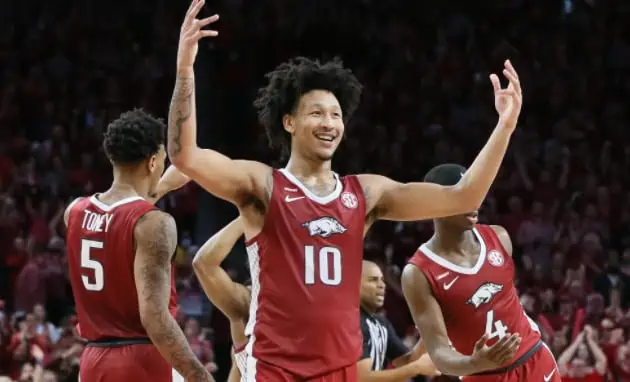 Mark Few has earned yet another #1 seed but the NCAA Title favorites have looked less than dominant coming into the Arkansas vs Gonzaga betting preview. The Bulldogs were up just a bucket in the 1st half against #16 Georgia State before turning it on before tallying a 93-72 win as -22.5 favorites. The 'Zags barely outlasted Memphis 82-78 in the round of 32.
Arkansas is the last SEC team remaining in 2022 March Madness, but some would argue that's been more about their draw than their quality of play. The Razorbacks beat #13 Vermont 75-71 in round one (as -4.5 favorites) and then toppled #12 New Mexico State 53-48 last Saturday failing to cover the -6.5 number. What will Thursday bring for the 'Hogs?
Good Matchup for Arkansas?
Everybody knows about the mountains in the middle for Gonzaga, the 7'2″ Chet Holmgren and the 6'10" Drew Timme. The Razorbacks believe they have an NBA 1st round talent of their own in Jaylin Williams. The 6'10", 240 pound sophomore averaged 11.5 points and 12.5 rebounds in the 1st round.
Arkansas will need Williams to stay out of foul trouble because they get pretty thin after him, but the Razorbacks' guard play is also a strength. JD Notae averaged 17.5 ppg last weekend, Stanley Umode had 21 points vs. Vermont and averaged 8.5 rebounds in the first two games, while Au'Diese Toney had a rough first two games (6.5 ppg), but had scored 17+ in three games prior.
Timme Time Again?
One of the most outstanding players in the 1st and 2nd rounds last weekend had to be Gonzaga's junior forward Timme. The Bulldogs probably don't advance without him, as he had 32 points in round one after a tight 1st half with Georgia State and then led the rally past Memphis with 21 of his 25 points coming in the 2nd half.
Holmgren was no slouch either last weekend, tallying 19 points and 17 rebounds vs. Georgia State and then 9/9 against Memphis. Guard Andrew Nembhard had 23 points vs. Memphis out of the underrated Gonzaga back court.
Arkansas vs Gonzaga Betting Information
Gonzaga opened as a -8.5 favorite but that is up to -10 prior to Thursday's tip-off (7:09 PM ET, CBS). The assumption is that Gonzaga just had a rough 1st weekend and will bounce back big in the Sweet 16. On the flip side, the fact that Arkansas beat just a #13 and a #12 seed to get to this spot – kind of like they did last year in taking down #15 Oral Roberts to get to the Elite 8. 60% of the public are backing the Bulldogs.
Arkansas vs Gonzaga Betting Pick
This one all comes down to if Williams can stay in the game for Arkansas. One of the reasons Memphis struggled in the 2nd half vs Gonzaga was because their leading scorer, rebounder, and inside presence Jalen Duren played just 19 minutes due to foul trouble. Three Tigers starters drew 4 fouls, but Arkansas hopes they can avoid that as the #14 adjusted defensive efficiency unit in the country.
Ultimately Arkansas has the back court that can keep them in it, and a couple big bodies off the bench they can throw out there to at least get in Timme and Holmgren's way.
Free Pick: Arkansas +10