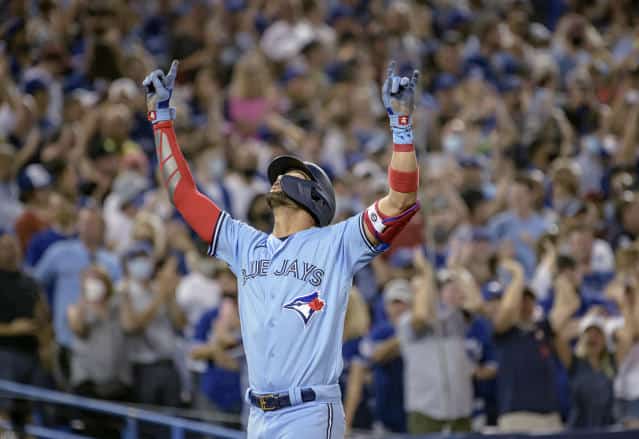 Toronto has a great chance to close the gap in the wild card hunt heading into the August 7th Red Sox at Blue Jays matchup. Toronto currently sits four games back from wild card leading Boston, and is just 2.5 back from Oakland for the second spot.
The Jays and Sox play a doubleheader on Saturday at the Rogers Centre, with Toronto taking the series opener 12-4. Boston is now just 2-8 over their last 10, while the Blue Jays are 7-1 on their current home stand, their first actually in Toronto this season. Oddsmakers have the Blue Jays as -190 favorites in game one.
What Has Happened to Boston?
The Red Sox offense looked a little better on Friday, but it was the same result in the 12-4 loss. The Sox had been held to 2 runs or less in 3 of 4 and only managed 2 over 5.0 IP against Toronto starter Alek Manoah. Things really got ugly for Boston in the 5th when Toronto blew the doors open with a 9-run frame.
Boston will also lose J.D. Martinez for the double header as he heads to the COVID related IL. Not that it's a huge loss, as Martinez was just 4 for his last 21 (.190). Enrique Hernandez and Alex Verdugo are doing their best to keep the Red Sox afloat, with both hitting better than .375 over the past week.
Nathan Eovaldi had a meltdown in the 5th on Friday, allowing 7 ER. Nick Pivetta (8-5, 4.57 ERA) will try to avoid that same fate in the August 7th Red Sox at Toronto meeting, hoping Boston can save some relievers for the nightcap. Pivetta has allowed 15 ER over his last four starts though, and has only pitched out of the 5th once over that span.
Blue Jays Streaking in Positive Direction
There's a playoff-like atmosphere at the Rogers Centre, with nearly 15K fans using their pent up energy to make a difference. This is the first actual home stand for Toronto, who started their season in Florida and Buffalo after being banned from Canada due to COVID.
George Springer stayed hot on Friday night, and now has 8 RBI over the past four games. Springer is hitting .423 over the past six games, picking up some slack for Vlad Guerrero, Jr. who 4 for his last 22. Springer is 4 for 5 in his career vs. Pivetta, while Bo Bichette is 7 for 12 (.583) vs. the Boston starter.
Robbie Ray (9-5, 3.04 ERA) goes for Toronto, trying to keep the hot home streak going. The left-hander is on a nice stretch, allowing just 5 ER total over his last 5 starts. Ray makes his first start of the season against Boston in game one.
Free August 7th Red Sox at Blue Jays Pick
This one feels like the perfect storm for a trap game. Toronto is killing it at home, Boston is in a huge rut, and Pivetta has struggled in his last couple starts. The Red Sox are also without Martinez. The Blue Jays still just hit too well against Pivetta (.356 in 73 team AB) to go against in this one.
Blue Jays 8 – Red Sox 3
Free Pick: Blue Jays -1.5 (+115)