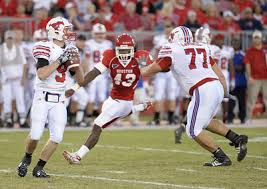 In our free college football pick Houston visits SMU in a game that features two teams from the American Athletic Conference (AAC). The #11 Cougars have a conference record of 3-1 and an overall mark of 6-1, while the Mustangs are 0-2 in AAC play and 2-4 overall.
Houston beat #3 Oklahoma 33-23 in their first game of the 2016 season. They've also taken down AAC teams Cincinnati 40-16, Connecticut 42-14, and Tulsa 38-31. Their one conference loss was to Navy 46-40. The Mustangs have played one nationally ranked team, #23 Baylor. They lost to them 40-13. Their conference losses were to Temple 45-20 and Tulsa 43-40. That's where these two teams have been. The questions concerning this game focus on determining just how much better Houston is than SMU.
Houston Cougars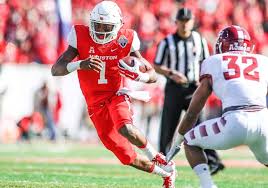 Here's the thing about this game. In our free college football pick Houston visits SMU the Cougars are strong on both sides of the ball. They are averaging 42.7 PPG and allowing opponents only 18 PPG. Compare those basic stats to the Mustangs who are scoring 23.2 PPG and giving up 32.7 PPG.
For Houston senior QB Greg Ward Jr. is an amazing offensive force. He has tossed 11 touchdown passes and run for six more scores. Ward is completing 70.1% of his throws. He has tossed five picks and been sacked 11 times, but despite those facts he's been amazingly productive. Ward has some very fine receivers to throw to including Linell Bonner (55 REC, 653 YDs, 11.9 AVG, 2 TDs) Steven Dunbar (33 REC, 480 YDs, 14.5 AVG, 3 TDs), and Chance Allen (33 REC, 442 YDs, 14.3 AVG, 2 TDS). Plus, the Cougars have some fine additional rushing threats in Duke Catalon, Mulbah Car, and Dillon Birden. Together they have nine rushing touchdowns while together averaging 4.3 YPA.
SMU Mustangs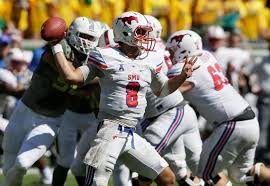 For SMU freshman QB Ben Hicks has been inconsistent. He's thrown six touchdown passes, but has also tossed nine picks and been sacked 10 times. He's completing 59.1% of his passes. The air attack is thin on this team. This is partly due to Hicks and, also, to the lack of solid receivers from which he can choose.  WR Courtland Sutton (30 REC, 590 YDs, 19.7 AVG, 4 TDs) is Hicks' favorite pass-catcher.
Braedon West anchors the SMU running game. He has scored three times, while gaining a total 521 yards for an average of 5.4 YPA. The thing about the SMU offense is it's not quite good enough to be competitive in this game. They don't have the depth or talent to match what the Cougars will hand them. Plus, Houston's defense is fairly strong. We expect them to limit the Mustangs' ability to move the ball down the field.
Our Free College Football Pick Houston Visits SMU
Although the spread has the Cougars at -21.5, we still like Houston in this game. They're a superior team with a deep and talented bench. We think they will control possession and put a lot of pressure on SMU freshman QB Hicks. Kickoff is at 7:30 p.m. ET.
Your Free College Football Pick Houston Visits SMU: Houston at -21.5