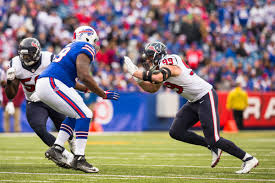 Our Buffalo vs Houston pick starts the 2019-2020 NFL Playoffs. Along with this Buffalo vs Houston prediction, we have the other AFC Wild Card game that offers the Tennessee Titans playing the New England Patriots. This spread pick has the Houston Texans favored by three points. This season, the Buffalo Bills (10-6 Overall, 6-2 Away) finished second in the AFC East to earn a wild card berth. The Houston Texans (10-6 Overall, 5-3 Home) are in this due to their having won the AFC South. This AFC Wild Card game is scheduled for Saturday, January 4, 2020 at 4:35 pm ET. The game will be played at NRG Stadium in Houston, Texas.
Buffalo vs Houston Pick – Regular Season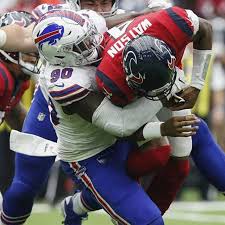 This season, the Bills put together two three-game winning streaks. They started the season 3-0 and then ran off three-straight wins in November. Big wins for Buffalo this season include an early 14-7 victory against Tennessee and late season wins against Dallas (26-15) and Pittsburgh (17-10). However, there were some big losses. Specifically, Baltimore defeated Buffalo 24-17 and New England took them down twice.
Throughout the regular season, the Texans stuck to the following pattern, a loss followed by two wins. They started the season with a 30-28 loss to New Orleans. After that loss, they beat the Jacksonville Jaguars and LA Chargers. The team managed to take down three of this year's playoff teams. Houston surprised Kansas City 31-24 and New England 28-22. They also beat Tennessee 24-21. However, in the last week of the season, the Titans came back and defeated the Texans 35-14.
Bills and Texans – Team Stats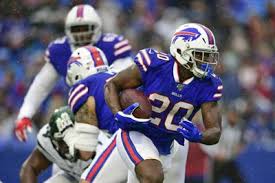 Interestingly, Buffalo's road stats are better than their overall numbers. On the road, the Bills are averaging 21.50 PPG. Comparatively, that's about a point better than their overall average. Also, when on the road, they are holding teams to fewer points. That number comes to 15.63 PPG. Overall, they're allowing 16.19 PPG. The Bills are holding teams to 195.13 YPG in passing. If they can do that against Houston today, which is averaging 242.7 air YPG at home, the Bills will have a chance to win. Meanwhile, the Buffalo offense is posting 123.25 rushing YPG and 217.25 passing YPG.
The Houston offense at home is scoring 23.63 PPG and their defense is giving up 24.50 PPG. This team can mix it up when it comes to offensive yards, as they are averaging 242.75 YPG in the air and 119.0 YPG on the ground. On the other side of the ball at home, the Texan defense has been allowing opponents 241.13 YPG in passing and 125.25 YPG in rushing.
AFC Wild Card – Players and Matchups
We think that this is a good matchup for the Bills. Buffalo needs to do a few things, like get to Watson, to win. But they look to have a defense that can do that. At the same time, the Texans are motivated, sound on offense and defense, and at home. All of those elements should actually be in their favor.
Buffalo Bills Players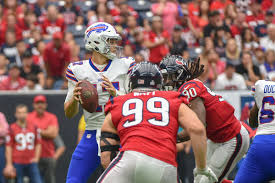 For the Bills, QB Josh Allen has passed for 3,089 yards and 20 TDs. Allen has been sacked 38 times, and he's thrown nine interceptions. He's completing 58.8% of his passes. Allen also has nine rushing TDs. The receiving unit, which is led by John Brown, is solid. Brown has 72 receptions, 1,060 yards, and six TD catches. RB Devin Singletary, who's averaging 5.1 YPA, has gained 775 yards over a dozen games. RB Frank Gore has rushed for 599 yards and two scores while averaging 3.6 YPA.
The Bills defense has recorded 44 sacks, 14 INTs, and 16 FF with nine fumbles recovered. Rookie DT Ed Oliver has recorded five sacks and seven TFL, while DT Jordan Phillips has made 9.5 sacks and 15 TFL. Also, DE Shaq Lawson brings 6.5 sacks and 17 TFL to this game. Corner Tre'Davious White leads a sound secondary. He's grabbed six picks, defended 17 passes, and forced two fumbles.
Houston Texans Players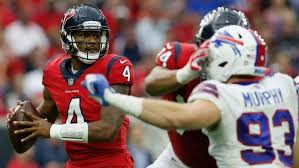 Texan QB Deshaun Watson is an offensive force. He's passed for 3,852 yards and thrown 26 TDs, while rushing for 413 yards and scoring seven ground TDs. Two receiving unit players have caught seven TD passes each, WR DeAndre Hopkins and TE Darren Fells. Hopkins leads the team with 104 catches and 1,165 receiving yards. RB Carlos Hyde, who heads the ground attack, has 245 carries, 1,070 yards, and six TDs.
The Texans' stats include 31 sacks, 12 interceptions with two going for scores, and 14 FF with 10 recovered. They also have 75 PD. DE J.J. Watt is back. Watt, who played eight games before being injured and undergoing surgery, recorded four sacks and 6.5 TFL. LB Whitney Mercilus has accumulated 7.5 sacks, 14 PD, four FF, and two INTs. Safety Tashaun Gipson Sr. has three picks and posted eight PD. LB Zach Cunningham tops the team with 99 solo tackles and 142 total tackles. He's recorded 9.5 TFL and two INTs.
Bills and Texans Assessment
Our Buffalo vs Houston pick notes the following:
QB Allen can bring it
QB Watson is a major threat
Buffalo defense is outstanding
Houston is deep on D
Bills are a solid road team
Our Buffalo vs Houston Pick
Here's how our Buffalo vs Houston pick sees this game going. Houston and Buffalo can both score on the ground and in the air. The Texan offense can explode at any time and rack up points. However, Buffalo's defense is stalwart and dependable. We're taking the underdog in this one. Our pick is the Bills at +3.0. Be sure to see our over/under pick for the Buffalo Bills vs the Houston Texans as well as our picks for the Tennessee and New England matchup. Those will be online soon.
Summary – Buffalo vs Houston Spread Pick </h3
Buffalo Bills at +3.0