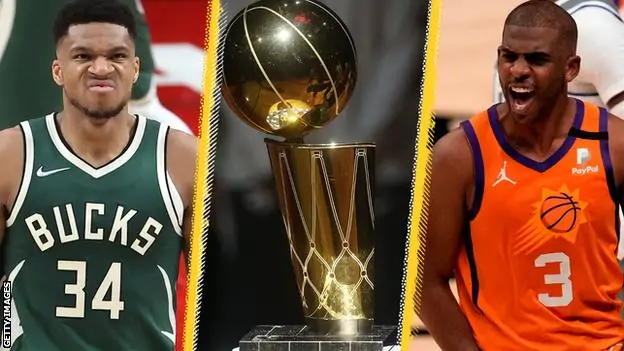 Heading into the 2021 NBA Finals game 1 matchup the absolute biggest question is whether or not Giannis Antetokounmpo is going to take the court for the Bucks. The 2X MVP looked like his season might be over after injuring his knee late in the Hawks season, but has been upgraded to questionable for Tuesday's tilt.
Phoenix is a -5.5 favorite in game 1, coming off an impressive win over the Clippers in the Conference Finals. The Suns are -189 to win the series for their first ever world title, with the Bucks +160 trying to capture their 2nd championship in franchise history.
Giannis Or No?
It could be gamesmanship, but the status of Giannis Antetokounmpo has been upgraded from doubtful to a game time decision heading into 2021 NBA Finals game 1 betting. The Bucks have great value getting +5.5 points here if Antetokounmpo can play, as he had 30+ in 7 of 8 previous postseason games before getting hurt in game 4 against Atlanta.
Of course the Bucks still went on to advance past the Hawks even without their perennial MVP candidate. Milwaukee actually looked very good in tallying a 123-112 and 118-107 win over Atlanta, finding a lot of balance and their usual solid defense that was 6th in efficiency during the regular season.
In game 5 against the Hawks Brook Lopez led the way with 33 while Khris Middleton had 26/13/8 and Jrue Holiday had 25 points and 13 assists. Middleton and Holiday were good again in game 6, combining for 59 points. Milwaukee may be in a good spot even if they decide to rest Antetokounmpo for game 2.
Is Now the Time for Paul?
Phoenix has plowed through the Lakers, Nuggets, and Clippers to get to their first NBA Finals since 1993. It's the first trip to the Finals for Chris Paul in his 16 year career, and the Suns' Jae Crowder is the only player on each team who has ever made it this far in the postseason.
So is this a season of destiny for CP3? He's the +160 favorite to be named NBA Finals MVP, and most recently dropped 41 in the series clinching game vs. LAC last Wednesday. That means Phoenix is well rested, and at home where they were 27-9 during the regular season and have gone 6-2 in the playoffs.
Devin Booker (+250) has the second highest odds to be named Finals MVP. Booker had a couple 30+ point games vs. the Clippers but the real x-factor for this series might be Deandre Ayton. The former #1 pick cleaned up on the glass vs. LAC, averaging almost 14 boards/game.
Free 2021 NBA Finals Game 1 Pick
Tuesday night's tilt could be a close one, as both regular season meetings were decided by a single point. The Suns won both of those and Milwaukee was the favorite in each as well. Antetokounmpo averaged 40 ppg vs. the Suns this year, so obviously getting him in the lineup would be a huge boost.
Even if Antetokounmpo cannot play, Milwaukee has shown some nice balance in the last two games vs. Atlanta. The Bucks have more than enough depth to keep this one close, and the NBA will want a tight contest to get people glued into this battle of smaller market teams.
Bucks 107 – Suns 108
Free Pick: Bucks +5.5