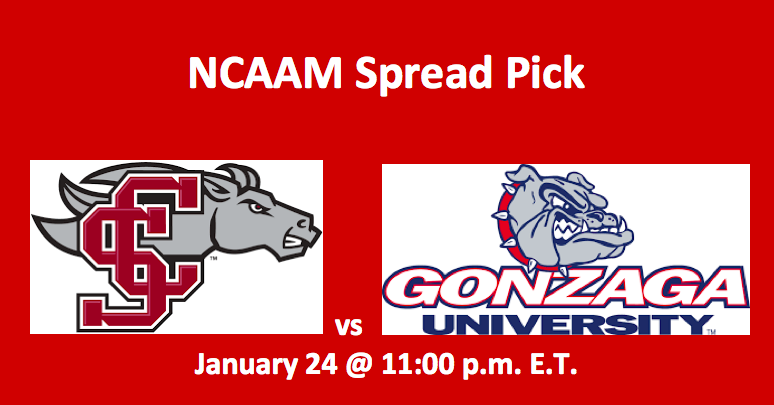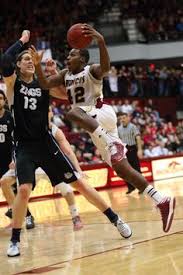 What can you say about this meeting between these two Mountain West teams, the #4 Gonzaga Bulldogs (18-2 Overall, 5-0 MWC) and the unranked Santa Clara Broncos (11-9 Overall, 3-3 MWC)? The Zags are first in the conference, while the Broncos, with a 3-3 league record, sit right in the middle in fifth-place. Our college basketball Broncos vs Bulldogs pick has Gonzaga heavily favored at -21.
Gonzaga's two losses this season came one after the other. On December 9, they lost at home to #7 Tennessee 76-73. Then on December 15 they traveled to North Carolina, losing to the #12 Tar Heels 103-90. Since that last loss, the Bulldogs have run off nine straight wins. Their last game was at Portland where they won 89-66.
Santa Clara started their season at 3-7. From December 9 through January 3, the Broncos won six straight games. That streak ended when on January 5 they traveled to Gonzaga. SCU lost that contest 91-48. In their last five games, the Broncos are 3-2. They last played January 19, beating Pacific 69-57.
What the Stats Foretell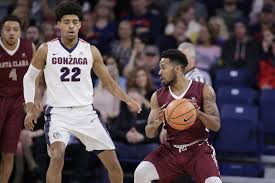 In our college basketball Broncos vs Bulldogs pick, the Zags dominate numerous statistical categories. Tonight's visiting team is averaging 91.1 PPG and holding teams to 67.7 PPG. Compare that to Santa Clara's 70.8 PPG in offense and 70.3 on D. Gonzaga dominates every basic statistical category. They top the Broncos in FG% (52.4%-to-45.9%), RPG (39.8-to-34.3), and APG (18.7-to-14.1). They are also better in BPG (5.7-to-3.7) and STPG (7.6-to-4.5).
Edge: Gonzaga
ATS Trends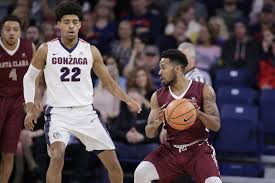 When these two teams first met this season, Gonzaga took down SCU by 43 points. This season overall ATS, the Dogs are 14-6-0 and over their last 10 games, they are 7-3-0. The Broncos are 12-7-0 against the point spread and 8-2-0 for their last 10. Over the long run, the Zags have struggled on the road ATS. They're 4-9-1 ATS over their last 14 games when away. Plus, they are 4-9 ATS over their last 13 games when playing Santa Clara. But, over their past six contests with the Broncos, the Bulldogs are 4-2 ATS. A few other quick stats reveal that in our Broncos vs Bulldogs pick Santa Clara is 9-2 ATS when playing Gonzaga at home. The Broncos are also 5-0 ATS in their last five games at home.
Edge: Santa Clara
Our NCAAM Broncos vs Bulldogs Pick – Key Players
Gonzaga's senior PG Josh Perkins ably handles the fast-paced offense with 6.5 APG and 10.7 PPG, while SCU freshman PG Trey Wertz. With 12.2 PPG and 5.0 APG, tries to match him
Bronco guard Tahj Eaddy, with 16.3 PPG, is the team's top point-maker
Bulldog forwards Hachimura and Clarke average 20.1 PPG and 6.9 RPG and 16.5 PPG and 7.8 RPG
Look for Santa Clara's Josip Vrankic (13.2 PPG, 6.2 RPG), at forward, to try to control the paint
Bronco's four double–digit scorers attempt to keep up with Bulldogs five double-digit scorers
Edge: Gonzaga
Gonzaga at Santa Clara Spread Pick
Although the Bulldogs have over the years struggled to beat the spread when playing Santa Clara, as of late, they've done well. We expect the Zags to push the envelope tonight and cover. Our college basketball Broncos vs Bulldogs pick is Gonzaga at -21.0. Be sure to read our #19 Iowa vs #6 Michigan State spread pick. That game will be played at 7 pm ET tonight.
Summary MWC Broncos vs Bulldogs Pick: Gonzaga at -21.0