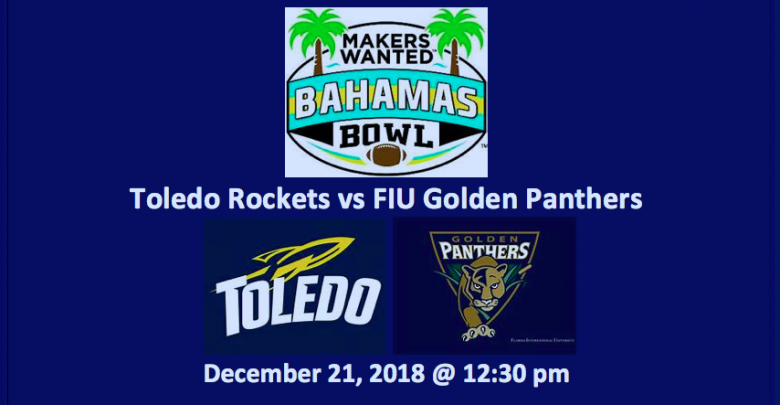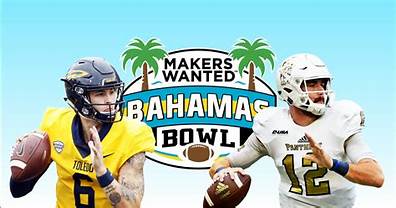 The 2019 Makers Wanted Bahamas Bowl, featuring the Florida International Golden Panthers (8-4, 2nd Conf-USA – East) and Toledo Rockets (7-5, 2nd MAC – West), will be played Friday, Dec 21 at 12:30 pm ET. This is the first of two bowl games being played on Friday with four more to follow on Saturday. After that, bowl season takes a four-day break before resuming on Wednesday, Dec. 26. Our 2018 Bahamas Bowl preview and free pick has the Rockets at anywhere from -4.5 to 6.0. The range for the over/under is 58.0 to 59.0.
The Golden Panthers had an up and down season. Highlights include a 63-24 win over UMass, and a huge 24-21 beating of C-USA champs Middle Tennessee. In terms of loss, Miami took down FIU 31-17, Florida Atlantic hammered the Panthers 49-14, and the Thundering Herd of Marshall beat them in the final game of the season 28-25. The Toledo Rockets come to this bowl game having won four of their last five, including their final two contests of the season. In the second game of the season #21 Miami beat the Rockets 49-24. Toledo also lost to Northern Illinois 38-15. The Huskies finished first in the MAC West with one more win than the Rockets. In their last two games, Toledo easily beat Kent State 56-34 and Eastern Michigan 51-13. Here's how our 2018 Bahamas Bowl preview and free pick sees this bowl game going.
FIU Golden Panthers – Analysis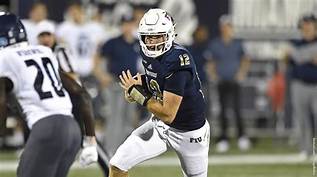 The Panthers generated 417.6 yards of offense per game. That included 170.0 YPG on the ground and another 247.6 in the air. They averaged 34.6 PPG. Junior QB James Morgan runs the Panther offense. Morgan completed 65.3% of his passes. He hit for 26 TDs and tossed seven picks. He has plenty of targets to throw to, as six players have 20 or more catches. WR C.J. Worton is the top pass catcher with 36 receptions for 620 yards and six scores.
Concerning the ground game, there is some trouble. Junior RB Shawndarrius Phillips will not be playing in this bowl game due to a run-in with the law. Phillips had the second-most carries on the team and averaged 4.2 YPA and scored four times. However, the two top running backs will be playing. Senior Napoleon Maxwell, who ran for 673 yards and seven scores on 121 carries, and sophomore D'Vonte Price, who averaged 6.1 YPA and scored five times, are ready to go.
Opponents averaged 24.7 PPG against FIU. Their pass defense was stalwart, as they gave up 188.3 yards in the air. But they had a tough time stopping the run, as the Golden Panthers allowed 198.4 YPG on the ground. They have grabbed 17 picks and defended 38 passes. Sophomore safety Dorian Hall and sophomore DB Richard Dames each have three interceptions. LB Edwin Freeman and DL Anthony Johnson will focus on stopping the run. The Panthers have a total of 61 TFL.
Toledo Rockets – Analysis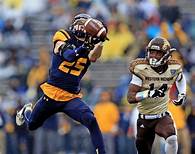 Toledo is averaging 41.1 PPG. Their rush attack in nonstop and rocket-like, as they're averaging 223.6 YPG on the ground. At the same time, the team is good for on average 224.9 YPG through the air. Total offensive yards per game stand at 448.5. The Rockets have two solid quarterbacks. With that in mind, we expect sophomore Eli Peters to get the nod. Peters has tossed 15 TD passes and seven INTs, while completing 54.6% of his passes. Three receivers have caught a total of 24 touchdown passes for this team. WR Cody Thompson, who is tied with fellow WR Diontae Johnson for most catches, leads the team with 10 TD receptions. Diontae Johnson and Jon'Vea Johnson each have seven scoring catches. Each member of this trio has accumulated around 600 yards. There's also a solid trio of running back led by freshman Bryant Koback. On 139 carries, Koback is averaging 6.3 YPA while gaining a total of 875 yards and scoring 13 times.
Our 2018 Bahamas Bowl preview and free pick observes that the Rockets have a fairly weak defense. They allowed opponents 30.2 PPG and in total 430.1 YPG. Toledo's pass D was weak, as they gave up 257.8 YPG. Their 172.3 YPG of ground gain was also on the high side, although quite a bit less than FIU's. The Rockets have made 12 INTs and defended 39 passes. The team has garnered close to 90 TFL and a total of 30 sacks. Top performers include DL Tuzar Skipper (10.5 TFL, 8.5 SCKs) and DT Reggie Howard (14.5 TFL, 2.5 SCKs).
Five Keys to the Game
Toledo offense can produce, D is problematic
FIU has a big-time offense too, and sound passing D
Rockets come in playing sound football
Golden Panthers have been less consistent
Expect lots of scoring giving Toledo the edge
Our 2018 Bahamas Bowl Preview
Our 2018 Bahamas Bowl preview and free pick finds that this should be a game with lots of offensive highlights. Look for the Rocket D to try to control the line of scrimmage and stifle the run. The Golden Panthers will be focused on upsetting the Toledo pass attack. But we do think that these two teams will score points. We like the Rockets at -4.5 and the over at 58.0. See all of our bowl picks by going here.
Summary Toledo Rockets vs FIU Golden Panthers Picks: Toledo at -4.5 and over 58.0