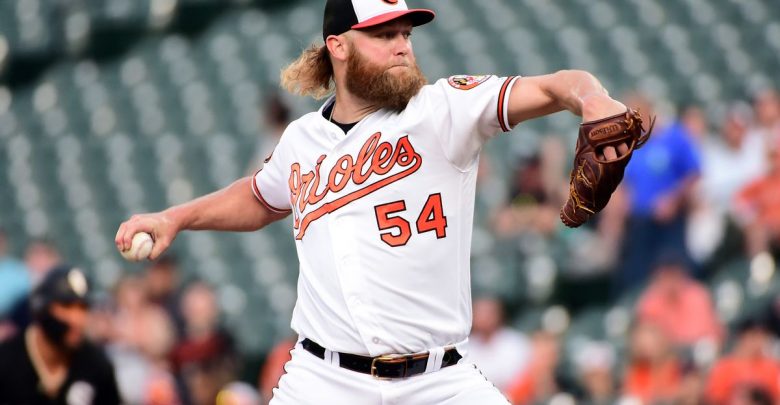 One of the worst teams in the league takes on one of the best. Baltimore traveling to Houston has all the makings of a three-game bludgeoning. On Friday night, however, the O's got out to a quick three-run lead. Unfortunately, they squandered it and lost 4-3 in extra innings. Saturday might not be any different.
Starting Pitchers
This might be the only game all weekend where the Orioles hold some sort of minor advantage. The O's are starting Andrew Cashner on Saturday, while the Astros are giving the ball to Frambler Valdez.
Cashner has been one of the bright spots in an otherwise gloomy season for Baltimore. Currently, he's on track to win more games this season than any other season in his career. It's not a huge ceiling to break through, as his career high is only 11. But, to do that with the way this Orioles team sits right now is quite the feat. That does come with a bit of luck, however, as his last two starts turned out to be wins despite giving up 11 earned runs combined.
At 6-2, Cashner has actually pitched a tad better than his 5.04 ERA would suggest, as his xFIP sits at 4.93. Cashner had a really good stretch of pitching up until his last two starts. Take out his first start of the season at the Yankees, and he had thrown at least five innings and given up three runs or less in eight of his nine starts.
Valdez takes the hill for the Astros in place of Corbin Martin, who was optioned to Triple-A last weekend. Valdez was a trendy sleeper pick to make Houston's rotation this season after an impressive showing in 2018 that saw him go 4-1 with a 2.19 ERA in eight games. However, he couldn't cut it in spring training, and a big part of that is due to his walks. In 2018, even with his success, he had a 5.84 BB/9. He's lowered it to 4.50 this season, and even that is astronomically high. A big part of his walks is due to having only a 63.8 Z-Swing%.
Hitters To Watch
For the Astros, both Yuli Gurriel and Michael Brantley have found success against Cashner in the past. Gurriel is off to a slow start, batting only .259 after being near .300 last season. However, he is 4-for-9 career off Cashner including two doubles. Michael Brantley couldn't be any hotter. At 32 years old, he's having one of the best seasons of his career. Coming into this series, he was hitting .332 with 10 home runs and 38 RBI. He has hit safely in 13 of the last 14 games. In his career, he's 3-for-5 with two doubles off Cashner, so his hitting streak will be sure to continue.
For the O's, how do you not talk about Renato Nunez? Playing on the worst team in baseball, he's already hit 15 home runs and 35 RBI. He has hit .289 off lefties so far in 2019, so Valdez is going to have to pitch to him carefully. Nunez had hit safely in 11-of-13 games coming into the series with the Astros on Friday.
The Pick
While the Orioles have given Cashner at least six runs in eight of his 12 starts this season, it's hard to believe this team can beat the Astros. If Houston's bullpen can keep it together, this should be a win for them. Take the Astros.