NHL Previews
Anaheim Ducks Preview 2019 – 2020
Can Ducks Find More Scoring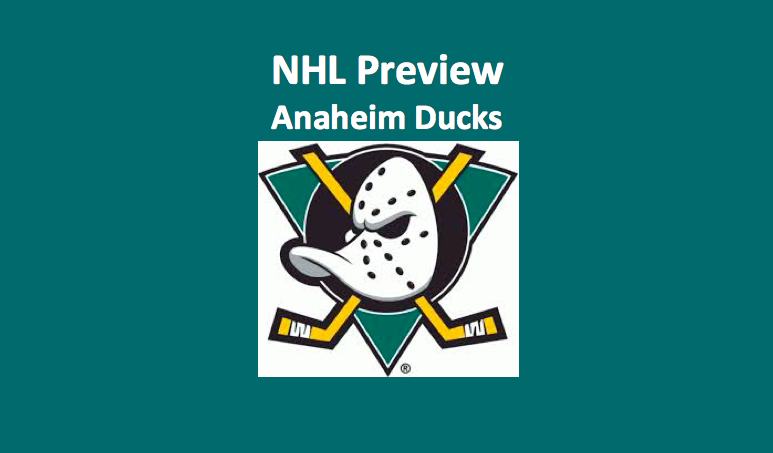 Our Anaheim Ducks Preview 2019 – 2020 notes that the Ducks failed to make the playoffs last year for the first time since 2012. They were sixth in the Pacific division with a 35-37-10 record. The Ducks made very few changes over the offseason and seemed to be content with using the same roster as last year. Our Anaheim Ducks Preview 2019 – 2020 looks at the likelihood that a similar roster like that from last season can help this team improve upon what was a very disappointing year. Can this team score more goals? Despite the fact that they have some fine goaltenders, they will have to put more pucks in the net to make a difference in the win column.
Anaheim Ducks Preview 2019 – 2020: Goaltending
The only real strength of Anaheim's roster is in net. John Gibson is among the small group of elite goaltenders in the National Hockey League. Despite being rostered on the eighth-worst team last season, Gibson put together a winning record. He went 26-22-8 on the year. He finished with a .917 save percentage and a 2.84 GAA. He held this stat line despite facing the sixth most shots in the league. Once again, this season, our Anaheim Ducks Preview 2019 – 2020 finds that Gibson is likely to be among the best goaltenders in the NHL. Unfortunately, he can only do so much to win games. Gibson may have a losing record this season, although it likely won't be because of his play.
For a third straight season, Ryan Miller will be Gibson's backup. Miller was solid as well last year. He only started 17 games but did well when called upon. The 17-year NHL veteran finished the year with a 2.76 GAA and a .912 save percentage. He is a decent backup option to Gibson, but could suffer because of the quality of the team he has playing in front of him. All in all, the Ducks are elite in the crease, although it can carry them just so far.
Anaheim Forwards
Anaheim scored the least goals of any team last season. With little improvement to their forward core, this area doesn't project to be any better this year. Their leading scorer was Ryan Getzlaf who finished with 48 points in 67 games. Getzlaf is his team's best player despite entering his age 34 season. If he can stay healthy, he could put together a solid year. Aside from Getzlaf, the Ducks only have about three forwards who could put up significant point totals. Jakob Silfverberg finished second on the team with 43 points. He led his club in goals with 24 as well.
Our Anaheim Ducks Preview 2019 – 2020 projects that Rickard Rakell and Nick Ritchie will also factor into the Ducks' offensive output. Rakell had a disappointing 2018-2019 season. He finished third on the team in points with 43 in 69 games but saw a significant drop from the prior year. In the season before, he had 34 goals and 35 assists in 77 games. He saw his points per game drop from 0.89 to 0.62 last season. Anaheim will look for a rebound year from one of their most skilled players. Ritchie, on the other hand, had the most productive year of this four-year career. He had four more points than the prior year despite playing in 16 fewer contests. Ritchie finished with 31 points in 60 games. He projects to play a top-six role and could improve upon these totals.
Anaheim fans will watch winger Ondrej Kase closely this season. Kase had 20 points in 30 games for the Ducks last year. Despite missing 52 games, he had the sixth most goals on the team as well. The 23-year-old winger could break out this season.
Ducks Preview – Defense
The Ducks have some talented defenders but still look to be average at best. Hampus Lindholm, Josh Manson, and Cam Fowler are all reliable. All three played well over 20 minutes per game. Lindholm led all defensemen with 28 points while skating 24 minutes per game. Fowler had 5 goals and 18 assists while Manson finished with 16 points. While Lindholm is the closest thing to a number one D-man on Anaheim's roster, all three players would likely play a top-four role on more talented teams.
The quality of blueliners on Anaheim diminishes fairly significantly after these three. Our Anaheim Ducks Preview 2019 – 2020 has determined that Brendan Guhle may be the next best player on the backend, though he has only played in 29 career NHL games. Last season, he played two games for Buffalo along with six for the Ducks. Guhle had a single point and a -2 rating on the year. He was one of the Sabres' top defensive prospects before he was dealt to Anaheim. Look for him to start establishing himself as a NHL regular this year.
Anaheim Ducks Preview 2019 – 2020: Outlook
Anaheim will likely be among the worst teams this year. While they lack an elite talent on the blueline, our Anaheim Ducks Preview 2019 – 2020 finds that their biggest issue will be the same as last season. They will have a tremendous amount of trouble scoring goals. While they are great in net, there is only so much John Gibson and Ryan Miller can do to win games. No matter how close their goaltenders keep the games, if the Ducks can't score, they won't be very successful.
Anaheim Ducks Preview 2019 – 2020: Prediction
Record: 30-40-12, 72 points
Finish:8th in the Pacific Division
NHL LINKS
Division Link
NHL 2019 Preview Link