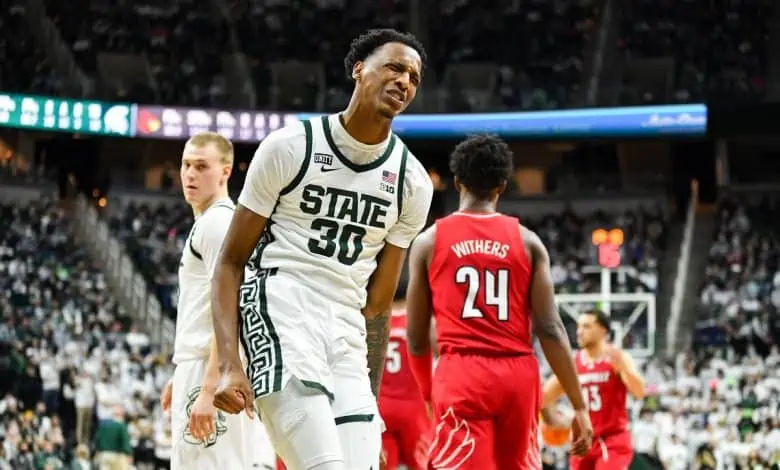 We've got a rematch on our hands in the Big Ten Tournament Maryland vs. Michigan State matchup, as these two teams just met up on Sunday in a 77-67 Spartans win. That was a huge victory for Tom Izzo's team, as they wanted to come into the postseason with some momentum after dropping 7 of 9 prior.
Instead it's Maryland who suffered a loss in the regular season finale, but did finish strong with wins in 4 of their last 6 overall. The Terps were down 46-26 at the half on Sunday, and also lost 65-63 to the Spartans at home on February 1st.
Terrapins Need to Play Better
Maryland was a +6 point underdog on Sunday, but that was also on the road in East Lansing as Michigan State was celebrating Senior Day for three important contributors. There were some who thought the Terrapins could keep that game close considering they had won four of five and the Spartans were losers of five of six, but the emotion of the day let MSU get out to a 14-0 lead that they never relinquished.
The circumstances even up a bit in the Big Ten Tournament Maryland vs Michigan State matchup. The game is on a neutral site in Indianapolis, and the Terrapins (15-16) are geared up to try and avoid their first losing season since 1993.
Maryland might be overmatched here, which is why the fact that the Spartans are just -2 point favorites is somewhat confusing. Maryland ranks 11th in the Big Ten in scoring and their defense is 12th in points allowed, yet the Spartans are 8th and 6th respectively.
Michigan State Wants Wisconsin
The winner of Thursday night's game plays Big Ten co-champ Wisconsin on Friday. There were times when the Spartans were in the discussion for 1st place during the regular season after starting off 14-2, but a 6-9 stretch over the last 15 doomed the Spartans who ended up 11-9 in conference play.
At 20-11 the Spartans by most accounts are headed to the NCAA Tournament, but a win on Thursday would provide some extra security. Michigan State should be confident considering they have the season sweep over Maryland, but then again it can be hard to beat a team three times in a year.
Michigan State had a pretty balanced scoring effort on Sunday, with four players scoring at least 12 points. The Spartans hung 77 points on Maryland despite leading scorer Gabe Brown going just 3-7 from the floor. Maryland had a pretty good offensive attack too though, with Eric Ayala going for 19 and Fatts Russell adding 16. Thursday's total is 139.5.
Free Big Ten Tournament Maryland vs Michigan State Betting Pick
It's shocking that the Spartans are just -2 point favorites in this spot, and the Spartans are the 4th most popular wager of the day. That makes the side nearly unplayable in what looks like a trap spot.
Instead with these two teams combining for a higher scoring game on Sunday, the inkling would be to take the 'over' 139.5. In a conference tournament opener on a neutral court, don't expect a sharp shooting night. Both of these defenses are well rested also after having not played since Sunday.
Maryland 65 – Michigan State 66
Free Pick: Under 139.5