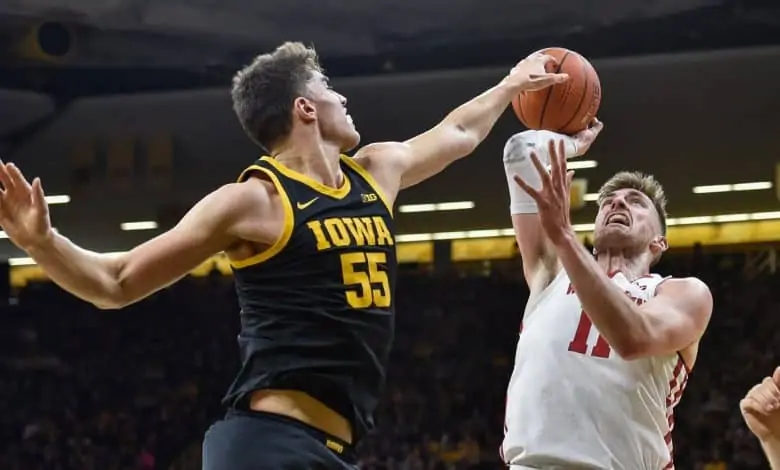 It wasn't pretty, but the Badgers have advanced to the March 12th Wisconsin vs Iowa matchup. UW snapped a 3-game losing streak by holding on for a 1-point win over Penn State despite being up 18 points during one stretch. Now the Greg Gard's team gets another crack at #5 Iowa, who they lost to 73-77 last Sunday.
Iowa says bring it on, as they swept the Badgers this year and have won 7 of their last 8 down the stretch. Iowa also won by 15 in Madison last month, and are going to be a heavily bet -4.5 favorite on Friday night from Lucas Oil Stadium in Indianapolis.
Badgers Matched Up Well
UW likes where they are at heading into the March 12th Wisconsin at Iowa game. The Badgers were good enough to build up an 18-point lead over PSU, and got some valuable close contest experience in holding on for the one-point win. It was the Badgers' inability to close that cost them the upset in Iowa City over the weekend.
The Badgers did have a 4-point lead in the second half at Iowa, playing in an emotionally charged last home game for Luka Garza and Jordan Bohanon. The Badgers couldn't corral Garza, who had 21 points and 16 rebounds while Bohanon added 16 points himself. Micah Potter had 23 in the loss to the Hawkeyes, and that strong inside presence will be key on Friday night.
The big problem with Wisconsin is that they are so inconsistent. They needed to shoot 52% from three point range to beat Penn State, and only got 8 points from leading scorer D'Mitrik Trice who has 10 points or less in three straight. Luckily Aleem Ford stepped up with 17 vs. the Nittany Lions, but can you expect that again from a player that averages 8..5?
Heavy Dose of Garza
Iowa fought to a win over Wisconsin last weekend, and surprisingly things were easier at Madison when the Hawkeyes won 77-62 as +1.5 underdogs. Garza was once again the story of the game pumping in 30 points while grabbing 8 rebounds.
One advantage the Badgers may have is that Joe Wieskamp scored 17 points against them in the first game and 12 in 12 minutes last Sunday. The reason he only played 12 minutes was because of an ankle sprain, which has landed him as questionable for Friday's meeting. Wieskamp was second on the Hawkeyes putting up 15 ppg.
Since it's game-after-game-after-game in the tournament, Iowa may choose to rest Wieskamp for Saturday. That would put a lot more scoring pressure on Garza, and the Badgers have the size to make life miserable in the paint with the 6'10" Potter and 6'11" Nate Reuvers.
Free March 12th Wisconsin vs Iowa Pick
The line of Iowa -4.5 seems to be screaming Hawkeyes. Wisconsin was in a tight one with Penn State, has the back to back, and was swept by the Hawkeyes this season. The potential loss of Wieskamp would be a huge one though, and if the Badgers can get something, anything, out of Trice they're right in this game.
Iowa 71 – Wisconsin 70
Free Pick: Wisconsin +4.5