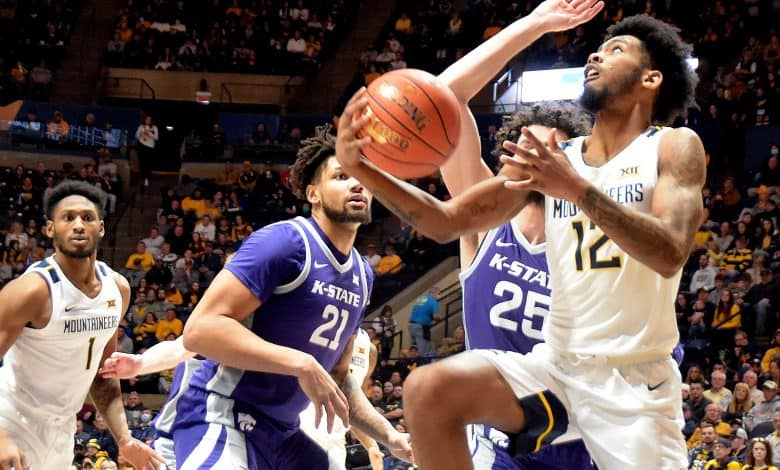 A couple of teams that absolutely derailed down the stretch meet up in the Big 12 tournament West Virginia vs Kansas State matchup on Wednesday night. WVU dropped 7 in a row prior to getting a win over TCU in the regular season finale, while K-State finished the year with 5 straight losses.
These two squads split in a couple of close games during the regular season with each team winning at home. West Virginia won 71-68 in Morgantown as -8.5 point favorites, while Kansas State returned the favor on their own court 78-73 to cover the -3.5. The Wildcats had only 8 scholarship players and one coach in the loss to WVU, so they seem to match up well here. Oddsmakers agree, setting KSU at -2 for this conference tourney opener.
WVU Comes in Off a Win
A 7-game losing streak in mid-February isn't ideal for a team whose NCAA tournament hopes were already waning a bit. That stretch of poor play pushed the Mountaineers' record to 15-16 on the season, meaning they'll need a win on Wednesday even to be considered for the NIT with a .500 record.
The Big 12 Tournament is being held in Kansas City this year, so although it's not a true road game it's still hard to overlook the fact that WVU was just 1-10 in away games this season. West Virginia ended up last in conference play at just 4-12, the good news is that Wednesday's opponent was just 6-12.
West Virginia failing to get to even .500 this season is somewhat astounding considering they are led by veteran coach Bob Huggins, and also had the 2nd best scoring offense in the Big 12 at 77.3 ppg (Kansas State was last at 61.2). Taz Sherman (18.3 ppg) is coming off a 25-point outing in the win over TCU so he looks primed for the postseason.
K-State Somewhat Shorthanded?
Kansas State dealt with their fair share of injuries and COVID absences this season, as did nearly every team in the country. The Wildcats put up a valiant effort in their visit to Morgantown this season, taking a 40-27 lead into the half before running out of gas with only 8 players available in the 71-68 loss.
It remains to be seen if two key components are available for Bruce Weber in the Big 12 Tournament West Virginia at Kansas State matchup. Leading scorer Nijel Pack (17.4 ppg) should be good to go after fighting through a stomach bug on Saturday. Markquis Nowell (12.6 ppg) is a little more uncertain after missing the last two games with a hamstring injury.
K-State does have the experience that is so valuable come tournament time, with 5th year seniors Mark Smith and Mike McGuirl combining for 43 points on Saturday. Once again though, that didn't translate to wins as Oklahoma captured a 78-71 win in Manhattan as just a -2 point favorite.
Free Big 12 Tournament West Virginia vs Kansas State Pick
Not knowing Nowell's status for this game does make things interesting, as he had 10 points and 10 assists in the meeting at Morgantown and 21 to lead the win over WVU back at home. There's a whole offseason of recovery time if KSU loses, so look for him to be in the lineup to give KSU the edge against a West Virginia team that is really bad away from their own court.
This game being held less than 2 hours from the K-State campus definitely aids the Wildcats as well.
Kansas State 71 – West Virginia 66
Free Pick: Kansas State -2