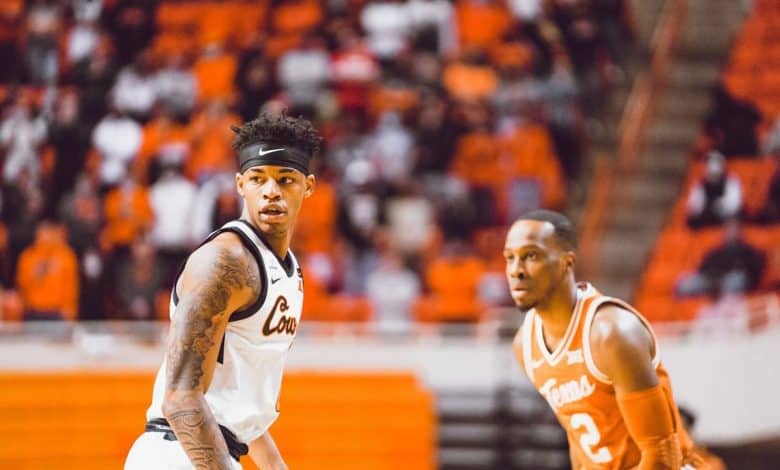 The March 13th Oklahoma State vs Texas pick has the marks of COVID all over it. OK-State has done their job, outlasting West Virginia on Thursday (72-69) and handing Baylor just their second loss of the year on Friday, 85-74.
Texas has had a different path to the Championship game however. The Longhorns battled to a 67-65 victory over Texas Tech on Thursday before learning Friday's game against Kansas was cancelled as the Jayhawks bowed out of the tournament due to positive tests. Playing a game – having a bye – then playing for the championship seems like a pretty easy path for Texas -3 on Saturday.
Oklahoma State Just Transcending Right Now?
There's sure to be a great deal of public action on the Cowboys in the March 13th Oklahoma State vs Texas game. OSU has rewarded bettors not only through the first two rounds of the Big 12 tournament, but in covering the spread in the last 8 games going back to the regular season.
Texas is coming off an unexpected bye, avoiding a matchup with Kansas who has ended their conference tournament to quarantine from COVID. There are some who say a break while you're rolling in the postseason kills momentum. There are others who say that this extra day of rest and scouting is invaluable.
There's no doubt, OKC has their backs up against it vs. a team coming off a day off in the heart of a conference tournament. Oklahoma State might want to play 2-3 games a day the way Cade Cunningham (20+ in 6 of 8) and Avery Anderson III (20 and 31 point game the last three) are balling right now.
Can Texas Find Rhythm?
If Texas had been on a roll and won two games, then had a day off, then played in the conference championship game it might have been an asset. The current situation of squeaking out a 67-66 win over Texas Tech then finding out late you're not going to play on Friday, followed by a matchup with a red hot team may actually not be in the best interest of Shaka Smart's squad.
OK State is in the tournament groove, beating #10 West Virginia and #2 Baylor on consecutive nights. Do those two emotional wins catch up with the Cowboys on Saturday night, or does OSU say #13 Texas isn't near the challenge as our last two opponents?
The Longhorns did need a couple clutch free throws from Matt Coleman III with 1.8 seconds on the clock to get past #20 Texas Tech on Thursday. Had the Longhorns survived a streaking Kansas team on Friday these teams would both be a bit weary but as it stands the Longhorns are fresh. OK State won in OT at home and loss by 3 at Austin during the regular season split, so these teams do match up well.
Free March 13th Oklahoma State vs Texas Pick
The public should be liking Texas coming off the bye on Friday. Oklahoma State doesn't care who you put in front of them though. The Cowboys have won 8 of the last 9 overall, beating top 10 teams the last two days. This is what's known as a run.
Oklahoma State 77 – Texas 72
Pick: Oklahoma State +3