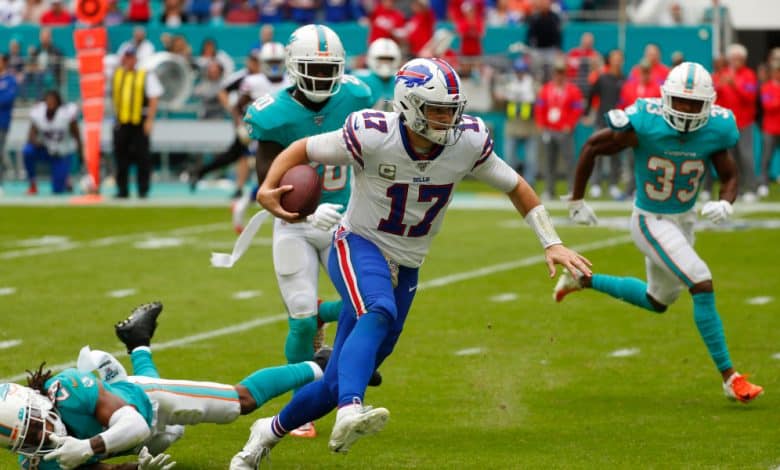 The week 17 Dolphins at Bills pick is a meaningful one for both teams, something you don't always see in the final slate of the NFL regular season. If Miami wins on Sunday, they're in the postseason. Brian Flores' team can still make the playoffs with a loss, but they'd need some help.
Buffalo locks down the #2 seed in the AFC if they get the win in this matchup. A Pittsburgh loss would do that too, and even though there is only one bye in this year's playoff format the #2 seed is crucial because it means you wouldn't see Kansas City until the AFC Championship Game. The Bills are -2 point favorites and get a weather advantage with temps expected to be in the 30s.
Dolphins Try to Work Through QB Issues
Miami's rookie QB Tua Tagovailoa has gone 6-2 as a starter this year which is impressive, but Flores has still turned to veteran Ryan Fitzpatrick at times. This includes last week's huge 26-25 win over Las Vegas that has temporarily vaulted Miami into the 5 seed. Tagovailoa threw for just 94 yards (albeit on 17/22 passing) before Fitzpatrick came in to go 9/13 for 182 including a huge 59 yard scoring strike to Myles Gaskin late in the 4th quarter.
Tagovailoa will get the starting nod in the week 17 Dolphins at Bills pick, but will he be playing anxious and conservative knowing that the hook can come at any minute? The Dolphins really don't have the running game (22nd) to give the youngster some reprieve, and the Bills are also a top 10 passing defense.
This is a huge game for Miami, really a must-win. The Dolphins can make the postseason with losses by either the Browns, Colts, or Ravens – but their opponents are Pittsburgh (with a backup QB), Jacksonville, and Cincinnati respectively. It's looking like Miami needs a win to get in and they do own the tie breakers over all those teams.
Buffalo Starters Getting the Whole Game?
This line of the Bills -2 would suggest Buffalo may not give their 1st team the full game, and instead rest for the postseason. Pittsburgh is resting a lot of their starters on Sunday (as evidenced by the line moving to Cleveland -10) and if the Steelers get down big the Bills can pull their foot off the gas as they would clinch the #2 seed.
This line opened at -5.5 for the Bills, and 62% of the public still likes Buffalo despite the drop to -2. The Bills may not want to lose the momentum of their 5-game winning streak, and would love nothing more than to knock their AFC East foes out of the postseason. The Bills could very easily be going full bore here – at least until Cleveland gets up big over Pittsburgh. Buffalo does have an experienced backup QB in Matt Barkley however.
Free Week 17 Dolphins at Bills Pick
This line is moving away from Buffalo, despite the Bills winning 31-28 earlier this season and taking 6 of the last 7 head to head vs. the Dolphins. That's a tell, and as easy it would be to hammer Buffalo while expecting Josh Allen, Stefon Diggs, and Co. to play a majority of the game, this has to be a contrarian play on Miami – and in some ways on Cleveland getting up big on Pittsburgh.
Miami 31 – Buffalo 20
Free Pick: Dolphins +2