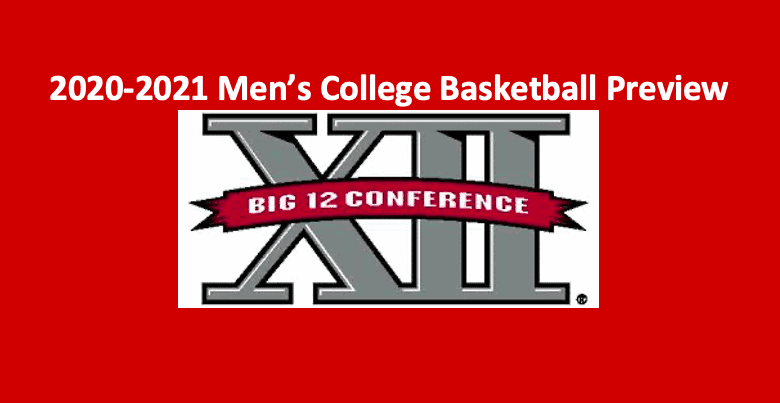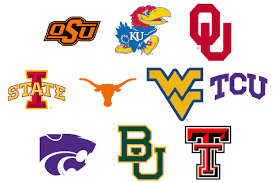 Of the 10 teams in our Big 12 basketball preview 2020 – 2021, five made it into the AP Top-25 preseason poll. Of all Big 12 teams, the Baylor Bears earned the highest ranking coming in at number two. After that, it's the Kansas Jayhawks at number six. Both of these teams have a real shot at going deep in the NCAA Tournament. The other three basketball teams are in the second tier of the poll with the Texas Tech Red Raiders being ranked 14th. After that, it's the West Virginia Mountaineers at 15th. Finally, the Texas Longhorns start the season at number 19. The Big 12 is ranked second amongst the top six men's basketball conferences. This powerful and highly-competitive group of teams will have a lot to say about who goes to the Big Dance and who's left standing at the end.
Big 12 Preview: 2019 – 2020
The #1 Kansas Jayhawks were no surprise last year. They were picked to win the Big 12, and they did take the regular-season title with a record of 17-1. The team's overall mark was an impressive 38-3. On the other hand, the #5 Baylor Bears were a big surprise, as they competed with Kansas for the number one spot. But the Bears ended up two games short of first place with a Big 12 record of 15-3. They met the Jayhawks twice last year, splitting the series. The Bears were 26-12 overall.
After Kansas and Baylor, there seemed to be the rest of the conference. Four teams in the Big 12 tied for third with records of 9-9. Those teams were the Oklahoma Sooners, Texas Longhorns, Texas Tech Red Raiders, and #24 West Virginia Mountaineers. Of those four basketball teams, the Mountaineers recorded the best overall mark, 21-10. Oklahoma and Texas finished at 19-12 and Texas Tech was 18-13.
The bottom four teams in the Big 12 included the Oklahoma State Cowboys and SMU Horned Frogs tied at 7-11. OSU's total mark was 18-14, while SMU went 16-16. The Iowa State Cyclones were ninth at 5-13 and 12-20, while the Kansas State Wildcats came in last with a conference record of 3-15 and an overall record of 11-21.
2019-2020 Big 12 Conference Standings and Records
Kansas Jayhawks (#1) 17-1
Baylor Bears (#5) 15-3
Oklahoma Sooners 9-9
Texas Longhorns 9-9
Texas Tech Red Raiders 9-9
West Virginia Mountaineers (#24) 9-9
Oklahoma State Cowboys 7-11
TCU Horned Frogs 7-11
Iowa State Cyclones 5-13
Kansas State Wildcats 3-15
Big 12 Basketball Preview 2020 – 2021 – Ranking the Teams
We are anticipating a shakeup in this conference. Our Big 12 basketball preview 2020 – 2021 sees Baylor continuing its ascendency, while Texas Tech also moves up the ladder. The West Virginia Mountaineers are also looking strong, while the Kansas Jayhawks are vulnerable. On the other hand, in relationship to last season, we see the Texas Longhorns as being fairly stable. However, we think it's likely by the end of this season that the Longhorns will no longer be in the top-25. The last four teams may see some minor movement up or down in the standings, but they will still be at the bottom of the heap.
1. Baylor
Last season, head coach Scott Drew looked as if he had the Bears on a trajectory that would take them to the tournament's Final Four, if not the championship game. Our Big 12 basketball preview 2020 – 2021 finds that this will also be the case this season. Last year, after they lost their second game of the season to Washington, the Bears went on a 23-game run and seemed to be unbeatable. Baylor sees four of its top six scorers return, while forward Freddie Gillespie (9.6 PPG) departs. Gillespie, who was a tough defender, averaged 9.0 RPG, 2.2 BPG, and 1.1 SPG. But this team has all it needs to be a national champion. Junior guard Jared Butler, who last season averaged 16.0 PPG, 4.0 APG, 3.0 SPG, and 1.0 BPG, is an All-American and Player of the Year candidate. Plus, the backcourt includes senior MaCio Teague (13.9 PPG) and junior Davion Mitchell (9.9 PPG). At the point last year, Mitchell averaged 3.8 APG. Senior guard/forward Mark Vital averaged 6.1 PPG, 6.2 RPG, and 1.7 SPG. Along with Vital, Tristan Clark, Flo Thamba, and UNLV transfer Jonathan Tcharmwa Tchatchoua will be asked to step up in the paint. The Bears had the seventh-ranked defense in the nation. Consequently, with the players on their roster, they could be that good again this year.
2. Texas Tech
Texas Tech will be in the mix despite the fact that their two top scorers from last season, guards Jahmi'us Ramsey and Davide Moretti, depart. That's because the Red Raiders have a trio of guards returning, junior Kyler Edwards (11.4 PPG), sophomore Terrence Shannon (9.8 PPG), and sophomore Kevin McCullar (6.0 PPG). Plus, there are able guards and forwards transferring to Texas Tech, including former Georgetown guard Mac McClung and VCU big man Marcus Santos-Silva. Additionally, a pair of top-50 recruits joins the team. Last season, this team could score and defend, and they were especially adroit at passing and setting up plays. Our Big 12 basketball preview 2020 – 2021 finds that Head coach Chris Beard knows how to make things happen. Thus, the Red Raiders could go deep into the Big Dance.
3. West Virginia
This year, WVU could have the best defense in the nation. Last year, they ranked 15th nationally in scoring defense and 16th in field goal defense. That tough defense was one reason why Bob Huggins' team got back on track after a disastrous 2018-2019 season. Last year, the Mountaineers scored 21 wins. Despite the departure of forward Jermaine Haley (8.9 PPG), the team is still deep up front. Returning players include five-star recruit Oscar Tshiebwe, who in his first season averaged 11.2 PPG, 9.3 RPG, and 1.0 BPG. Joining him will be juniors Derek Culver (10.4 PPG) and Emmitt Matthews (6.3 PPG). The backcourt has potential as top junior college prospect Kedrian Johnson, who averaged 25.5 points per game as well as 5.4 rebounds, 5.4 assists and 3.4 steals, joins the team. Also, sophomore Miles McBride, who last season was good for 9.5 PPG off the bench, could have a breakout season. This team will be physical and unrelenting. As a result. they'll wear down opponents. Consequently, that process could result in a slew of wins.
4. Kansas
Our Big 12 basketball preview 2020 – 2021 finds that the Jayhawks could have an off-year. That may not compute for some readers, as head coach Bill Self has a reputation for ensuring Kansas is always very competitive. Last year, they were a good bet to take down the big tourney. This year, after losing Big 12 Player of the Year Udoka Azubuike and leading scorer Devon Dotson, this team will be challenged. Although we expect that the Jayhawks will still be tough on defense, last year their field-goal defense was ranked third nationally, there are big questions concerning offense. Offensive help could come from various guards, such as senior Marcus Garret, five-star freshman Bryce Thompson, and JUCO addition Tyon Grant-Foster. However, we have few answers as far as this team is concerned. Subsequently, we do have many questions concerning this Kansas Jayhawks team's ability to perform at the highest levels..
5. Texas
Many say that the Longhorn run at the end of last season, which really helped their 2019-2020 record, will create momentum for Texas this season. However, momentum occurs in and across time, and the fact that no college basketball has been played for eight months means that any momentum this team had generated has evaporated. It's time to start over again. That being said, the fact is Texas sees five starters and just about the entire team from last season return. Four guards, including senior Matt Coleman III (12.7 PPG) and junior Andrew Jones (11.5 PPG), are back. Together, they averaged 44.7 PPG. Plus, senior forward Jericho Sims (9.7 PPG, 8.2 RPG, 1.2 BPG) offered sound offense and defense. Coleman, Jones, and Sims are All-Big 12 team material. Last year, head coach Shaka Smart got this team on task late in the season. If this team is going to get to the next level, they can't take any time to warm up like they did last season.
6. Oklahoma State
Head coach Mike Boynton sees his top four scorers depart, while premium guard Isaac Likekele (10.9 PPG. 9.5 RPG, 5.5 APG) is the top returning performer. Likekele will be a big part of this team. Joining him will be freshman guard Cade Cunningham, who is considered to be the top recruit in the nation. If sophomore center Kalib Boone (5.0 PPG, 5.0 RPG, 1.5 BPG) can step up, that will help the Cowboys a lot. However, in considering last year's stats, which were middling to bad, and this team's lack of depth and experience, we foresee that this team will perform inconsistently. Accordingly, expect some big wins and some fairly disastrous losses.
7. Oklahoma
Lon Kruger's steady hand guided the Sooners' to six NCAA tournament appearances in seven years before 2019–20, and he should be able to do the same this season. Senior Brady Manek should be able to hold down the frontcourt after the departure of Kristian Doolittle. At the same time, senior guard Austin Reaves adds additional scoring prowess in the backcourt. The Sooners don't necessarily sport top-end talent like their rival in Stillwater. However, our Big 12 basketball preview 2020 – 2021 finds they may be a better bet than Oklahoma State to continue their season into March.
8. Iowa State
The Cyclones lose star guard Tyrese Haliburton (15.2 PPG, 5.9 RPG, 6.5 APG), and, at this point, coach Steve Prohm has no replacement. In the Big 12, ISU was second in scoring. However, four players who together averaged 41.5 PPG are gone. Those points represent 58% of Iowa State's average points per game scored last season. There is talent on this team, including former Memphis guard Tyler Harris and former Illinois and DePaul guard Jalen Coleman-Lands. Plus, junior guard Rasir Bolton (14.7 PPG) and senior forward Solomon Young (9.8 PPG) come back. However, this team struggled on defense last season, as they posted a PF/PA differential of -1.0. Unfortunately, we don't see that statistic improving in 2020 – 2021.
9. TCU
When a team finishes with an even mark there's a good chance that throughout the season they struggled mightily and were inconsistent. That defines TCU last season, as they ended 2019-2020 with a record of 16-16. All-Big 12 team member Desmond Bane (16.6 PPG, 6.3 RPG,3.9 APG, 1.5 SPG) departs, and it's hoped that senior R.J. Nembhard (8.0 PPG, 2.0 APG) can step into a bigger role. Double-double center Kevin Samuel (11.0 PPG, 14.0 RPG, 2.5 BPG) will provide highly skilled play on both ends of the court. But after that, there's very little. Accordingly, the Horned Frogs lack depth. Head coach Jamie Dixon has a long way to go to get TCU to the point where they can be competitive in the Big 12.
10. Kansas State
Kansas State coach Bruce Weber needs to find a way to replace three of his top scorers. Our Big 12 basketball preview 2020 – 2021 notes that the Wildcats have a sound incoming freshman class that includes four-star point guard Nijel Pack. Pack could have an immediate impact. Guard Mike McGuirl (6.9 PPG), the only senior on the team, needs to become a leader. Sophomore Montavious Murphy is the top returning forward. He averaged 5.2 PPG last season. This team needs to improve on defense, rebounding, and turnovers. However, we doubt they'll make much progress in those areas. Consequently, Kansas State will have a very long season.
Big 12 Basketball Preview 2020 – 2021 – Final Word
Our Big 12 basketball preview 2020 – 2021 likes the Baylor Bears a lot. We expect that they will take the conference title and make their way to the NCAA finals. That's how good they are. We project Texas Tech and West Virginia to finish much better than most prognosticators have predicted. The Kansas Jayhawks are quite vulnerable and the Texas Longhorns must start playing basketball at the start of the season. Waiting to step it up in mid-season or even later won't cut it. After that, there's a steady drop-off in depth, experience, and talent in the Big 12. Still, this conference could see five of its teams, that's 50-percentage, go to the NCAA Tournament. One of those basketball teams could win it all. Follow this link back to our NCAAM homepage.