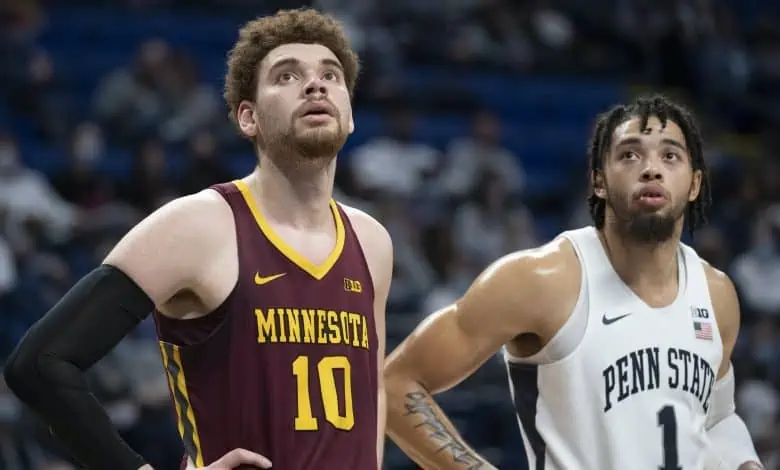 It's the rubber match for both teams heading into the Big 10 Tournament Minnesota vs Penn State matchup. These squads split the regular season series with each team winning on their own court, and now meet up in Indianapolis to see who advances to face Ohio State on Thursday.
Penn State would seem to have had the advantage in the two regular season meetings, getting a dominant 67-46 win at home on February 17th and losing by just 6 in Minneapolis (76-70). Neither team finished the year particularly strong, with the Golden Gophers dropping 6 of their last 7 and PSU dropping 4 of their last 5. The Nittany Lions are -3.5 favorites.
Can Battle Carry Golden Gophers?
Minnesota had the 2nd worst scoring offense in the Big 10 this season with just 67.6 ppg – but the good news is that Penn State was dead last with 64.7 ppg. The big difference between these two teams is that the Nittany Lions had the 2nd best defense in the conference, allowing 65.3 ppg.
Despite their team scoring issues, Minnesota does have a player who can take over Wednesday's game in Jamison Battle (17.4 ppg). Battle dropped 39 on March 2nd against Maryland and had 20 in the regular season finale against Northwestern. Battle and Payton Willis were both named to the All Big-Ten team honorable mention, and Willis has been hot down the stretch too with 21+ points in 2 of the last 3.
At 13-16 Minnesota needs a pretty significant Big Ten tournament run to even be considered for the N.I.T. That could be tough considering they only have wins over Penn State and Northwestern since January 22nd.
Penn State Not as Bad as They Look
The Nittany Lions have dropped 4 of their last 5, with a 93-70 home defeat to last place Nebraska on February 27th (as -10.5 favorites) really stick out. The other games have been fairly close though, including losing by 1 at Rutgers in the regular season finale, and by 5 at Illinois on March 3rd.
PSU should be amped up coming into the Big Ten Minnesota at Penn State matchup considering the Golden Gophers have ended their season in four different conference tournaments. PSU picked up a dominant 21-point win over the Gophers behind 20 points from Jalen Pickett, but fell 76-70 despite shooting 56% from the field.
PSU will try to rely on their defense in Wednesday's contest, and they held Battle to the only Gophers player to score in double figures in the first meeting this season. 6'9″, 240 pound John Harrar is a force on the interior, and he should be a big factor considering Minnesota has the worst rebounding rate in the conference.
Free Big Ten Tournament Minnesota at Penn State Betting Pick
The public is all over Penn State in this one to the tune of nearly 80%. Sure the Nittany Lions losing record down the stretch featured some tough, close losses but that hardly makes them a sure thing against a dangerous Minnesota offense.
Does defense travel better than offense in tournament openers, if so Penn State would surely have an edge in this spot. 5th year senior Harrar is going to bring the energy in this one, and his Nittany Lions teammates will follow suit.
Penn State 69 – Minnesota 61
Free Pick: Penn State -2