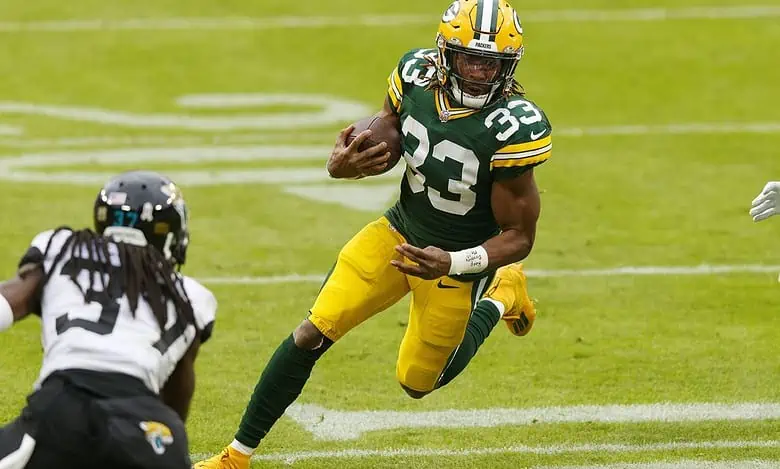 Week 5 of the NFL season will wrap up with a very interesting matchup on Monday Night Football as both teams need to pick up a win. It will be the Green Bay Packers visiting the Las Vegas Raiders, and the loser in this game will suffer a tough loss.
Green Bay comes into this game with a record of 2-2, and they are trying to stay close in the NFC North Division race. The Packers just suffered a bad loss at home to the Detroit Lions, and they are looking to bounce back in a hurry.
Las Vegas comes into this game searching for answers, as they have lost three straight games at this point of the year. The Raiders were supposed to be a playoff contender, but they are heading in the wrong direction.
The Raiders are two-point betting favorites over the Packers on Monday Night Football.
Defense a Problem For Packers
The Green Bay Packers were supposed to have a dominant defense this season, but they have actually allowed 372 yards per game this season. Green Bay has given up 155 rushing yards per game, and that has been a major problem for this team.
The Packers no longer have Aaron Rodgers to bail out their defense, and they are actually averaging less than 300 offensive yards per game. Jordan Love has thrown for 901 yards and eight touchdowns this season, but he still has some room to grow.
Getting Aaron Jones back into the offensive attack is going to be another big key, as they just haven't been able to wear teams down on the ground. Green Bay needs the offense to help put the defense in better positions to succeed.
Raiders Have to Run
The Las Vegas Raiders simply have to find a way to run the football better, as this team is averaging less than 70 yards per game on the ground. Las Vegas has been giving up on the run early in games, but they need Josh Jacobs to be involved.
Jacobs has 62 carries for 166 yards this season, but he is facing a defense that has struggled in a big way against the run. Quarterback Jimmy Garoppolo has thrown for 709 yards and five touchdowns this season but also has six interceptions.
The defense for the Raiders has actually been better than the overall numbers show, as that unit just doesn't get a ton of help. Getting pressure on Jordan Love is going to be a big key this season.
Raiders Pick Up Important Win
The Packers have been the better overall offensive team this season, but the Raiders have shown the ability to hit on some big plays. Green Bay has had a really hard time getting stops this season, and that is going to be a big issue in this matchup.
The Raiders have not been able to run the football well this season, but that is going to change in a big way in this game. Las Vegas has the talent to find some rhythm on offense, and that will be the key in this game.
Bet the Las Vegas Raiders -2.0 as they are going to win on Monday Night Football and also cover the slim spread in this game.