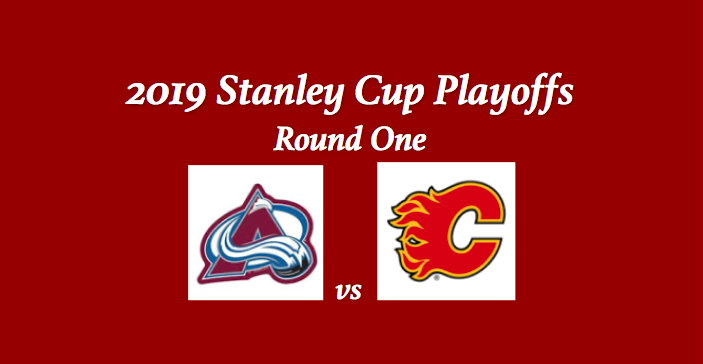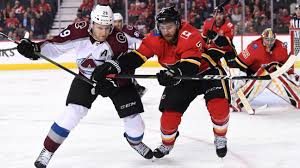 Our Avalanche vs Flames Playoff Preview looks at what will factor into the series. This Avalanche vs Flames pick notes that Calgary had a terrific season finishing with 107 points. They finished with the top seed in the West by six points.. The Colorado Avalanche just snuck into the playoffs with 90 points. They secured the last Western Wild Card Spot in the last couple games of the season. The two clubs met three times during the regular season. The Flames came away with three wins, two in regulation and one in overtime.
Avalanche vs Flames Playoff Preview – Goaltending
The goaltending matchups in this series should be interesting. Calgary doesn't plan on naming their game 1 starter until briefly before the contest. They spent the year with Mike Smith and David Rittich splitting starts. Smith ended the year with a .898 save percentage and a 2.72 GAA. Rittich finished with a stronger state line that included a .911 save percentage and a 2.61 GAA. Rittich started out the year particularly hot but his play suffered towards the latter half of the season. Goaltending is Calgary's weakest area and will need to be stronger than during the regular season.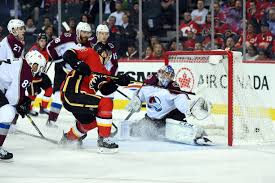 Colorado is likely to start Philipp Grubauer. Like the Flames, the Avalanche spent much of the season rotating goaltenders. Grubauer has played better than Colorado's other netminder, Semyon Varlamov in the latter part of the season. Grubauer finished the year with a .917 save percentage and a 2.64 GAA. He has gotten a point in each of his last nine starts. In his limited playoff experience, he has been shaky with a .835 save percentage. So, this could be an interesting ride for the Avalanche.
Calgary Flames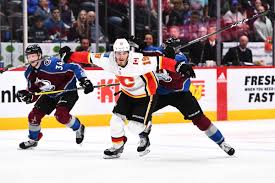 The Flames had a terrific season finishing with the second best record in the NHL. They finished third in goals for behind strong season by Johnny Gaudreau and Sean Monahan. Gaudreau finished tied for seventh in total scoring with 99 points. Monahan had 34 goals and 48 assists. Wingers Matthew Tkachuk (34-43-77) and Elias Lindholm (27-51-78) also had productive years and can be dangerous in the postseason. Tkachuk will be a pain for the Avs to play against with his physical play but can also be dangerous on the scoresheet.
Calgary's blueline is strong as well. Mark Giordano is the favorite to win the Norris Trophy as the league's best defenseman. He played over 24 minutes a night and was second among defensmen in points with 74. They also have strong players in Noah Hanifin and TJ Brodie. Hanifin finished the year with a +18 plus-minus while playing over 20 minute a game. Brodie was +29 while playing 21:28 a night.
Colorado Avalanche
The line of Nathan MacKinnon (41-58-99), Gabriel Landeskog (34-41-75), and Mikko Rantanen(31-56-87) has been dominant all season. They combined for 106 out of 258 of Colorado's goals. The drop off in production after the Avalanche first line though is pretty large. Second line center Carl Soderberg was the next highest scoring forward. He finished with 49 points and the drop offs in point production only increases from there.
Our Avalanche vs Flames playoff preview notes that Tyson Barrie is Colorado's top D-man. While he finished with a -3 plus-minus rating he drives the Avs' powerplay. He had 59 points and finished tied for eighth in goals by defenseman. Samuel Girard, Erik Johnson, and Ian Cole are also key players for Colorado. Girard finished with 27 points while Johnson had 25. Johnson also led Avalanche defensemen in time on ice playing 2:49 a night.
Avalanche vs Flames Playoff Preview
The Colorado Avalanche are a very top heavy team. The line of Mackinnon, Landeskog, and Rantanen is among the best in the NHL. After that their secondary scoring drops off. Calgary may have gotten shaky goaltending this season, but they have a very deep blueline. There won't be an easy defensive pair for the Avs' top line to play against. On top of that Grubauer is unproven in the playoffs. Our Avalanche vs Flames playoff preview likes the Flames in this series.
Avalanche vs Flames Playoff Preview
Calgary Flames over the Colorado Avalanche in 6 games