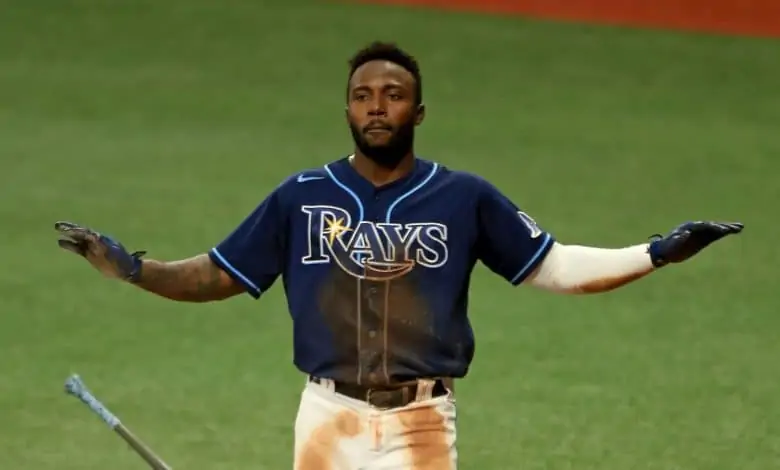 Easily the best series of the divisional round has been the New York against Tampa Bay battle. The teams head into Yankees vs Rays game 5 betting tied 2-2 in this best-of-five series meaning Friday's 7:10 PM ET contest is winner take all.
New York is a -161 favorite with the pitching edge of Gerritt Cole (7-3, 2.84 ERA) on the mound. Tampa Bay counters with Tyler Glasnow (5-1, 4.08 ERA) as +140 underdogs. As usual any time Cole is on the hill, oddsmakers are expecting a low scoring game with a betting total of just 7.5.
Public Likes the Yankees
About 69% of the betting public is willing to pay the hefty -161 price behind Cole and the Yankees. It's hard to fault leaning towards New York, but Cole is also on short rest after going 6.0 IP in Monday's series opener.
Cole wasn't his usual stout self in game 1, allowing 3 ER powered by HRs from Tampa Bay's Randy Arozarena and Ji-Man Choi. Cole was great in his wild card round outing though, striking out 13 Indians batters over 7.0 IP. The right-hander allowed 4, 2, and 3 ER in three starts vs. the Rays during the regular season (6.1 IP), but did strike out 27 Tampa Bay batters over that span.
For as good as Cole is, Yankees vs Rays game 5 betting still comes down to the New York offense. It was considered a somewhat down outing for the NYY bats on Thursday – and they still scored 5 runs on 11 hits. New York has outscored Tampa Bay 23-19 during this series, but 15 of the Rays' runs have come in two games. Giancarlo Stanton had two HRs vs. Rays starter Tyler Glasnow in Tuesday's 7-5 Yankees loss.
Tyler Glasnow will throw 1 or 2 innings tomorrow. He'll be tasked with getting out Judge and Stanton.

Then Snell will pitch for a few innings, then the bullpen will go to work.

— Gary Sanchez Resurgence Bandwagon (@GarySanchezRBW) October 9, 2020
All Arms on Deck for Tampa Bay
If Cole is on short-rest pitching on Monday, Rays starter Tyler Glasnow is really thrown into the fire after starting in game two on Tuesday. The right-hander struck out 10 Yankees batters in his last outing, but threw 93 pitches just three days ago.
Glasnow said, "As far as health goes, I feel really good. I'm ready to go." Tampa Bay has no reason to conserve their pitching staff in a do-or-die situation, but how long can we really expect Glasnow to go? Blake Snell could also be available after pitching Monday, but he didn't have success in giving up three HRs.
There's optimism for the Tampa Bay offense on Friday night as Cole has never pitched on short rest in any of his 216 career starts. Unknown doesn't necessarily mean bad though. The Rays need to avoid the offensive lemons they put up in games 1 and 4, managing just 4 total runs over those two contests. The Rays hit just .226 as a team vs. Cole, but Ji-Man Choi is 10-19 (.526) with 10 RBI vs. the Yankees starter.
Yankees vs Rays Game 5 Betting Free Pick
Tampa Bay is the #1 seed in the AL, but if you want to play conspiracy theorist you have to think MLB would much rather have an Astros vs. Yankees ALCS. With the Rays prepared to use a slew of pitchers and New York sending their $324 million ace to the mound, NYY is the play.
Yankees 8 – Rays 4
Free Pick: Yankees -1.5 (+110)