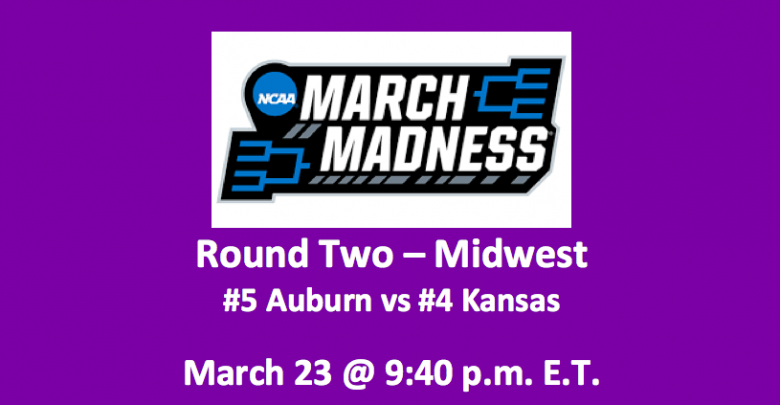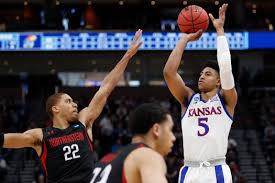 Our Auburn vs Kansas preview for this final game of day one of second round NCAA Tournament play has the Tigers at either -2.0 or -2.5. This 2019 NCAA Tournament Midwest region game will be played Saturday, March 23 at 9:40 pm ET. This contest will be played out at the Vivint Home Smart Arena in Salt Lake City, UT. The fifth-seed Auburn Tigers (27-9) come to this game ranked 14th in the nation. At the same time, the fourth-seed Kansas Jayhawks (26-9) are ranked 17th in the nation. We are anticipating that these teams will be locked in a close and hard-fought battle.
Auburn Tigers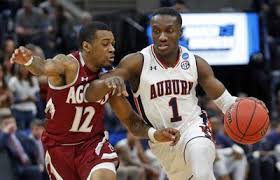 It was as close as it could get as the Auburn Tigers managed to get a first-round win over the 12th-seed New Mexico State Aggies. At the half, Auburn led 32-29. In the second half, NMS scored 48 and the Tigers 46 with the result being a one-point Auburn victory. The final was 77-76. Our Auburn vs Kansas preview notes that Auburn committed too many personal fouls in that game, as they were responsible for 24. They were also out-rebounded by NMS 39-24 and outshot at the foul line 74.1% to 66.7%. But Auburn had a healthy three-points game that hit 38.7% of the time, and the team's field goal rate of 45.6% was solid. They also posted nine steals.
The Tigers did have four double-digit scorers in the game, including the team's top point-maker guard Jared Harper. Harper scored 17 in the win. In addition, he posted four assists, while fellow guard Bryce Brown contributed five assists and 12 points. Off the bench, guard J'Von McCormick put up 16 points in 17 minutes. The top forward in the game, Chuma Okeke, was good for 13 points, five rebounds, and three steals.
Kansas Jayhawks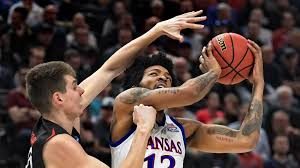 Our Auburn vs Kansas preview notes that the Jayhawks made quick work of their first-round opponent, the 13th-seed Northeastern Huskies. Auburn went into the locker room ahead 37-25 and then outscored the Huskies in the second half 50 to 28 for an 87-53 win. Kansas held the Huskies to a 28.1% field goal mark and a three-point success rate of 21.4%. At the same time, the Jayhawks hit 55.7% from the field and 36.4% of their threes. Their foul shot success rate was an amazing 91.7%. They also grabbed 45 rebounds, blocked four shots, and made six steals.
For the Jayhawks, four players scored in double digits. Forward Dedric Lawson was good for a double-double as he led the team in points with 25 and rebound with 11. In the backcourt, Devon Dotson added 18 more points. Guard K.J. Lawson put up 14 points, and Ochai Agbaji, another backcourt player, scored 13.
NCAA Tournament Round One – Auburn vs Kansas Preview Pick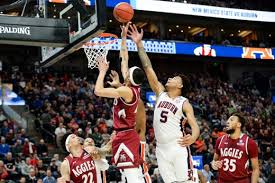 We doubt that Kansas will be able to put on the same display against Auburn as they did against Northeastern. The Auburn Tigers are one of the top teams in the nation. Still, our Auburn vs Kansas preview notes that those Tigers will have to be more on their game tonight than they were against NMS. At the same time, this will be no skate for the Jayhawks. We are taking Auburn in this one at -2.0.
Summary East Region, Round Two – Auburn vs Kansas Preview & Pick: Auburn Tigers at -2.0