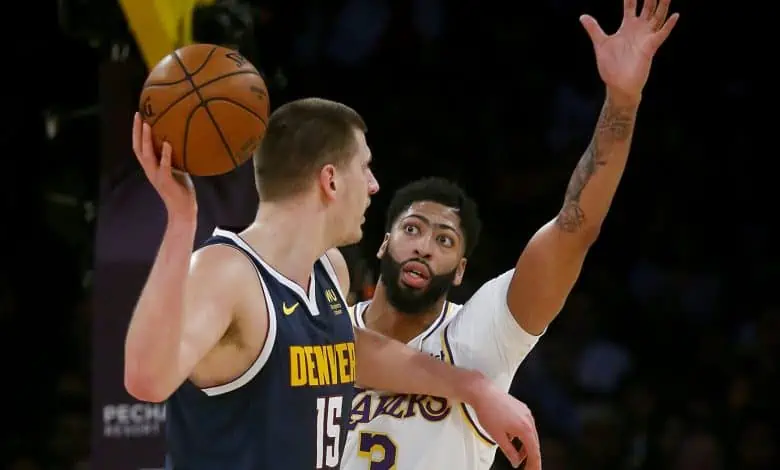 Los Angeles is hoping their opponents get complacent in the April 3rd Nuggets at Lakers betting pick, Denver has a two game lead on staying out of the play-in tournament with just four games to play – not locked in but looking pretty good.
The Lakers on the other hand are one game back from the Spurs in the #10 seed, In danger of missing the expanded postseason even with a team featuring Lebron James, Anthony Davis, and Russell Westbrook. L.A is definitely skidding at the wrong time of the year, losers of five straight, 9 of their last 11, and have just a 20-19 home record this season.
Nuggets Could Use One More
Denver missed a good opportunity to put Minnesota away (into the play-in tournament) on Friday, but lost 136-130 at home to the Timberwolves. That has kept Karl-Anthony Towns and company two games back from the Nuggets for the #6 seed, meaning Denver cannot relax quite yet.
The loss to Minnesota was frustrating, especially because Nikola Jokic had 38 points, 19 rebounds, and 8 assists – and Denver still lost. He should have another big afternoon considering the Lakers just gave up a 25 point, 17 rebound performance to Rudy Gobert in a loss to the Jazz and then allowed 17/12/6 to Jonas Valanciunas the next night in a loss to the Pelicans. Denver's Monte Morris had 23 points in Friday's loss to the T'Wolves, and he'll be an important contributor against a Lakers defense that has struggled against opposing PGs.
Lakers Back to Full Strength
Friday's loss to the Pelicans was a rough one for Los Angeles considering New Orleans is a team L.A is chasing (current #9 seed) and the 114-111 home loss came as -2 point favorites in Davis' return to the lineup. The Lakers big man had been out since February 16th with a foot injury, so his 23 point, 12 rebound performance wasn't bad after such a long layoff.
James had 38 points against New Orleans in his return to the lineup after missing a couple games with a sprained ankle. The Pelicans shot 52% from the floor though, something Denver knows all about as their defense was soft in letting Minnesota hit 50% of their shots on Friday. That could lead to the April 3rd Nuggets at Lakers betting contest being a higher scoring affair.
April 3rd Nuggets at Lakers Betting Info
The Nuggets are a -3 point favorite even following their home loss to the Timberwolves on Friday. Of course the Lakers also lost their last time out at home, but that was on the back to back as well. This contest is about as must-win as it can get for L.A as they have trips to Phoenix and Golden State upcoming and also finish off the regular season in Denver.
The Nuggets have gone 9-3 ATS over their last 12 road games, while the Lakers are 1-4 ATS in their last five and also haven't played well on Sundays, going 5-17 ATS their last 22. 62% of public bettors like the Nuggets here.
April 3rd Nuggets at Lakers Betting Pick
Jokic had a triple-double when these two teams last met (17/12/13) and the Lakers really don't have a matchup for him even though Davis did miss that last meeting (a 133-98 Nuggets win). Then again, most teams don't matchup with Jokic as evidenced by his 38 & 19 last time out – in a game the Nuggets still lost. Not sure how, but Los Angeles finds a way to get this one with their season on the line and despite another huge Jokic performance.
Free Pick: Lakers +3