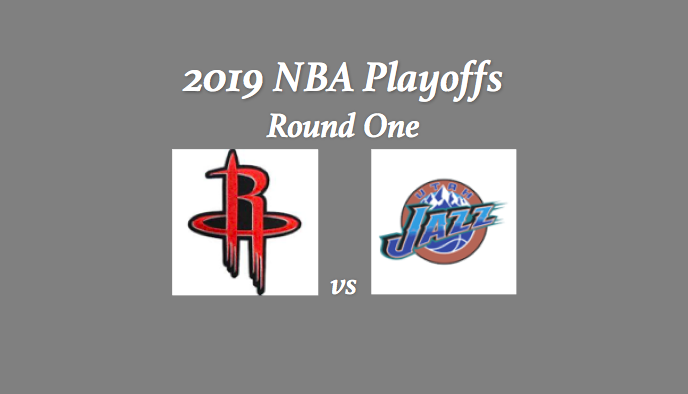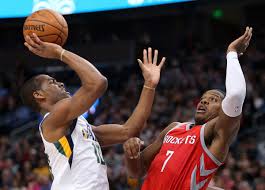 Our 2019 Houston Rockets vs Utah Jazz preview offers a fourth- and fifth-seed. This Houston Rockets vs Utah Jazz pick observes that these two teams spilt their season-series two games apiece. The Houston Rockets (53-29) finished first in the Southwest Division and five games ahead of the second-place San Antonio Spurs. The Utah Jazz (50-32) were third in the Northwest Division, four games away from the first-place Denver Nuggets
In their last 10 games, both the fourth-seed Rockets and fifth-seed Jazz went 8-2. The first-round playoff series will tip off at 9:30 pm ET on Sunday, April 14 in Houston, TX at the Toyota Center. The series moves to Salt Lake City, UT for games three and four. The teams willplay at the Vivint Smart Home Arena.
Rockets vs Jazz Playoff Preview – Stats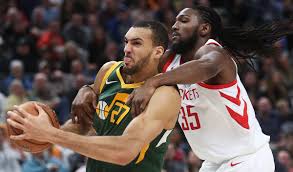 The Houston Rockets come to this NBA playoff series with a +4.8 PPG/OPPG differential. They are averaging 113.9 PPG, while allowing opponents 109.1 PPG. The Jazz of Utah are averaging 111.7 PPG. They are giving up 106.5 PPG for a differential of +5.3. Utah's advantage is slight at +0.5 PPG.
The Jazz lead the Rockets in rebounding (46.4-42.1), assists (26.0-21.2) and shooting percentage (46.8% -44.9%). The Rockets are better on twos (55.1% – 54.1%) and frees (79.1% – 73.6%). The two teams are even on three-point shots at 35.6%.
Houston vs Utah – Players
The Houston Rockets offense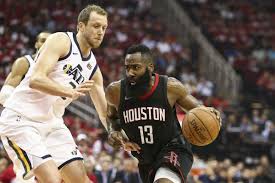 PG James Harden (36.1 PPG, 7.5 APG, 44.2 FG%) is the offensive and defensive dynamo on the Houston Rockets. Along with his plethora of points and assists. Harden is good for 2.0 STPG and 6.6 RPG. SG Eric Gordon (16.2 PPG, 1.9 APG, 40.9 FG%) and PG Chris Paul (15.2 PPG, 8.2 APG, 41.9 FG%) add points and Paul also brings a boat-load of assists. In front, center Clint Capela (16.6 PPG, 12.7 RPG, 64.8 FG%) is a double-double artist. Also in the paint is veteran Carmelo Anthony (13.4 PPG, 5.4 RPG, 40.5 FG%). Anthony can certainly still bring it. PF Kenneth Faried (19.2 PPG, 8.2 RPG, 58.7 FG%) is a major contributor.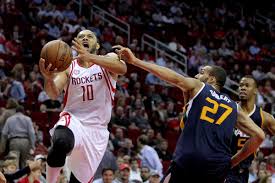 Our Houston Rockets vs Utah Jazz preview notes that the Utah backcourt is hurting. Out for the duration are Ricky Rubio, Raul Neto, and Kyle Kover. Rubio averaged 12.7 PPG and 6.1 APG, while Neto was good for 5.3 PPG and Kover 9.1 PPG. Also, listed as day-to-day is this team's top scorer, SG Donovan Mitchell (23.8 PPG, 4.2 APG, 43.2 FG%). Look for Dante Exum (6.9 PPG, 2.6 APG, 41.9 FG%) and Grayson Allen (5.6 PPG, 0.7 APG, 37.6 FG%) to see time at the guard spot. On the other hand, the frontcourt looks healthy. Center Rudy Gobert (15.9 PPG, 12.9 RPG, 66.9 FG%) offers offensive and defensive prowess. He's averaging 2.3 BPG. SF Joe Ingles (12.1 PPG, 4.0 RPG, 44.8 FG%) and PF Jae Crowder (11.9 PPG, 4.8 RPG, 39.9 FG%) are important in this team's quest to control the paint. Ingles is averaging 5.7 APG.
Keys to the Rockets vs Jazz Series
The Jazz thin in backcourt need Mitchell to come through
Harden in backcourt is tough to stop
Frontcourt can break either way
Utah D is overall solid
Houston offense can be explosive
Houston Rockets vs Utah Jazz Preview – Our Pick
We find that the Jazz are severely compromised in the guard spots. The Rockets possess some of the best backcourts in the NBA. Plus, the Rockets have depth and vets. Our Houston Rockets vs Utah Jazz preview likes the Rockets in five games.
Summary – Houston Rockets vs Utah Jazz Pick
Houston Rockets in 5 games