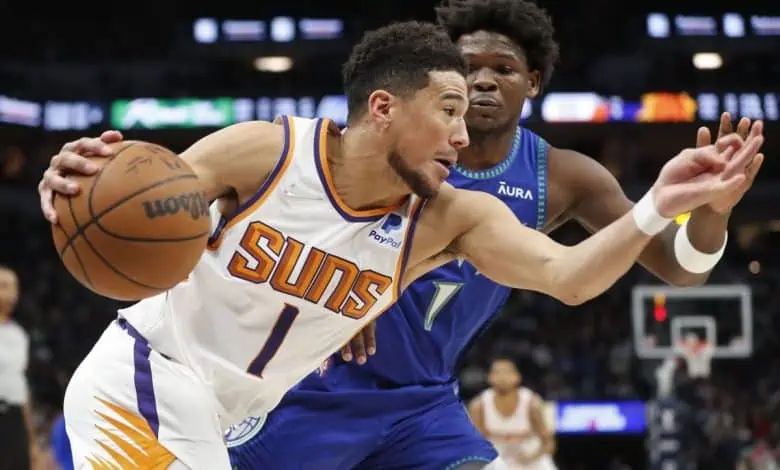 The line doesn't necessarily match what it should be on paper in Wednesday's Suns at Timberwolves betting matchup. Phoenix is 7-3 on the season and tied for second place in the Western Conference, yet they are just -1 point favorites in the Twin Cities for this matchup.
Sure the Suns have lost two of their last three and are on the road for just the second time in their last eight games, but the Timberwolves aren't exactly tearing it up either losing four of their last five. Chris Paul is out for Phoenix with a heel injury, but this still seems like a suspect line.
Fade Suns In Paul's Absence?
There are some who are saying the 37-year-old Paul is showing his age so far this season, with his 9.5 ppg average the only time he's scored less than double digits in his 18-year career. Paul has still been playing 30.1 mpg running the offense though, and his 9.4 assists per game are the second highest mark in his last seven seasons.
Paul is not the only injury that concerns Phoenix in Wednesday's Suns at Timberwolves matchup as Cam Johnson went down last Friday and will be out until possibly January after surgery on his meniscus. Johnson was averaging a career high 13.0 ppg, and he erupted for 29 last week against these Timberwolves in a 116-107 Suns home win to cover the -3.5 point spread.
The Suns still have some value as -1 point road favorites on Wednesday. They still have Devin Booker (27.1 ppg) and a couple of big men in Deandre Ayton and Jock Landale to battle with Rudy Gobert and Karl-Anthony Towns on the post. Towns was the leading rebounder when these two teams met last Tuesday but with just 10 boards.
Minnesota Needs to Get Going
Last year was supposed to be a momentum builder for the Timberwolves, going 46-36 and making their second playoff appearance since 2004. They've been slow getting out of the gate though, even after adding Gobert to team up with Towns to have one of the hugest front courts in the NBA.
Even with the 7'1 Gobert and the 6'11 Towns Minnesota ranks just 20th in the NBA in rebound rate. The T'Wolves don't do anything particularly special on offense which could be why they are 5-6 to start the year. Towns and Anthony Edwards are both averaging 20+ ppg, but the Minnesota offensive efficiency is 23rd in the NBA.
Minnesota and Phoenix do both have a top 10 defensive efficiency, and their first meeting went under the 227.5 O/U (116-107). Oddsmakers have dropped that number to 223 for Wednesday's matchup, particularly with Paul and Johnson's absences hurting the Suns' scoring a bit.
Wednesday's Suns at Timberwolves Betting Pick
This game comes down to how much stock you put in Paul's absence hurting Phoenix? Cameron Payne and Landry Shamet should be able to fill in at least adequately, and the Suns still have a pretty solid defensive system in tact. Everything is saying Phoenix at -1 looks too easy, so this is a contrarian play here.
Free Pick: Timberwolves +1