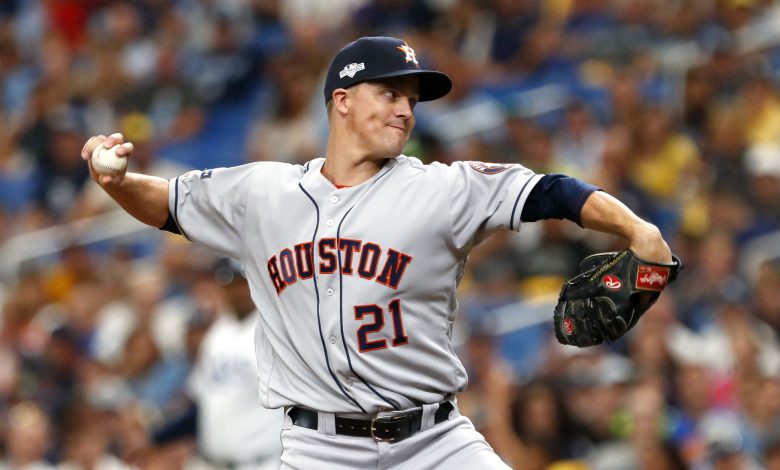 After a rainout on Wednesday, the Houston Astros and New York Yankees will resume the American League Championship Series with Game 4 at Yankee Stadium on Thursday night. While the day off might have helped the Yankees to gather themselves a bit after a Game 3 loss on Tuesday, it also allows Houston to go back to its Game 1 starter, Zack Greinke.
Of course, it also allows New York to go back to its Game 1 starter, Masahiro Tanaka, as well as get some rest for its bullpen, which had five pitchers combine for 4 2/3 innings on Tuesday. It might not seem like it, but this is as close to a must-win game for the Yankees as it gets, with Justin Verlander and Gerrit Cole waiting in the wings for Games 5 and 6.
The moneyline for this contest has the Houston Astros +115 and the New York Yankees -125. The over/under for the game has been set at 8.
Looking To Rebound
Of the Astros' trio of aces, Greinke has been the one that has struggled in the postseason, going 0-2 with an 8.28 ERA in his first two starts of the playoffs. Against the Yankees in Game 1 of this series, Greinke went six innings, allowing three earned runs on seven hits, including two home runs. The 35-year-old has 13 postseason starts on his resume, going 3-6 with a 4.58 ERA and hasn't recorded a win since a 2015 trip to the playoffs with the Dodgers.
The Astros' lineup has woken up a bit since being shut out in Game 1, with Jose Altuve setting the table once again. Altuve had a first-inning home run in Game 3 and finished 2-for-5 with two runs scored. Still, Houston would like to see leadoff hitter George Springer get going, as he has just one hit in this series and four total in the postseason after hitting .292 during the regular season. He's also struck out five times in the series and 10 times in Houston's eight postseason contests.
Repeat Performance?
Tanaka was outstanding in Game 1, going six shutout innings and allowing just one hit and one walk in the Yankees' only win of the series. After going just 1-2 during September, the 30-year-old right-hander has turned it on in the postseason, going 2-0 with a 0.82 ERA and 11 strikeouts in 11 innings of work. New York would like to see the same kind of performance in this one, especially to give the bullpen more rest with no more off days scheduled in the series due to the rainout.
Another thing that the rainout did was give Giancarlo Stanton more time to recover from the quad injury that has kept him out of the last two games. Yankees manager Aaron Boone had said he thought Stanton could pinch hit if the game had been played on Wednesday, so it will be interesting to see if he's able to go in this one. Stanton had a home run off Greinke in Game 1, as did Gleyber Torres. Torres hit another home run on Tuesday and is 5-for-12 in the series with six RBI and two walks.
New York Gets A Win
The Yankees are already desperate for a win considering what's coming on the mound for Houston. Greinke has struggled in his two postseason starts, while Tanaka has been excellent. The Yankees will get some runs on the board early, and Tanaka will make them hold up. I'm taking New York -125 to even up the series.