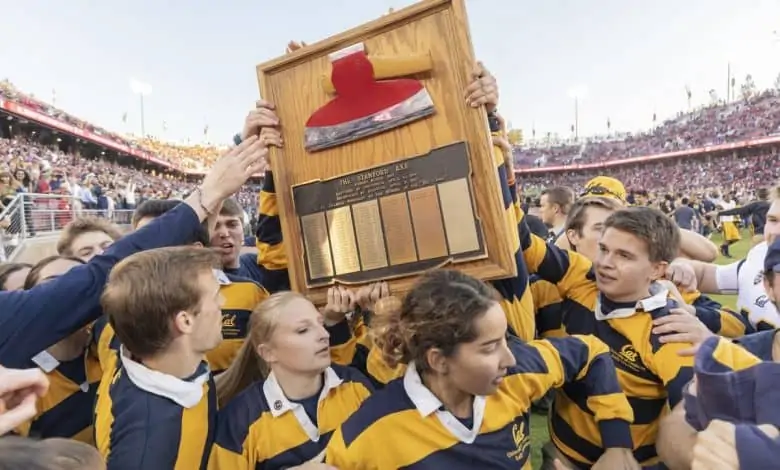 The Stanford at Cal pick is one of the closer projected games for the day after Thanksgiving college football slate. Oddsmakers have the Cardinal as -1.5 favorites on the road, a line that has completely flip-flopped from a CAL -2.5 open. 56% of the public are still on Stanford in this matchup of 0-2 teams.
The Golden Bears have been favored in both of their losses, falling 34-10 at UCLA (-3) and 31-27 at Oregon State (-1.5). It's somewhat impressive that Cal would be favored in two road games, which is something to take into account as they play their first game in Berkeley this season. Stanford failed a test at Oregon 35-14 to start the year (+11.5), and then really dropped the ball in a 35-32 loss to Colorado as -10 home favorites the last time we saw them.
Any Reason to Like Stanford?
Friday marks 'The Big Game' in a Stanford vs. Cal rivalry that has existed for 128 years so anything could possibly happen. What is there to like about the Cardinal though, never mind the fact that they lost the Stanford Axe for the first time since 2009 in a 24-20 Cal win last season?
Both teams have started the season 0-2, but David Shaw's Cardinal squad has looked much worse than Cal this year. Stanford gave up 269 yards rushing and another 227 through the air to begin the season, albeit against a very good Oregon team that is ranked #9 in the country. Last week's home loss to Colorado was inexcusable though, especially falling down 35-16 before a couple late TDs made the game look closer than it really was.
Shaw desperately needs a win in the Stanford at Cal pick, although he'll probably get a pass regardless of record due to the craziness surrounding this COVID season. Friday marks the first time Stanford and Cal have ever met up with both teams winless, and each squad has had a hard time getting into rhythm with three combined cancellations this year. Essentially, Friday's game is a toss-up.
Cal the Obvious Play?
Stanford has been thoroughly dominated in both of their losses this season, and although Cal was beat up by UCLA in their opener they easily could have had a win over Oregon State last week. The Golden Bears had two kick return TDs called back by penalties, and had a blocked punt and another poor kick set up two scores for the Beavers.
Even Cal's loss to the Bruins in which they allowed 244 yards on the ground can be somewhat forgiven as Justin Wilcox was just trying to get his team a game. Cal had their opener against Washington cancelled because of COVID and their scheduled meeting with Arizona State in week two was also denied by the virus. UCLA ended up hastily agreeing to play on a Sunday in the Rose Bowl.
Aside from the special teams mishaps last week, the Cal offense provided at least a glimpse to be optimistic for this week's meeting with Stanford. Chase Garbers threw for 315 yards and 3 TD, but did have 2 INT against the Beavers, but it was still an improvement after an 18/33 for 122 yards and a pick game against UCLA. The combo of Marcel Dancy and Damien Moore also had 109 yards rushing on 29 carries vs. the Bruins, key against a Stanford team that allowed 121 on the ground to Jarek Broussard in the loss to Colorado.
Free Stanford at Cal Pick
The wrong team looks favored in this one, and it's strange that the line has been moving away from a CAL -2.5 open at home. That raises some red flags with wagering on a side that could go either way. Instead, in this matchup of two far from impressive offenses a lower scoring game should be expected. The total is sky high at 51.5, a number that hasn't hit in the last three 'Big Game' matchups.
Cal 21 – Stanford 20
Pick: Under 51.5