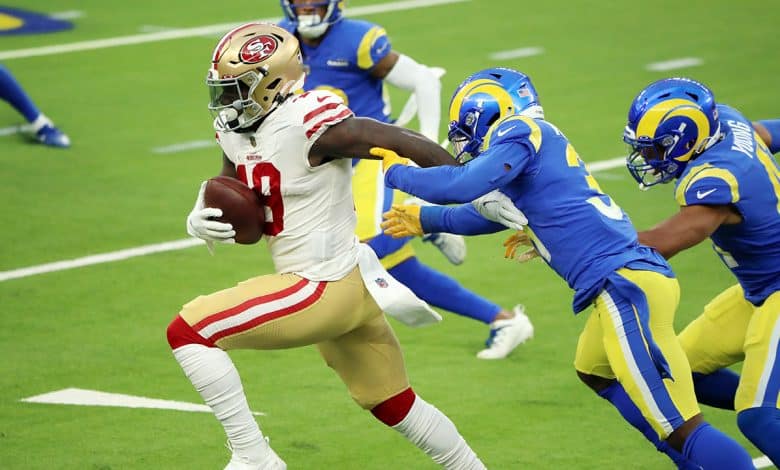 While the Bengals at Chiefs game in the AFC looks like it could play out to be a high scoring affair, things are a little less set in stone for 2022 NFC Championship game prop bets. The Rams are -3.5 favorites at home against San Francisco, with L.A trying to punch a ticket to play in SoFi Stadium once again in two weeks.
The betting total for the NFC Championship 45.5 (9 points less than the AFC game) with San Francisco having won six straight in the head to head series. We don't know what to expect whether it's a 13-10 defensive battle or a 45-42 shootout. Let's see what some of the best props look to be on paper.
Cooper Kupp Over 104.5 Receiving Yards (-114)
It's going to be one of the more heavily betted events in the 2022 NFC Championship game prop bets but how do you not go on the 'over' for Cooper Kupp? The triple crown receiving winner has went over that yardage mark in 7 of the last 10 including a 9 catch, 183 yard performance last week vs. Tampa Bay. Kupp has 118 and 122 yards receiving in two games vs. San Francisco this season so not sure why the yardage total is so low?
George Kittle Over 4.5 Receptions (-141)
The odds are a bit harsh but the number of George Kittle receptions is also a bit low. Kittle had 6 targets last week against Green Bay, but that was also in the snow in Green Bay in a game that San Francisco only threw the ball 19 times. Rob Gronkowski had just 4 catches last week vs. the Rams, but Tampa Bay obviously saw something targeting him 11 times. Expect Kyle Shanahan to call a lot of short passes early to help Jimmy Garoppolo get his confidence going, and Kittle will be the biggest benefactor.
Cam Akers Under 57.5 Rush Yards (-114)
Cam Akers lost two fumbles last week against Green Bay so aside from the fact that San Francisco has the #7 rush defense in the NFL (103.5 ypg) how much trust does Akers have within the Rams play calling faction? If Akers fumbles early he may be seen as a liability and Sean McVay turns to the equally capable Sony Michel. Akers has 48 and 55 yards rushing this postseason, but with a heavy workload of 17 and 24 carries.
Deebo Samuel TD (-125)
Deebo Samuel figures to be a big part of San Francisco's offense on Sunday – we just don't know in which capacity. His rush yard over/under is 39.5 and his receiving yard total is 54.5. There's such a fine line with these shovel passes and reverses that the yardage total either way is almost unplayable.
What should happen for 2022 NFC Championship betting however is Samuel finding the end zone in some way, shape, or form. He had a receiving and rushing TD vs. the Rams in mid November, ran for a score and also had 95 receiving yards vs. LAR in the regular season finale, and is also averaging 5.5 ypc and 13.67 yards/catch this postseason.
Odell Beckham, Jr TD (+120)
Odell Beckham, Jr. wants to get to that Super Bowl spotlight, especially when it's being played in his current home of SoFi Stadium. Beckham, Jr had a TD catch in 5 of the last 7 regular season games and has caught 10 of 12 targets in the two playoff contests. Beckham had just 2 catches for 18 yards in the regular season finale against San Francisco so he's ready to pop.