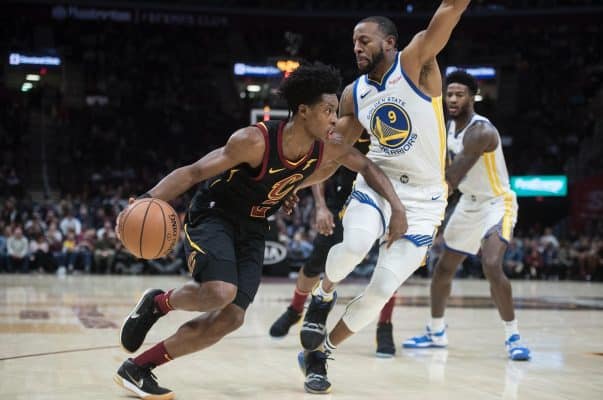 The February 15th Cavs at Warriors matchup seems like it could get ugly. Cleveland has lost 7 straight, but their last three have all been very lopsided coming by a combined 74 points. The Cavaliers are also playing Monday's game on the second leg of a back-to-back after falling 128-111 to the Clippers on Sunday as +9 point underdogs.
Golden State didn't fare to well themselves the last time out, losing 134-117 at home to Brooklyn on Saturday as +3 point underdogs. Golden State is -9.5 favorite in this spot, up from an 8 open even though public bettors are split 50/50.
Cleveland Sitting Drummond
Golden State is very thin in the front court with James Wiseman and Kevon Looney still injured, and Draymond Green playing through a knee ailment. The Cavs have great size – or did anyways until they announced that Andre Drummond will sit for the time being as Cleveland waits for a trade offer.
The Cavs got thumped for 21 points and 9 rebounds by Serge Ibaka on Sunday, as the Clippers scored a dominating win even without Paul George and Kawhi Leonard. That followed 21 and 13 from Enes Kanter in Portland's win so Cleveland is definitely struggling vs. bigs. Since Golden State doesn't have a very strong front court presence, does that give the visitors an edge in the February 15th Cavs at Warriors pick?
Cleveland has still allowed 120+ in 6 of their last 7 though, dipping to 22nd in the NBA in defensive efficiency while allowing opponents to shoot 47% from the field (28th) but 39.8% from three (30th). Golden State is surprisingly just 20th in offensive efficiency, but Cleveland is dead last in that category.
Easy Night for Golden State?
The Warriors need a bounce back after their 17-point loss to Brooklyn on Saturday in which the Nets shot 54% from the field. The loss broke a 2-game win streak for GSW, who beat San Antonio 114-91 and Orlando 111-105.
Golden State is still 6-4 over their last 10 and currently hold the 8th spot in the Western Conference. GSW has gone 9-6 at home and have covered in 4 of their last 5 as a favorite.
Green will likely suit up for this one, which does help Golden State in the post. He has double digit assists in 5 of the last 6 games, and the Warriors are also getting better play in the post from Kelly Oubre who has 10 rebounds in three straight. Andrew Wiggins matches up against his former team and Steph Curry has been his usual great self with 27+ in the last 9 games.
Free February 15th Cavs at Warriors Pick
It's hard to like Cleveland in this one. Even the +9.5 points doesn't look doable the way the Cavs have been getting blown out over their current West Coast road swing. That 5-game away trip also wraps up on Monday, which often leads teams to even further letdown as they're anxious to get home.
The Warriors have also won the last 10 in this series, and Golden State doesn't play again until Wednesday when the Heat visit so there's no reason to rest on the first leg of a back-to-back. It looks like GSW big.
Golden State 129 – Cleveland 109
Free Pick: Golden State -9