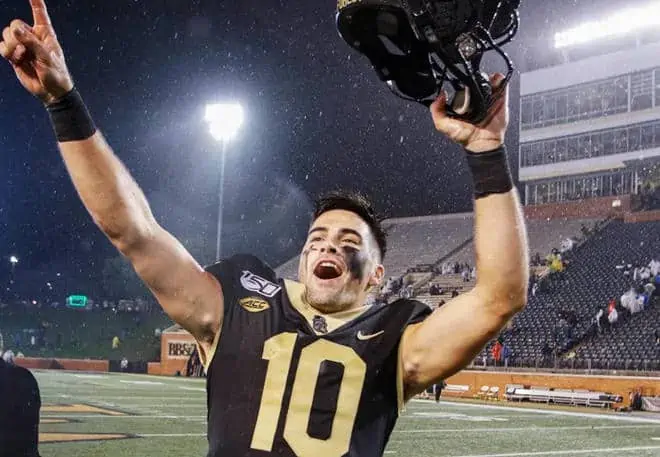 It looks like oddsmakers have their Grinch suit on a couple days before Christmas in the Wake Forest vs Missouri matchup in the Gasparilla Bowl. Friday night's game has trap play written all over it with the Demon Deacons just a -2.5 favorite.
Make no mistake Wake Forest (7-5) has trailed off a bit to wind down the year, losing four of their last five following a 6-1 start to the season. Mizzou (6-6) also went to battle in the SEC all season, losing close games to Georgia (26-22), Florida (24-17), Kentucky (21-17), and Auburn (17-14).
Finale at Wake Forest for Hartman
The most prolific Demon Deacons passer of all-time will wrap up his Wake Forest career on Friday as Sam Hartman plays his last game with the program. Hartman became the school's leading passer right away in week three this season, and went on to throw for 3,421 yards with 35 TDs and 10 INTs after tossing for 3,924 with 36/14 last year in two extra games.
Hartman could enter into the NFL draft or he could transfer for his final year of eligibility, but has lightheartedly said his time at Wake Forest has come to an end as people are "sick and tired of me." Hartman led Wake Forest to a Gator Bowl win over Rutgers last season with 304 yards passing and 3 TDs, and he would love to end his time here with another postseason victory.
The Demon Deacons' passing game ranked 10th in the country this year with 314 yards/game and their 36.8 ppg were in the top 20 in the nation as well. Missouri only gave up 337.3 yards per game on defense which was 28th in the country – impressive playing in the SEC – but the Tigers are also missing a lot of key components for the Gasparilla Bowl.
Missouri Players Opting Out
Mizzou hasn't won a bowl game since the 2014 Citrus Bowl, but players don't seem to concerned with ending that streak as many are choosing not to play on Friday night in  St. Petersburg.
DE Isaiah McGuire (7.5 sacks), DE D.J. Coleman (6 sacks), and S Martez Manuel are all opting out to prepare for the NFL draft. The absence of Missouri's two best pass rushers and their second best defensive back doesn't do any favors going up against the vaunted passing attack of the Demon Deacons. Not only is Hartman playing in the Wake Forest vs Missouri matchup, but so is 6'5″ WR A.T. Perry (980 yards, 11 TDs) despite being an NFL prospect as well.
Perry is in for Wake Forest, but Missouri's best WR Dominic Lovett (846 yards, 3 TDs) as he is transferring within the conference to Georgia. The Tigers' next most productive receiver was Barrett Banister who had just 403 yards and didn't catch a TD. QB Brady Cook doesn't have a lot of weapons here and Mizzou's running game is nothing to write home about as Cody Schrader led the team with 690 yards.
Free Wake Forest vs Missouri Betting Pick
It certainly feels like the Demon Deacons could be 7-8 point favorites here because they have a vaunted passing attack and Missouri is missing a couple key players due to opting out. Hartman is an experienced QB who gets one last audition, either to help his NFL stock or for the transfer portal – where he has been linked to Notre Dame.
Free Pick: Wake Forest -2.5