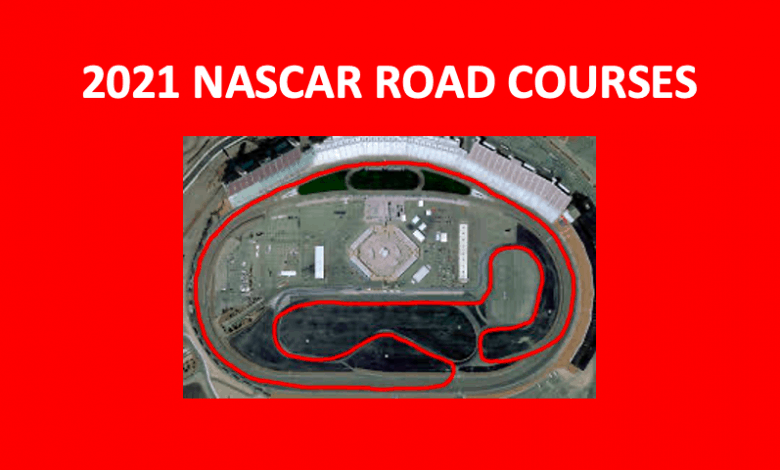 2021 NASCAR road courses total seven this year with six featured in the regular season. Last year, there were three road courses. Road races are much different than your common speedway contests. Let's face it, there has to be a major transition for drivers who are used to competing on 1.5-mile of longer courses with long straightaways and only left turns.
One lap around a road course can be anywhere from two-plus to four-plus miles with typical courses having approximately 12 turns. Obviously, that a very different challenge for a driver who more times than not drives a typical speedway track.
2021 NASCAR Road Courses
Here's a quick look of the schedule.
Tuesday, February 9 @ 7:00 pm ET – Bush Clash at Daytona
Daytona International Speedway Road Course – 35 laps/126.35 miles
This event kicks off the road course races and also the NASCAR season. Although the 3.6-mile course is not the shortest on the circuit, this is by far the shortest race in terms of laps and total miles. It's sort of a way to ease into NASCAR 2021, short and sweet.
Sunday, February 21 @ 3 pm ET – NASCAR Cup Series Race at Daytona Road Course
Daytona International Speedway Road Course – 65 laps/234 miles
Although the course is still 3.6 miles long, there are 30 more laps and over 100 more miles in what is the second road race of the young season. Depending on how you count them, there are a dozen twists and turns, including two very tough horseshoes that are joined by a length of track that might be a straightaway except for a pesky jog at the halfway point. That first race on this same course, should prep drivers for what is a longer and tougher second race.
Sunday, May 23 @ 2:30 pm ET – NASCAR Cup Series Race at COTA
Circuit of the Americas – TBA laps/TBA miles
Quickly becoming a popular raceway, this venue, which is located in Austin, Texas, opened eight years ago. Since Circuit of the Americas, it's had a lot of racing, and has offered many other events and experiences, but this is the first year it is hosting a NASCAR Cup Series event. That means with no Cup history to draw on, this race could feature a dark horse winner. By the way, this race occurs a full three months after road race two.
2021 Road Races – Midway
Sunday, July 4 @ 2:30 pm ET – NASCAR Cup Series Race at Road America
Road America – 62 laps/250 miles
Six weeks after Circuit of the Americas, NASCAR stops in Elkhart Lake, Wisconsin. This track is just over four miles long and it includes 14 turns. It is the longest of the seven races, and of all the NASCAR road races, this is one of the most punishing. After opening in 1955, Road American hosted NASCAR's Grand National (now NASCAR Cup Series) the following year. Since 2010, they've also been featuring the NASCAR Xfinity Series. The 8, 9, and 10 turns are especially tough with number eight, an exceptionally tight, quick, 90-degree turn, starting of the series.
2021 NASCAR Road Courses – Second Half
Sunday, August 8 @ 3 pm ET – Go Bowling at the Glen
Watkins Glen International – 90 laps/220.5 miles
Opening in 1956, Watkins Glen the Formula One United States Grand Prix from 1961-1980. The NASCAR course at this venue has seven turns, which is four fewer than the Grand Prix course. This track gives drivers the chance to really air it out on its straightaways. However, they don't get a chance to do so immediately, as turn number one is especially tight, and it's followed up fairly quickly in succession by two, three, and four. Coming out of turn four, expect to see drivers put the pedal to the metal.
Sunday, August 15 @ 1 pm ET – Big Machine Vodka 400 at the Brickyard powered By Florida Georgia Line
Indianapolis Motor Speedway Road Course – 82 laps/200 miles
This course includes two long straightaways that are interrupted by a dramatic series of turns. Of the 14 turns, six are clumped together prior to the first long stretch of road with the other eight occurring at the end of that straightaway and terminating just before the stretch to the finish line. The 2.4-mile course, one of the shorter ones on the circuit, is the setting for the second-shortest road race of the season.
Sunday, October 10 @ 2 pm ET – Bank of America ROVAL 400
Charlotte Motor Speedway Road Course – 109 laps/248.52 miles
Of the NASCAR road races, this is the only one included in the playoffs. It is the last of three legs of the Round of 12, which means this competition could be a deciding factor as to which four drivers are eliminated and which eight go onto the next round. This is an exceptionally short course, just 2.28 miles. But the 109 laps are the most of all road races. There are 18 turns on this track, which means that the straightaways are short. This is a tough course to navigate.
2021 NASCAR Road Courses – Bet Wisely
Those are the 2021 NASCAR road courses. The fact that there are seven such races, really does raise the stakes for drivers when they are competing in these races. In our next article, we will to take a look at those drivers who gain an edge when racing on road tracks and those who are put at a disadvantage. Prior to the start of the 2021 NASCAR season, make sure you read our article on NASCAR betting.