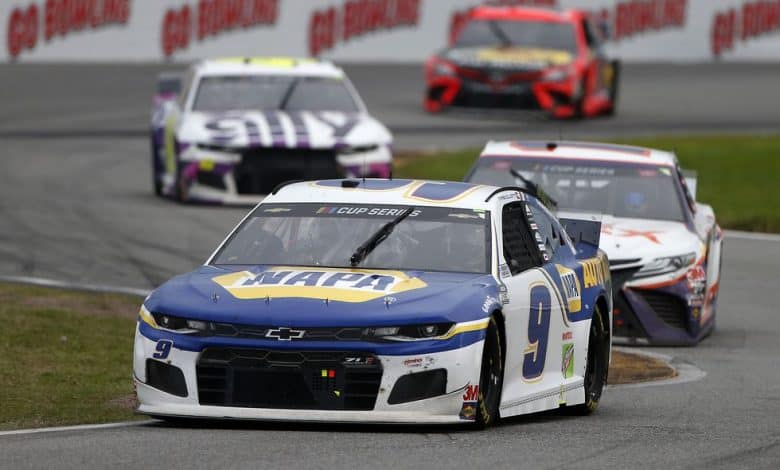 It seems to be a foregone conclusion that Sunday's 2021 NASCAR Daytona road course betting matchup is Chase Elliott's to win. The #9 car is just a +200 favorite in this restrictor-plate race, which some say is too unpredictable. Others say doubling up your money on Elliott is a no-brainer.
The big question becomes who, if anybody, can challenge Elliott? A last lap wreck gave Michael McDowell the Daytona 500 crown last weekend, and the champ is +6600 on Sunday. It was Joey Logano (+1800) and Brad Keselowski (+2000) that were battling last week until the final lap and it's always worth it to have some stakes on Denny Hamlin (+900) and Kevin Harvick (+1500) each and every weekend. Here are Sunday's best wagers:
Chase Elliott +200
Elliott winning on Sunday would surprise absolutely nobody. Elliott finished 2nd last week in the very awkward Daytona 500 and is also starting in the #1 spot for the 2021 NASCAR Daytona road course. Elliott has won four straight road course races and 5 of the last 7, and although the ROI isn't great Elliott seems as close to a sure thing as there is this weekend. Elliott to win is the only play here with these odds. 
Martin Truex, Jr. +350
If Elliott doesn't capture the checkered flag here there's a pretty good chance it's the #19 Toyota. #19 is starting 19th which isn't ideal, but Truex had the fastest green flag speed at last year's event. Truex finished 3rd at the Daytona road course last year and 7th at the Charlotte Motor Speedway ROVAL despite a couple of pit road violations. Cut out the mistakes and Truex has this one. If you don't trust Elliott, Truex at +105 in the head to head is a good parlay option. 
Denny Hamlin +900
Not a bad price for Denny Hamlin, starting in the #4 spot and coming off a top 5 finish in the Daytona 500. Hamlin led the most laps at the Clash at Daytona RC on February 9th before coming in 6th (Kyle Busch +900 won that event). Hamlin has finished in the top 5 at road course races three times in the last two years and is a threat every weekend. Hamlin at +275 for a top 3 finish is close to a given. 
Michael McDowell +6600
Nobody has won back-to-back races to start the NASCAR season since Matt Kenseth in 2009, but there's worse people to lay your money on than Michael McDowell at +6600. Sure he had some luck in winning the Daytona 500 last weekend, but McDowell is a road course specialist that has raced on this track seven times with a top finish of 3rd. You can't discount momentum either. McDowell at EVEN odds over Chris Bell (-130) is a great play. 
A.J. Allmendinger +1200
He's a part-timer this year and still has the 6th best odds. That tells you how good of a road course driver A.J. Allmendinger is. The Dinger has four Xfinity wins on road courses and his lone Cup win came at Watkins Glen. The 116 Chevy is starting off way back at 34th, but that still leaves some good head to head options. A.J. Allmendinger at -105 over Kyle Larson is great. Allmendinger is even favored over Kyle Harvick (-135). 
2021 NASCAR Daytona Road Course
Not gonna wager a spleen on it, but this is pretty much Chase Elliott day. The great thing about golf or NASCAR wagering is that even the heavy favorite is +200. Good ROI on a sure thing.