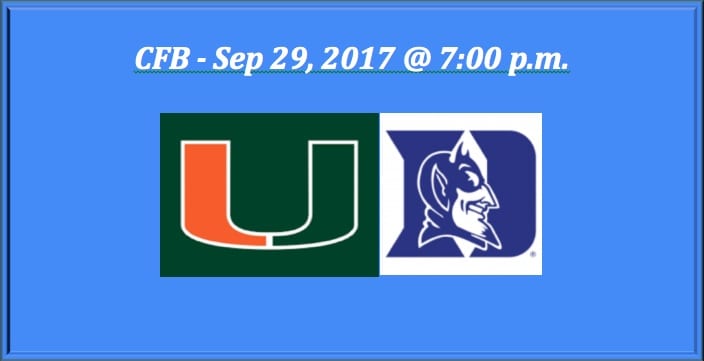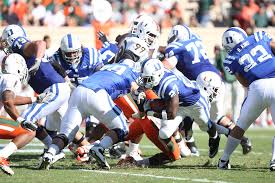 Our 2017 college football pick has the #14 Miami Hurricanes (2-0) at Duke Blue Devils (4-0). The Hurricanes have had two of their first four games cancelled due to hurricane Irma. In their first game of the season, they beat Bethune-Cookman 41-13. Week two's contest against Arizona State was cancelled and the following contest, which was against FSU, was postponed. Last week, Miami beat Toledo 52-13. The Blue Devils have run off four straight wins, beating, in order, NC Central 60-7, Northwestern 41-17, Baylor 34-20, and UNC 27-17. That's a fairly impressive list of opponents. How will Duke do against a nationally ranked team like Miami? Our 2017 Miami plays Duke college football pick offers the Hurricanes at -5.5 and the over/under at 55.0.
Miami Offense vs. Blue Devils Defense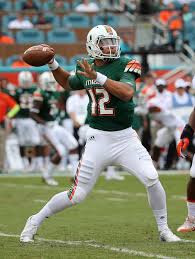 The Miami offense has been generating 46.5 PPG and 571 yards of offense per game. They've had an average of 288 YPG of ground offense and 283.0 in the air. Miami QB Malik Rosier (68.8 COMP%, 8 TDs, 1 INT) has tossed two of his six touchdown passes to wideout Braxton Berrios. Berrios has eight catches for 140 yards and an average of 17.5 YPC. RB Mark Walton is averaging 13.0 YPA and has three TD runs. RB Travis Homer, who is averaging 7.4 YPA and 14.2 YPC, has two rushing TDs.
Duke has held opponents to just 15.3 YPG. They've allowed an average of just 65.3 yards per game rushing and 196.3 passing. Duke has some major stopper in the front seven including DE Mike Ramsay and LB Joe Giles-Harris. Ramsay has notched 13 tackles, three sacks, and six TFL. Giles-Harris has accumulated 34 tackles, one sack, and six TFL. The defense has defended 22 passes, make five interceptions, and forced three fumbles. There's a lot of talent and skill on this side of the ball.
Duke Offense vs. Hurricanes Defense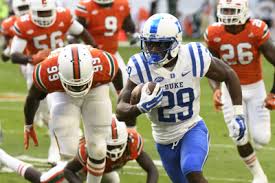 Duke QB Daniel Jones (61.9 COMP%, 5 TDs, 2 INTs) is a dual-threat offensive force. Jones is averaging 3.4 YPA on the ground and has rushed for three TDs along with tossing five. Two other running threats, Shaun Wilson (59 ATT, 5.9 YPA, 5 TDs) and Brittain Brown (52 ATT, 6.3 YPA, 2 TDs), offer scoring potential. Wilson has a 55-yard touchdown run. WR T.J. Rahming has 24 catches for 248 yards. He's averaging 10.3 YPC. TE Davis Koppenhaver has two TD catches.
The Miami D does not appear to have the same chops as the Blue Devils defense. They have just five sacks, while Duke has 12, and they have 16 FF while the Blue Devils have 34. DB Malek Young has 2.4 TFL, one pick, and one TFL. LB Shaquille Quarterman and DB Dee Delaney have each made 12 tackles.
2017 Miami Plays Duke College Football Pick
Miami is giving up about 125 more yards of offense per game than the Blue Devils and six more points. The Hurricanes are also gaining about 100 more yards per game on offense than Duke and scoring on average six more points. The fact is Duke has had a much tougher schedule thus far than the Hurricanes, and they have weathered it well. Plus, their defense really seems to be churning at an effective level. This should be a very interesting ACC contest. Our 2017 Miami plays Duke college football pick is Duke at +6.5 and over 55 points.
2017 Miami Plays Duke College Football Pick: Duke at +6.5 and over 55 points.