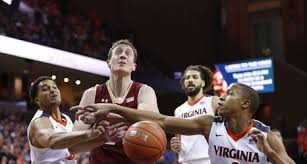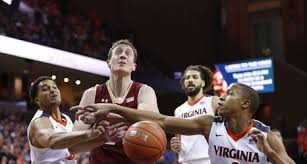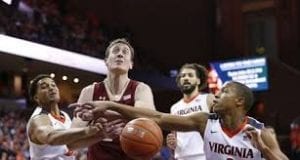 Our Virginia plays Boston College basketball free pick has the makings of a possible upset as the Cavaliers come to this game as 14.5-point favorites. The #16 Virginia Cavaliers (13-3 Overall, 3-2 ACC) don't bring a lot of flash to the court but they often get the job done. The Boston College Eagles (9-9 Overall, 2-3 ACC) are often able to keep games close due to their scoring chops.
Virginia, which is fourth in the ACC, comes to this game having won three of its last five. They started conference play on Dec. 28 by beating the #6 Louisville Cardinals 61-53. They then lost on Dec. 31 to #20 Florida State 60-58. They started the New Year with another loss. This time it was Pittsburgh that beat them on Jan. 4 in OT 88-76. The Cavaliers last two games have been wins. On Jan. 8 they beat Wake Forest 79-62 and on Jan, they took down Clemson 77-73.
The BC Eagles are 11th in the ACC. They began conference play with a 96-81 win over Syracuse. They then lost their next two, as Wake Forest beat them 79-66 on Jan. 3 and Duke manages a 92-83 win on Jan. 7. They then beat NC State 74-66 on Jan. 11 and lost four days ago to Syracuse 76-53.
#16 Virginia Cavaliers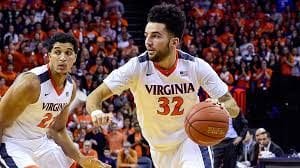 Virginia brings some sound shooting to the court along with a stingy defense and disciplined play. London Parrantes (12.1 PPG, 4.1 APG, 47 FG%) is the team's top point scorer. He's good on 42% of his three-pointers. Kyle Guy (8.5 PPG, 49 FG%, 83 FT%) brings keen accuracy with his shots. He's knocking in 52% of his threes. Guard Marial Shayok (9.7 PPG, 46 FG%) has seen his playing time expand recently. Junior forward Isaiah Wilkins (6.3 PPG, 5.5 RPG, 59 FG%) offers solid inside play and leads the team in rebounding.
Virginia is a sound team that makes few mistakes. They're committing just 10 TOG and 16.2 FPG. They are limiting opponents to 53.4 PPG while averaging 69.9 PPG. The Cavaliers are grabbing 33.8 RPG.
Boston College Eagles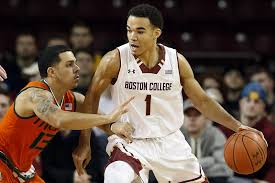 For the Eagles, sophomore guard Jerome Robinson (20.2 PPG, 4.6 RPG, 4.2 APG) is shooting 46% from the field and hitting 39% of his threes. Ky Bowman (12.2 PPG, 4.1 APG, 48 FG%) is also a sound three-point shooter at 37%. In the frontcourt, Connar Tava (6.8 PPG. 5.9 RPG, 50 FG%) leads the team in rebounds per game. Forward A.J. Turner (9.9 PPG, 3.9 RPG, 3.7 APG) does it all while hitting 46% from the field and 44% from downtown.
The Eagles are averaging 73.3 PPG, but they are allowing 73.7. They're commitiing 16 TOG and 19.2 FPG. Plus, their shooting percentages across the board are a good four percentage points below those of the Cavaliers.
Virginia Plays Boston College Basketball Free Pick
The fact is 14.5 points is a big spread on this game. However, with the difference in turnovers, shooting percentages, and fouls, that point spread may hold up. The Cavaliers are highly disciplined and tough on defense. For our Virginia plays Boston College basketball free pick, we are going with the Cavaliers at -14.5.
Virginia Plays Boston College Basketball Free Pick: Virginia -14.5