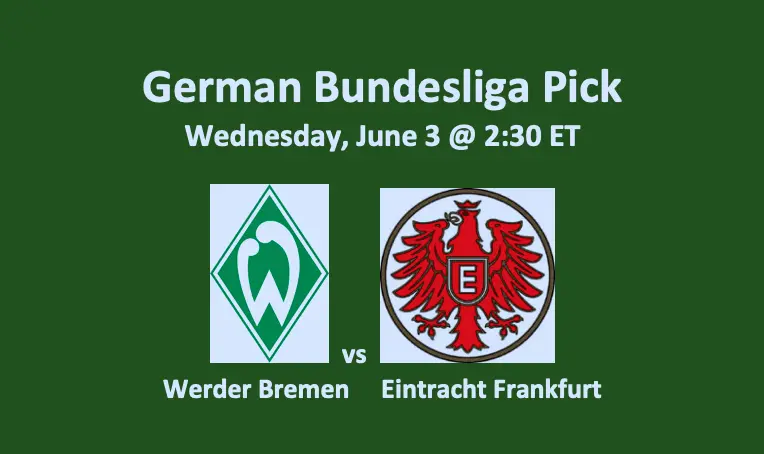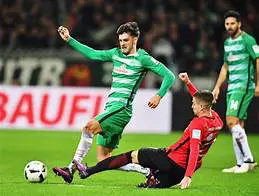 Our Bremen vs Frankfurt pick offers the visiting Eagles at -125 with the spread at 0.00. Interesting to note that moneyline odds have Frankfurt at +150. In essence, for this Bremen vs Frankfurt pick, the moneyline is the best bet as it pays much better, but like the spread, there's no goal deduction. For this match, the home team, Werder Bremen, is at +105 with the spread at 0.00 and at +175 with the moneyline. Again, as it is with Frankfurt, the moneyline offers a much better payout for Bremen than the spread. Thus, for this German Bundesliga match, which will be played on Bremen's ground, which is Weserstadion, we'll be choosing one of the moneylines. The clubs will meet on Wednesday, June 3, 2020 at 2:30 pm ET.
Bremen vs Frankfurt Pick – Form and Stats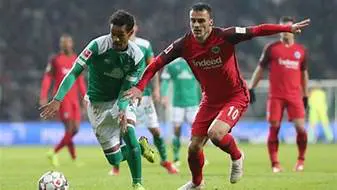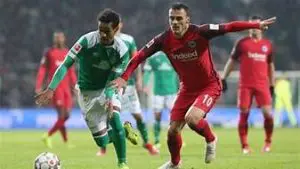 In form, the home club Green-Whites are 2-2-1. Werder Bremen last played on May 30 beating Schalke 04 by a score of 1-0. They last lost on May 18 when Bayer Leverkusen took them down 4-1. Over their last five games, Eintracht Frankfurt has recorded a record of 1-1-3. However, in their last two games, the Eagles posted a 3-3 draw versus SC Freiburg and a 2-1 victory over VfL Wolfsburg. That last game was played on May 30.
In the last five meetings between these two football clubs, Bremen has the edge going 2-2-1. However, Frankfurt did win the last match 2-1 on March 4, and the two previous meetings between the two clubs both ended in two-all draws.
The Eagles hold the statistical edge over Bremen as they have outscored them this season 46-30. Plus, the Green-Whites have allowed 59 goals while Frankfurt has given up 53. Bremen's goal differential stands at minus-29, while Eintracht Frankfurt's comes in at minus-6. The Eagles have recorded 34 assists and the Green-Whites 23.
Green-Whites vs Eagles – Players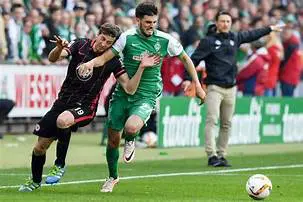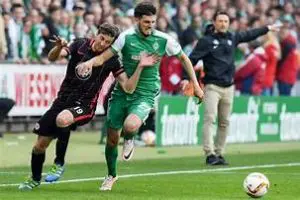 Our Bremen vs Frankfurt pick notes that midfielder Milot Rashica brings a solid boot to Bremen's offense. He tops the team in goals with seven and assists with five. Along with Rashica is forward Davy Klaassen. Klaassen is second in goals and assists with four in each category.
For the Eagles, watch out for defender Martin Hinteregger. He can turn up the pressure, which is proven by the fact that he leads the club in goals scored with eight. Forward Gonçalo Paciência is second in goals with seven and tied for second in assists with three. A word of caution, he is listed as doubtful for this contest. Still, the Eagles do feature playmaker Filip Kostic. The forward tops the club with nine assists. In addition, Kostic has put the ball in the net four times.
Our Bremen vs Frankfurt Pick
The Green-Whites could be destined for relegation as they presently occupy 17th-place in the German Bundesliga. Eintracht Frankfurt sits in 12th-place, and although they are not out of the woods yet, they are looking better and better when it comes to being sent down. We doubt that will occur. Despite Frankfurt's recent play, which has been more consistent, they are still walking a fine line when it comes to winning and losing. Also, there's no doubt about it that Werder Bremen got a lift by beating 10th-place Schalke 04 in their last game. We decided that our Bremen vs Frankfurt pick is the Eagles at +150. We think that Kostic will be the difference in this match.
Summary Werder Bremen vs Eintracht Frankfurt
Eintracht Frankfurt Eagles at +150 (moneyline)