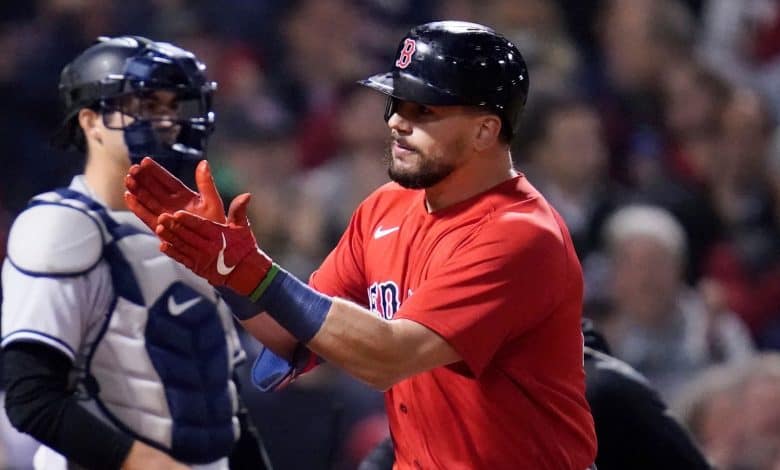 Kevin Cash's squad puts their season on the line heading into the Tampa Bay Rays at Boston Red Sox game 4 matchup. The Sox (finally) scoring a 6-4 win in game 3 on Sunday thanks to a Christian Vasquez walk-off HR in the 13th inning.
Boston was a -121 favorite in Sunday's win but have dropped a bit to -110 for Monday night's tilt. That's somewhat strange pricing considering Tampa Bay (+101) used 8 relievers in game 3 and are likely going with an opener in Collin McHugh in game 4. Obviously in an elimination game all arms are going to be available, but TB being thin on the back end has to give Boston an advantage.
Tampa's Pitching Going to Doom Them?
Cash got just 2.0 IP from Game 3 starter Drew Rasmussen forcing him to use the bullpen a lot especially in a 13-inning game. The Chris Archer, Tyler Glasnow, and Yonny Chirinos injuries to Tampa Bay's starting staff are rearing their heads so McHugh takes the hill for the first couple innings Monday night.
McHugh threw in game two, lasting just 1.2 innings while giving up HRs to Alex Verdugo and Enrique Hernandez. McHugh took the loss in that game after being charged with 3 ER. McHugh gave up just 1 ER in 12.0 IP over five appearances vs. Boston during the regular season, so we'll see what version of the right-hander shows up on Monday night. Tampa Bay will also likely use Michael Wacha who gave up 6 ER over 2.2 IP in game 2.
The Tampa Bay offense almost had the go-ahead run at the plate on Sunday until a Kevin Kiermaier hit the got deflected out of play and was ruled a ground rule double stranding Yandy Diaz at 3rd. They couldn't bring Diaz home, and the Rays lost despite HRs from Wander Franco and Austin Meadows.
Boston Offense Has the Edge
Both teams are a bit thin in the bullpen as the Red Sox used 7 relievers in the 13-inning win on Sunday. That likely means another big offensive night for Boston who have tallied 35 hits over the last two games. It's been quite the turnaround for the Sox since the 5-0 loss in game 1.
Enrique Hernandez is 8 for his last 14 and has homered in the last two games for Boston. Kyle Schwarber and Vasquez added long balls on Sunday while Rafael Devers, Xander Bogaerts, Verdugo, and J.D. Martinez went yard in Friday's 14-6 win.
Eduardo Rodriguez (13-8, 4.74 ERA) makes his second start in the Tampa Bay Rays at Boston Red Sox game 4 meeting. He got the early hook in game one with just 1.2 IP after allowing 2 ER and walking two batters. The last outing of the regular season for Rodriguez was a relief appearance, so he's thrown just 2.2 IP since October 1st. It's the rust or rest question for Rodriguez on Monday night.
Tampa Bay Rays at Boston Red Sox Game 4 Pick
It's hard to go against Boston in this one with the price (-108), the fact they are at home, the bats (35 hits the last two games), and with the Rays using the bullpen basically the whole game. The Red Sox don't want to go back to the Trop for game 5, so expect Alex Cora to pull out all the stops just like TB will be doing on Monday night to salvage their season.
Red Sox 6 – Rays 5
Free Pick: Red Sox -108