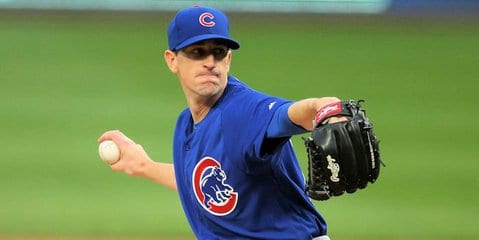 The National League Divisional Series has turned out to be an eventful one for both the Cubs and Nationals. Max Scherzer was pulled with a one-hitter in game three and Stephen Strasburg was supposedly going to miss a start in game four due to allergies – only to do a 180 and take the mound and K 12 Cubs batters. Chicago's bats have gone dormant and suddenly their normally amazing middle infielders are making errors. The NLDS Game 5 free pick is about as tough a choice as getting tasered when you wake up every morning or getting kicked in the face every time you go to bed.
NLDS Game 5 Free Pick Starting Pitchers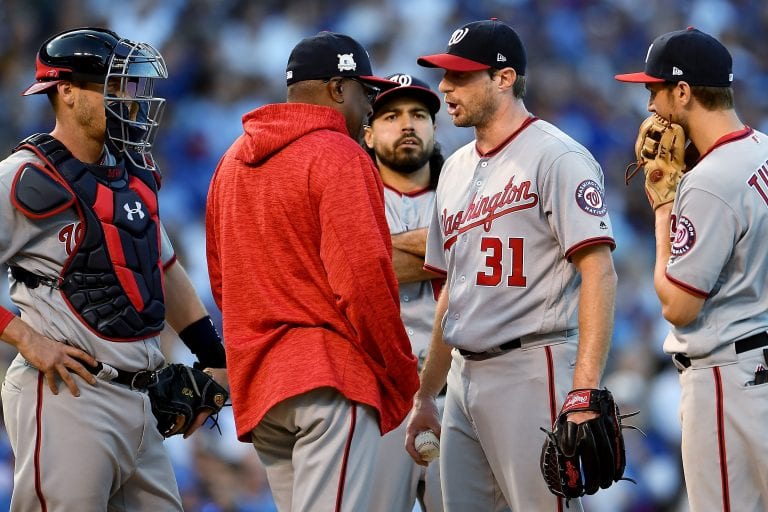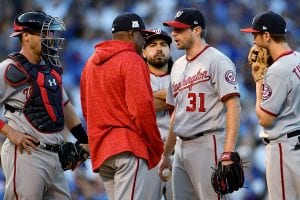 The Cubs have the edge Thursday night in starting pitchers at least. Chicago's Kyle Hendricks was masterful in game one allowing just 2 hits over 7.0 IP. Hendricks is turning into the Postseason Professor having allowed just 2ER in his last 28.1 IP starting in last year's NLCS. Hendricks will be working on 5 days rest and his even keeled demeanor is perfect for big games like this.
The Nationals will go with Gio Gonzalez – to start the game at least. Manager Dusty Baker was flip-flopping between Gonzalez and Tanner Roark to take the bump but he'll also supposedly have Max Scherzer for up to two innings of work.as well. Gonzalez gave up HR to Anthony Rizzo and Willson Contreras in game two but was bailed out by return dingers by Bryce Harper and Ryan Zimmerman to lead Washington to the win. Gonzalez has lost three straight postseason starts and in the last two years has given up 6 ER in 9.1 IP, including 3 HR.
Dusty Baker says Max Scherzer could possibly go two innings out of #Nationals bullpen in Game 5.

— Patrick Mooney (@MooneyNBCS) October 12, 2017
NLDS Game 5 Free Pick Intangibles
The biggest advantage that Chicago has Thursday night is that the Nationals pitcher isn't named Scherzer or Strasburg. In 20.1 innings against the two Washington aces this series Cubs batters have gotten exactly one earned run and just seven hits total. It's easy to say Chicago has lost confidence in their bats, but they have to look at the big picture and know that those numbers are an anomaly due to the strong outings by both Nationals players.
For Washington to win it would help getting some offensive production in an inning besides the 8th. The Nationals have scored 9 of 12 runs in this series in the 8th inning. Then again, that could be their greatest strategy of all – wait out a good Chicago outing and then let Cubs manager Joe Maddon mismanage the bullpen like he's been wont to do in the postseason.
The Cubs' key to Game 5: Tackle Joe Maddon if he tries to remove Kyle Hendricks, says steve rosenbloom… https://t.co/EQkdz3rKlE

— Chicago Now (@Chicago_CP) October 12, 2017
NLDS Game 5 Free Pick Betting
Oddsmakers are saying, "here you go" as they've listed Chicago at -106 and Washington -110. As stated, the side is like choosing between having hiccups the rest of your life or feeling like you have to sneeze but not being able to from here on out. Therefore the NLDS Game 5 Free Pick needs to be made on the total.
Tonight' total has been set at 7.5 which is a good number with Kyle Hendricks on the mound. Washington counters with Gio Gonzalez who is prone to give up runs, but at the same time they've got Scherzer available for a couple and the formidable Roark able to pitch extended innings. Maddon burned up Jon Lester senselessly yesterday but will have Jose Quintana ready and waiting to try and get through that volatile 8th inning. Both Chicago and Washington bats have gone quiet and the batting gloves tighten under the pressure of an elimination game – one with cold and drizzly weather yet again.. It feels like a 2-1 or 3-2 game tonight.
Pick: Chicago Cubs / Washington Nationals *Under 7.5