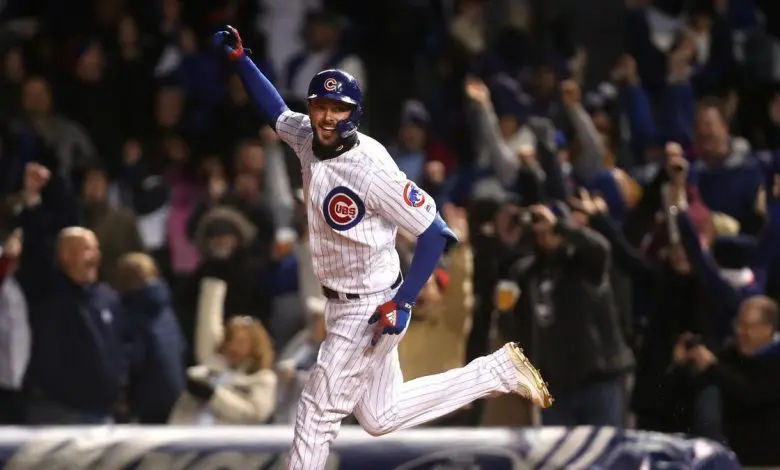 It's not even arguable, the biggest individual prop bet for the upcoming MLB 'dash for the cash' is which player will record the most home runs. There's only 60 games in this upcoming season thanks to the pandemic so it might be 15 long balls that wins 2020 MLB most regular season home runs prop betting. With such a shortened schedule, why not make every game (or AB) must see?
As a refresher, Pete Alonso (+1000) cranked out 53 HRs last season (as a rookie) to lead the majors. Eugenio Suarez (+2800) has posted 26, 34, and 49 HRs the last three years  but it's actually Mike Trout (+900) who is favored to lead the league in round-trippers in 2020. Let's take a look at some of the best picks for this category:
Kris Bryant +5500
Kris Bryant had arguably the quietest 30+ HR season in 2019, coming back from a 13 dinger 2018 season that was ravaged by injuries. He'll be leading off for the Cubs in 2020 which means not only an extra at bat here or there, but also seeing a lot of good pitches with Anthony Rizzo, Javier Baez, Kyle Schwarber, and Willson Contreras following up in the order.
Rhys Hoskins +4000
At the very least Rhys Hoskins was an iron man last season playing 160 of 162 games. He hit 29 HR's during that span but with just 9 of them coming in the second half (last 71 games of the year). There should be no reason for burnout with a shortened 60-game season in 2020 and like Bryant, Hoskins has a load of talent around him (Andrew McCutcheon, J.T. Realmuto, Bryce Harper, Didi Grigorious, Jean Segura).
Citizens Bank Park was 7th for Park Factor HR's in 2019 but the Phillies also play six games at Nationals Park (2nd). The three games with Baltimore would have been great if they were at Camden Yards (4th) instead of in Philly but that's still a pitching staff that allowed an MLB record 305 long balls last season.
Cody Bellinger +1400
There's great return on investment for Cody Bellinger in 2020 MLB most home runs prop betting at +1400. The 4th year Dodgers player has hit 39, 25, and 47 HR's so far in his three seasons in the majors. Bellinger not only plays 33 games this year at Dodger Stadium (9th in park factor HRs), but also 4 at Coors Field (3rd), two at Houston (2nd), three at the Angels (11th) and three at Texas (12th).
The combination of Colorado, the Angels, and Seattle were 3 of the 4 worst teams for HRs allowed in 2019 (Rockies understandable but still) and the Dodgers get 20 of their 60 games against those teams in 2020.
Eugenio Suarez +2800
Oddsmakers are giving crazy odds for Eugenio Suarez at +2800 so you might as well take it. The Reds 3rd baseman is listed behind at least 15 other players in 2020 MLB most regular season home runs prop betting despite knocking out 49 a year ago to rank 2nd in the league.
Cincinnati is a popular pick to capture the NL pennant in this season of unknowns. Suarez will be batting 3rd, behind Joey Votto and ahead of Mike Moustakas and Nick Castellanos. The Great American Ballpark ranked 8th last year in ballpark HR factor and the Reds have an even 30 home games there this year.
They also play three at Detroit (10th) and two at Cleveland (13th). Throw in 3 division games at Miller Park (14th) and three at Wrigley with the possibility of the wind blowing out and Suarez is looking like a great buy.