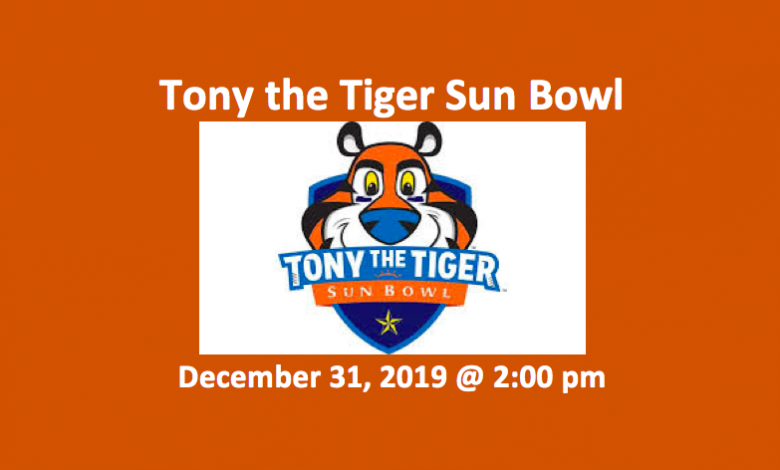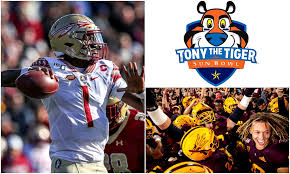 Our 2019 Sun Bowl pick offers Arizona State at -4.0. Plus, this Sun Bowl prediction has an over/under of 54.0. This is the second of five bowl games being played on New Year's Eve 2019. The Tony the Tiger Sun Bowl between the Florida State Seminoles and the Arizona State Sun Devils will commence at 2 pm ET. It will be played at the Sun Bowl Stadium in El Paso, Texas. The next bowl game scheduled for December 31 will be played at 3:45 pm ET. It is the AutoZone Liberty Bowl which features the Navy Midshipmen and the Kansas State Wildcats.
In the ACC Atlantic, the Florida State Seminoles (6-6) finished at 4-4. They tied two other teams, the Wake Forest Demon Deacons and Boston College Eagles, for third place in the division. The #3 Clemson Tigers topped the division with an 8-0 mark. In the Pac-12 South, the Arizona State Sun Devils (7-5) ended the season tied for third with the UCLA Bruins. Both teams had a 4-5 conference mark. With an 8-1 record, the #11 Utah Utes won the division.
2019 Sun Bowl Pick – Regular Season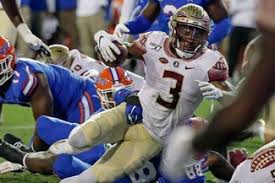 In 2019, the Florida State Seminoles never could create any momentum. In the first half of the season, they were 3-3. Then, in the second half, they were once again 3-3. In the first game of 2019, the Boise State Broncos beat FSU 36-31. The two other Seminole losses in the first half were to #25 Virginia 31-24 and #2 Clemson 45-14. In the second half of the season, they finished with a 40-17 loss to #11 Florida. That final loss meant that FSU was unable to beat any of the top 25 teams they faced this season.
Our 2019 Sun Bowl pick notes that the Sun Devils started their season off by winning three straight games and five of their first six. They had huge wins against #18 Michigan State (10-7) and #15 California 24-17. But in the second part of the season, ASU went 2-4. They lost four games in a row, and then won their final two contests. To start the losing streak, #13 Utah State beat the Sun Devils 21-3. That losing streak ended on November 23 when Arizona State beat #6 Oregon 31-28. The Sun Devils ended the regular season with a 24-14 victory over rival Arizona.
Florida State Seminoles vs. Arizona State Sun Devils – Stats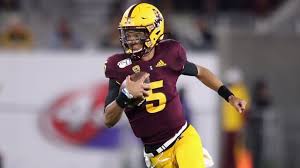 FSU can score points, but they have a hard time stopping opponents from crossing the goal line. The Seminoles averaged 29.1 PPG. However, they allowed 28.5 PPG. Consequently, their PF/PA differential was a miniscule +0.6. On the other hand, ASU scored 25.2 PPG, which is almost four fewer points that FSU. But, on the positive side, their D held opponents to 23.1 PPG. Although their PF/PA differential is not substantial (+2.1), it almost four times as great as FSU's.
In terms of offensive yards per game, these two teams are very close as FSU is averaging 403.2 YPG and ASU 379.6. Passing yards come to 269.4 to 253.3 in favor of the Seminoles. Florida State also has a slight advantage in rushing yards per game, with FSU posting 133.8 YPG and Arizona State 126.3. Despite the fact that the Seminoles hold an advantage over Arizona State in each offensive area, that advantage is rather small. In some ways, it is offset by ASU's defensive stats. Along with giving up 5.4 fewer PPG than the Seminoles, the Sun Devils hold an edge in total defensive yards (386.9-436.0), defensive passing yards (270.1-283.5), and defensive rushing yards (116.8-152.5)
Florida State at Arizona State – Players
Our 2019 Sun Bowl pick notes that Florida State has a productive but thin offense. On the other side of the ball, they offer some solid and skilled D-men, but not as much depth as one would like. Arizona State has a fine, young quarterback and productive passing and rushing games. Their defense is sound.
Florida State Seminoles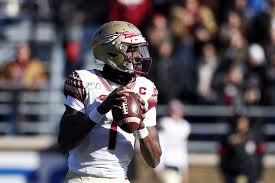 QB James Blackman has a 63.9% completion rate and has thrown 16 scoring passes and seven INTs. He's been sacked 23 times. WR Tamorrion Terry tops all Seminole pass catchers with 51 receptions, 1,023 yards, and eight TD catches. The running game features Cam Akers. Akers has accumulated 1,144 yards and 14 TDs while averaging 5.0 YPA. However, in anticipation of the NFL draft, Akers will be a no-show.
The FSU defense includes top performer DB Hamsah Nasirildeen. Nasirildeen leads the Seminoles with 61 solo tackles and 101 total tackles. He's forced three fumbles and recovered one and nabbed two INTs including one pick six. DT Marvin Wilson comes to this contest with five sacks. DBs Stanford Samuels III and Asante Samuel Jr. have seven PD and one INT and 12 PD and two INTs respectively.
Arizona State Sun Devils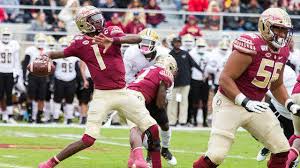 Freshman QB Jayden Daniels offers fine scoring chops. He's thrown 17 TD passes and rushed for three more scores. Daniels, who's thrown for 2,748 yards and is completing 62.3% of his passes, has tossed two picks and been sacked 29 times. In the receiving corps, Brandon Aiyuk is tops with 65 receptions, 1,192 yards, and eight TDs. However, he is skipping this game anticipating a NFL career move. WR Frank Darby, who has 28 catches and 597 yards, also has eight scoring receptions. RB Eno Benjamin leads the ground game. Benjamin has rushed for 1,083 yards and 10 TDs, averaging 4.3 YPA. He too is sitting out the game.
The ASU defense has forced 17 fumbles, recovering 13, and defended 56 passes while bringing in nine picks. In addition, they recorded 22 sacks. LB Darien Butler and DB Evan Fields each have 77 tackles. Butler has forced three fumbles while Fields brings one pick to the game. LB Khaylan Kearse-Thomas, who's forced one fumble and grabbed one pick, leads the team with 4.5 sacks.
Five Keys to the Game
This 2019 Sun Bowl pick sees the following as being the keys to this game:
ASU QB vs FSU QB – edge to Sun Devils
Defensive advantage goes to Arizona State
Both teams offer sound ground games
ASU is deeper, especially on offense
Akers is out for FSU and Aiyuk and Benjamin for ASU
Our 2019 Sun Bowl Pick
We find that Arizona State is deeper on both sides of the ball. Overall, the Sun Devils defense is tougher and stingier than FSU's. Florida State has fine scoring potential, but so too does ASU's offense. A major offensive force for each team will not be present. With all of that in mind, our 2019 Sun Bowl pick is Arizona State at -4.0. We're going with under 54.0.
Sun Bowl Pick – Summary
Arizona State Sun Devils at -4.0 and under 54.0