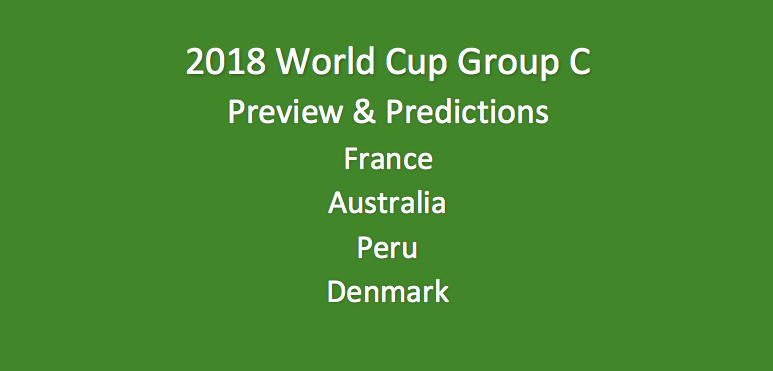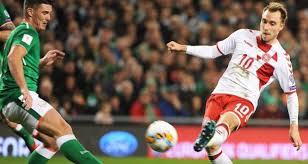 Group C includes a young and energetic French squad and an Australian team that's qualified for its fourth-straight appearance in the big event. Peru surprised a lot of soccer experts and enthusiasts, as they earned the fifth spot for teams from South America. Chile, Ecuador and Paraguay were considered to be viable contenders over the Peruvians. A quickly improving Denmark team takes the pitch in their first international event since the 2012 European Championships. They're determined to make it to the knockout round. How will these teams perform? Here's how our 2018 World Cup Group C Preview envisions these four football clubs finishing.
France +650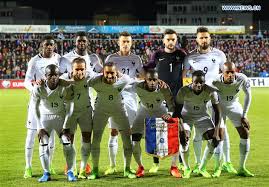 Of the four teams in Group C, France is the favorite to finish at the top. As noted, it's a young team with a lot of talent. Twice recently they tested Germany, the current World Cup champions, as they created confusion and havoc in the German defensive ranks. The result of two such encounters was a lead-change in France's favor. However, like many young teams, this one can lose their focus and concentration, which can quickly open up scoring opportunities for experienced rivals.
One knock on France is their inability to finish. Recent history shows that this club has had a tough time bringing the first-place trophy home. In the 2006, they lost the World Cup in a penalty shootout with Italy in the final, and in 2014, they were eliminated by Germany in the quarter-finals. As recently as 2016, France underperformed in the Euro Cup, as Portugal took them down in the final.
France's attack is strong, but the defense is lacking at times. The D could be their undoing. Center-back Raphael Varane (Real Madrid), three-time Champions League-winner, will need to anchor that squad and ensure that they play solid football for the duration.
Manager Didier Deschamps, a 49-year-old former midfielder who was captain for France when they won the 1998 World Cup and Euro 2000, has done a fine job getting this team to be competitive. Now he needs to bring home a trophy. There's talent here. Can he focus and muster it to reach the ultimate goal?
Australia +30000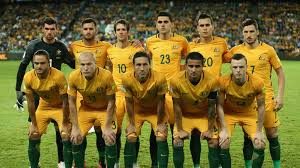 The Aussies were the next-to-last club to secure a 2018 World Cup berth. They were unable to qualify as a direct entry in Asia. This was due to having been edged out by Saudi Arabia in goal-difference. That meant the team had to take the long road to the World Cup.
The Australians played 22 games in qualifying. The games included an Asian playoff versus Syria and another playoff match against Honduras. They completed the arduous circuit and are considered to be the weakest of the four teams in this group. The odds-makers have deemed them to be 26th out of 32 teams.
Overall, this is a young squad that has the potential to deliver a strong and vibrant attacking style. A lot of attention, however, has been paid to 37-year-old veteran Tim Cahill. He's a player who knows how to win championships. In addition to Cahill, watch players like Mile Jedinak (Aston Villa), who's a dangerous scorer and an anchor at midfield.
A week after the Aussies secured their 2018 World Cup spot, coach Ange Postecoglou quit. Replacing him is well-traveled Dutch coach Van Marwijk. Marwijk likes to play a disciplined game and uses a 4-2-3-1 formation. He looks for his fullbacks to push forward and winger to cut in. He almost always has two midfielders holding and will often drop many players behind the ball. It's not always a popular style, but it can be effective. The big question is will his players buy into his scheme?
Peru +20000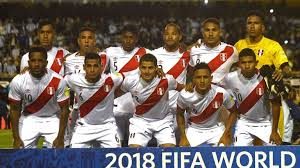 In qualifying to this World Cup, the team from Peru allowed only seven goals over the course of eight matches in 2017. They surprised just about everyone when they secured entry in the competition. Many of the team's players are on Mexican clubs. These include defender Luis Advincula, midfielder Pedro Aquino. strikers Raul Ruidiaz and Andy Polo, and goalkeeper Pedro Gallese.
The team managed to duck a potential World Cup disaster as star striker Paolo Guerrero (Flamengo) has been approved by FIFA to play in the event. The 34-year-old, who put in six goals in qualifying, was facing a doping ban. But that will not be enforced, and he will captain the Peruvian club.
Coach Ricardo Gareca has been at the helm since 2015. The 59-year-old Argentine, who in his playing days ironically put in a goal that was the death-knell for Peru in the 1985 South American qualifiers South American qualifiers, has done a good job in getting his team on track. This club plays a nicely paced game and are well organized and focused.
Denmark +10000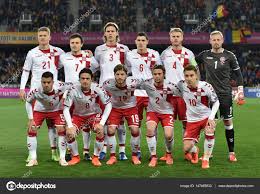 Of the three teams that are not France, Denmark is considered to be the top contender for second in Group C. Third would be a major letdown for a team that has improved vastly over a short amount of time. It's been six years since Denmark has played in a major tournament. That was in 2012 when they went to the 2012 European Championships.
In qualifying, they suffered consecutive losses to Poland and Montenegro early on. After that, they ran off an unbeaten streak of 11 matches. In September, they notched an impressive 4-0 win over a much higher ranked Polish team, and then they also beat a very tough squad from Ireland 5-1.
Denmark can be explosive, and attacking midfielder Christian Eriksen (Tottenham-Hotspur) has proven to be a major playmaker. The 26-year-old has an innate ability for creating scoring opportunities and putting the ball in the net.
Coach Age Hareide loves to make provocative comments about other teams. Recently, he's noted the deficiencies of the French football club, saying they have no real leader and have close to no chance of succeeding in Russia. Hareide, who is 64 years old and Norwegian, has played and managed entirely in Scandinavia. He's been leading this team for five years.
Our 2018 World Cup Group C Preview Final Word
In concluding our 2018 World Cup Group C Preview, we project that Peru and Australia will struggle against France and Denmark. We look for France and Denmark to move on to the Knockout Round. Despite what coach Hareide has said, France takes first in Group C and Denmark second. Get more World Cup information now.
Our Group C World Cup Picks: France first and Denmark second.