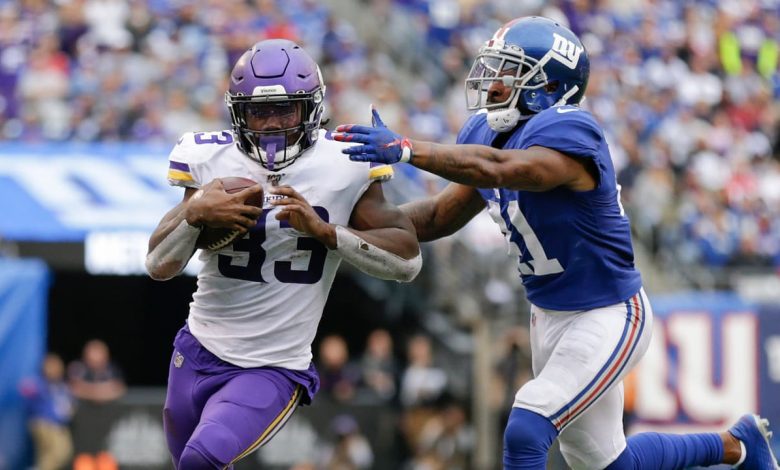 The Minnesota Vikings look for their fourth straight win when they host the Washington Redskins on Thursday night. The Vikings are currently 5-2 and sitting a game behind the Green Bay Packers for the top spot in the NFC North. Washington is looking for its second win of the season, with the team under its second head coach of the season after Jay Gruden was let go earlier in the campaign.
There will be a couple of familiar faces on the other side of the line for these teams, including both starting quarterbacks. Two years ago, it was Case Keenum leading the Vikings offense and Kirk Cousins putting up numbers for the Redskins, but now their roles are reversed. Throw in the return of Adrian Peterson to face the franchise that he leads in all-time rushing yards, and there will be plenty of fond memories for some of the key players.
The moneyline for this contest has the Washington Redskins +850 and the Minnesota Vikings -1500. Minnesota is favored by 16.5 points at home, while the over/under for the game has been set at 42.
Struggling To Move
The Washington offense has been stuck in neutral for much of the season, including last week's 9-0 loss to San Francisco in which the Redskins managed just 154 yards in monsoon-like conditions. Peterson did have 81 yards in that game, giving him 307 on the season. If Washington can establish a ground game, it would help stave off the Minnesota pass rush and allow Keenum to possibly get some play-action passes off. When Keenum goes to the air, he'll be looking for rookie Terry McLaurin, who has 24 catches for 419 yards and five touchdowns this season.
Defensively, the Redskins haven't been horrible this season, though with their offense struggling to score points, they have a lot of pressure to keep opponents at bay as much as possible. Washington allows 134.4 rushing yards a game, something they need to improve upon when facing the league's top rusher in Dalvin Cook. The Redskins also need to get some pressure on Cousins, which means defensive end Jonathan Allen (team-high three sacks) and defensive tackle Matt Ioannidis (2.5 sacks) will be counted on for big performances.
Starting To Roll
The Vikings struggled offensively early in the season, especially Cousins, but things seem to be clicking offensively for Minnesota over the last three weeks. Over the last three games, Cousins has 10 touchdown passes and just one interception, throwing for 977 yards. Stefon Diggs seems to be over whatever was bothering him earlier this season, as he has 17 catches for 354 yards and three touchdowns over the last three weeks. He'll be key in this one with Adam Thielen sidelined with a hamstring injury.
Minnesota's defense has benefited from the offense's resurgence since the Vikings have allowed 25 points a game over their last two outings. Linebacker Eric Kendricks has been very active, leading the team and ranking sixth in the league with 61 tackles, including 3.5 tackles for loss. The Vikings have been good at creating turnovers, tying for eighth in the league with 11.
Big Number
Covering a 16.5-point spread isn't easy for any team, especially when you're playing without one of your top two receivers. Still, Minnesota is hot right now because of its offense, while Washington has really been struggling to put points on the board. The key in this one is Minnesota's ability to keep Peterson in check. I think they can do that, which leads to a lot of time on the field for the Vikings' offense. I'm going with Minnesota -16.5 to win this game in a laugher.