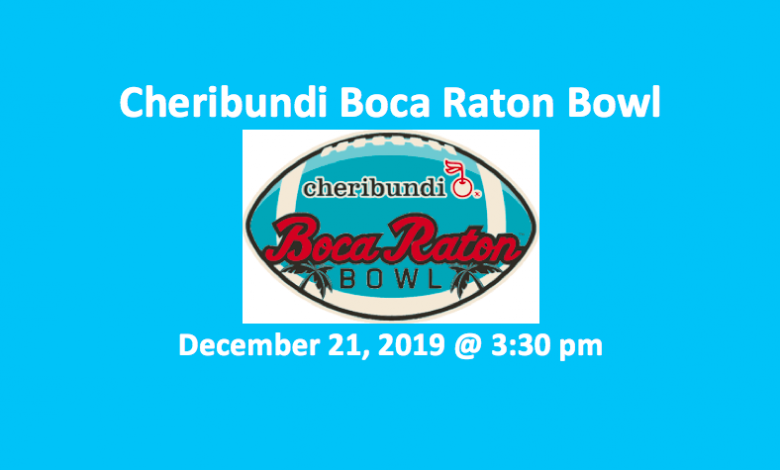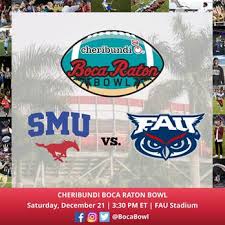 This 2019 Boca Raton Bowl pick offers SMU from -8.0 to -9.0. Our Boca Raton Bowl pick also has the total at 64.5. The Cheribundi Boca Raton Bowl 2019 will be played at FAU Stadium in Boca Raton, Florida at 3:30 pm ET on Saturday, December 21, 2019. The game features the 10-2 SMU Mustangs and the 10-3 Florida Atlantic Owls.
The Mustangs finished third in the American Athletic Conference – West. They posted an AAC record of 6-2. Two teams finished ahead of them, the #17 Memphis Tigers and #23 Navy Midshipmen. Both were 7-1. FAU was first in C-USA – East. They met the UAB Blazers in the conference championship game and took the title 49-6.
2019 Boca Raton Bowl Pick – Regular Season
In 2019, the SMU Mustangs won their first eight games. That included a 41-38 victory over #25 TCU. Their first loss was on November 2 to #24 Memphis. That score was 54-48. They also lost on November 23, as Navy took them down 35-28. The Mustangs won their final game of the season, beating Tulane 37-20.
The FAU Owls started their season against two nationally-ranked teams and lost both games. In the first contest, #5 Ohio State beat the Owls 45-21. The next week, #18 UCF took down SMU 48-14. After those two losses, the Owls went 9-1, which earned them the C-USA – West titles a trip to the C-USA championship contest. As noted above in our 2019 Boca Raton Bowl pick, they met and beat UAB 10-3.
SMU Mustangs vs. Florida Atlantic Owls – Stats
The Mustangs score a lot of points, 43.0 per game. They've been good for 495.3 YPG on offense. That includes 309.3 YPG in the air and another 185.9 YPG on the ground. In a similar manner, the FAU Owls averaged 35.2 PPG. That's 8.2 fewer than SMU. Their offense totaled 443.0 YPG, which includes 278.7 YPG in passing and 164.3 YPG rushing.
SMU is allowing opponents 31.8 PPG. Total defensive yards come to 438.7 YPG. The Mustangs are giving up 284.9 YPG in passing and 153.8 YPG in rushing. The Owls are giving up 22.3 PPG, which is considerably fewer than SMU. Opponents have been averaging 370.3 YPG against the FAU defense. That total break downs to 233.6 YPG in the air and 136.7 YPG on the ground.
SMU at Florida Atlantic – Players
The Mustangs put a productive, balanced offense on the field. On the other side of the ball, they feature a potent pass rush. The Owls
SMU Mustangs
QB Shane Buechele comes to this game with a 63.2% completion rate and a total of 3,626 yards. He's tossed 33 TD passes and nine INTs. Buechele's been sacked 17 times. Three of his receivers have caught a total of 29 touchdown passes. WR James Proche has amassed 102 receptions, 1,139 receiving yards, and 14 scores. Running back Xavier Jones, who's averaging 5.4 YPG, has rushed for 1,249 yards and 21 TDs on 232 carries.
Our 2019 Boca Raton Bowl pick notes that SMU has a tough pass rush. They've accumulated 50 sacks. The Mustangs have also forced 10 fumbles, recovering nine, posted 52 PD, and grabbed nine picks. DT Demerick Gary comes to this competition with 5.5 sacks while LB Richard McBryde, who's posted 3.5 sacks, has recorded 64 solo tackles and 87 total tackles. Safety Patrick Nelson tops the team with a dozen sacks. He also has 78 total tackles.
Florida Atlantic Owls
QB Chris Robison leads the Owl attack. He's good on 60.8% of his passes and has thrown for 3,396 yards. Robison tossed 26 touchdown passes and six interceptions. He's been sacked 24 times. Five Owl receivers have 30 or more catches with TE Harrison Bryant and WR DeAngelo Antoine grabbing 67 and 61 respectively. Bryant, who comes to today's game with over 1,000 receiving yards, has caught seven TD passes, while Antoine has captured five. RB Malcolm Davidson brings 711 yards on 102 rushes to this game. Davidson has scored nine times while averaging 7.0 YPA.
The FAU pass defense is exceptionally tough as they've brought down 21 interceptions. The D has also recorded 34 sacks, 30 PD, and 14 FF with 10 recovered. LBs Akileis Leroy and Rashad Smith, who have 101 and 98 total tackles respectively, are a determined and effective duo. Leroy has 7.4 sacks, three picks, and five forced fumbles. Smith comes with 3.5 sacks two INTs, and four FF.
Five Keys to the Game
In creating our 2019 Boca Raton Bowl pick, we've determined the following keys to be essential to the outcome of this contest:
SMU offense can be overpowering
FAU passing game is solid
Mustangs pass rush is potent
Owls secondary is tight
Owl QB Robison is vulnerable to the sack
Our 2019 Boca Raton Bowl Pick
When we add everything up, we like the Mustangs in this one. SMU has an awesome offense. And although their overall defense lets up points, SMU does offer a tough pass rush. The Owls do have an offense that can score and their pass defense is very fine. As noted, FAU QB Robison has been exploited by pass rushes. Our 2019 Boca Raton Bowl pick is the SMU Mustangs at -8.0. We like the over at 64.5.
We have every pick for every 2019-2020 bowl game. Be sure to access our FBC Mortgage Cure Bowl pick and New Mexico Bowl prediction. We'll be posting links to every bowl pick for 2019-2020 here.
Cheribundi Boca Raton Bowl Pick – Summary
SMU Mustangs at -8.0 and over 64.5