Our 2016 week eight Sunday Night Football free pick offers the Philadelphia Eagles (4-2) at the Dallas Cowboys (5-1). The Cowboys are coming off their bye-week, while the Eagles come the Dallas after giving the Vikings their first loss of the 2016 season. That win, which ended with a score of 21-10, saw the Philly D step up big time. These two NFC East teams are one and two in the standings.
A win by Dallas gives them a comfortable lead in the division. If the Eagles take this game, then they will, in essence, be tied with Dallas for first. These teams will meet one more time on January 1, 2017, for their final game of the regular season. Both teams feature rookie quarterbacks and both QBs are performing well.
Philadelphia Offense vs. Cowboys Defense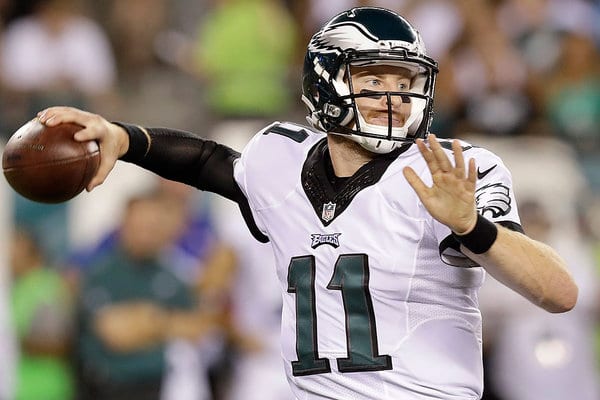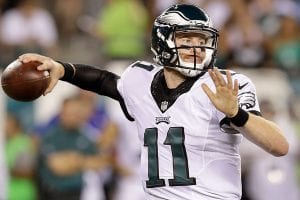 QB Carson Wentz (63.8 COMP%, 8 TDs, 3 INTs, 12 Sacks) has played well in his rookie season. WR Jordan Matthews (17 REC, 210 YDs, 12.4 AVG, 1 TD), his favorite go-to guy, is questionable for today. RB Darren Sproles (25 REC, 354 YDs, 14.2 AVG, 2 TDs) has proven to be a good outlet, as has WR Nelson Agholor (18 REC, 191 YDs, 10.6 AVG, 1 TD). On carries, Sproles is averaging 4.6 yards. The key running back for the Eagles is Ryan Matthews who has three touchdowns and is averaging 3.9 YPA. The Eagle offense is averaging 26.0 PPG.
Wentz has fumbled six times this season. The Dallas defense has a bunch of guys who can cause forced fumbles. The Cowboys have eight forced fumbles five of which they have recovered. Wentz has to protect the ball. In terms of sacks and other stats, the Cowboys are average or below average. As a team, they have 11 sacks, 19 TFL, 24 PD and four interceptions. LB Sean Lee (58 TCKL, 2 TFL, 1 PD) is the teams top tackler, while safety Barry Church (42 TCKL, 2 TFL, 3 PD, 2 INT, 1 FF) is their main man in the secondary. DL David Irving, who has three forced fumbles, is questionable.
Cowboys Offense vs. Eagles D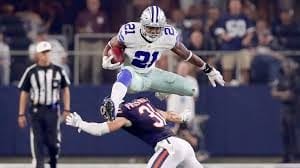 Rookie RB Ezekiel Elliot (137 ATT, 7o3 YDs, 5.1 AVG, 5 TDs) is a major factor for the Cowboys. Along with being able to pile up yards on the ground, he's also a solid receiver averaging 8.9 YPC. Rookie QB Dak Prescott (68.7 COMP%, 7 TDs, 1 INTs, 9 Sacks) has made very few mistakes thus far this season. His one interception says a lot about his decision-making. The two wide outs he'll be focused on hitting are Cole Beasely (33 REC, 390 YDs, 11.8 AVG, 3 TDs )and Terrance Williams (20 REC, 311 YDs, 15.6 AVG, 1 TD).
This Eagles D can win games. They have recovered seven of their eight forced fumbles. Add to that 30 PD, five INTs, 21 TFL and 20 sacks, and you have a defense that can readily destroy offenses. They are allowing just 14.7 PPG. Standouts include safety Rodney McLeod (43 TCKL, 4 PD, 3 INTs, 1 FF) and DE Brandon Graham (19 TCKL, 4 Sacks, 4 TFL, 2 FF). This is a smart, tough, and unrelenting defense. Prescott has been pretty good at eluding the sack, however, both Prescott and RB Elliot have been susceptible to fumbling. Between them they have six. That could be key in this game.
2016 Week Eight Sunday Night Football Free Pick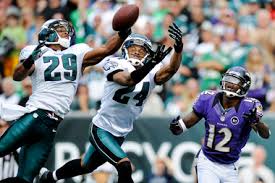 In our 2016 week eight Sunday Night Football free pick, we see that a lot of prognosticators are loving Dallas overall. But we have to wonder if this is not the game where Prescott struggles and Wentz soars. Dallas comes to this contest rested but also with a fairly long list of injuries. Philly reached a new level last week against Minnesota, a team that was returning from its bye. Interesting that the Eagles play a second team in two weeks after its bye-week. We are taking the Eagles at +6.0.
2016 Week Eight Sunday Night Football Free Pick: Philadelphia at +6.0.