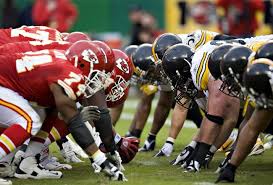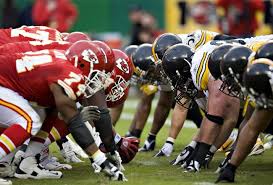 Our 2016 week 4 Sunday Night Football pick has the Kansas City Chiefs visiting the Pittsburgh Steelers. The Chiefs are 2-1 and bring one of the most efficient offenses in the NFL to Heniz Field for an 8:35 p.m. start. Pittsburgh is back home after being stunned by the Philadelphia Eagles 34-3 in Philly last week. When making their picks most football analysts are looking the the immediate past performances of both teams.
That certainly makes sense, but it can also get you into trouble. Just consider this morning's NFL games from London where just about every analyst picked the Colts at -2.5. Based on recent history, the Colts were supposed to win or at least cover. But they lost to what had been a winless Jacksonville Jaguars team 30-27. So along with past performance, we're going to weight some other factors.
Kansas City Offense vs. Steelers D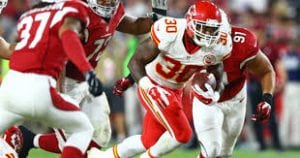 The Chiefs offense is putting 23 PPG on the board. QB Alex Smith (66.9 COMP%, 3 TDs, 1 INT, 9 Sacks) has played well overall. RB Spencer Ware has been a multiple threat rushing 41 times for an average of 4.9 YPA and making one touchdown, while he's caught 10 passes and averaged 18.5 YPC. WR Travis Kelce (17 ATT, 196 YDs, 11.6 AVG, 1 TYD). The offense has been doing well despite not having RB Jamaal Charles. Charles is still recovering from an ACL injury.
Although the Chiefs have a solid running game, they are going up against the fourth toughest run defense. Overall, the Steelers have been fairly effective versus the run, as they have posted eight tackles for a loss. But they will be down on defense, as Pittsburgh's top three tacklers are either out or listed as questionable. LB Ryan Shazier (20 TCKL, 1 TFL, 2 PD, 1 INT, 1 FF) is out with a knee injury as is safety Robert Golden (17 TCKL, 1 TFL, 1 PD, 1 FB REC). LB Lawrence Timmons (16 TCKL, 1 PD) is questionable. Safety Sean Davis (12 TCKL) will try to play through the pain of his injury. This is a banged up group that may be especially challenged when it comes to defending agaimst the pass.
Pittsburgh Offense vs. Chiefs D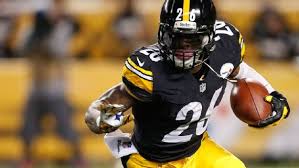 The major offensive thrust for the Steelers tonight may be on the ground. DeAngelo Williams (66 ATT, 258 YDs, 3.9 AVG, 2 TDs) has been solid. Tonight he's joined by RB Le'Veon Bell. Bell played only six games last season due to injury, but in a total of 35 games he averaged 4.3 yards per attempt and scored 19 times. He's also a dangerous receiver, averaging 9.1 yards per catch and scoring three touchdowns. QB Ben Roethlisberger (59.3 COMP%, 6 TDs, 4 INTs, 6 Sacks) has some great targets to throw to, including the amazing Antonio Brown (24 REC, 305 YDs, 12.7 AVG, 2 TDs).
A big question is will CB Marcus Peters (11 TCKL, 7 PD, 4 INTs) play this Sunday? He missed practice on Thursday due to illness. If Peters does play, chances are he'll be tasked with covering Antonio Brown. That would be a major matchup. The Chiefs D has eight interceptions, 24 passes defended, four forced fumbles with two being recovered, and seven tackles for a loss. Their sack total, which is only three, is low. They will have to deal with RB Le'Veon Bell. Bell missed the first three games of the season due to a suspension and is back for this game. He may be tough for them to stop. Especially because Kansas City has the 24th ranked run defense.
2016 Week 4 Sunday Night Football Pick
In our 2016 week 4 Sunday Night Football pick, we've weighed carefully the return of Bell and his teaming up with Williams. In addition, we've considered that the Chiefs defense has allowed quite a few rushing yards and their secondary is hurting a bit. At the same time, Pittsburgh has some of its major defensive players either out or hampered. The Kansas City offense has been running efficiently. The Steelers have home field and in a game that looks this close that can be a big deal. Take the Steelers ay -3.0.
2016 Week 4 Sunday Night Football Pick: Pittsburgh Steelers at -3.0