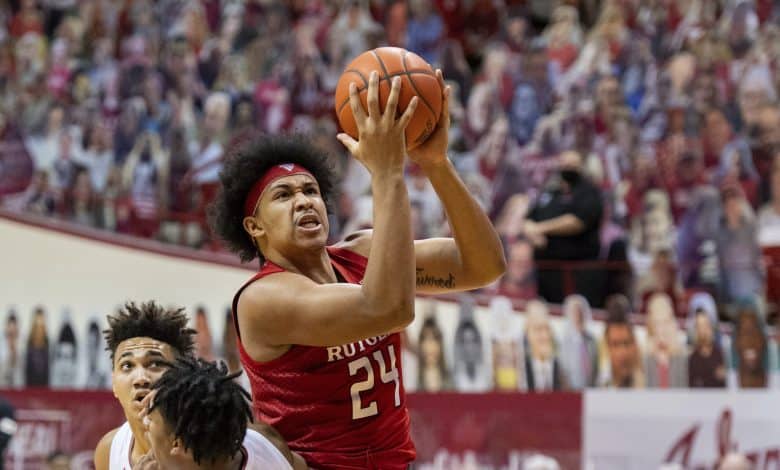 A couple of squads trying to get back on track for the home stretch meet up in the February 24th Indiana at Rutgers pick. We're entering do-or-die for an at-large tourney bid for both the 12-10 Hoosiers and 12-9 Scarlet Knights, but the winner of Wednesday's tilt at least stays in the hunt for one more week.
Both teams suffered devastating blows over the weekend. Indiana lost at home to Michigan State, 78-71 as -6.5 favorites. Rutgers lost a crucial one on their own court as well, falling 68-59 as -4.5 favorites. Fans not allowed to be in attendance has been devastating for Rutgers this season, but they are still -3.5 favorites at the RAC on Wednesday night.
What More Can Indiana Do?
The loss to Michigan State on Saturday was frustrating for a variety of reasons for IU. First they were on their own court, even though the 6-5 record in Bloomington is nothing to write home about (literally). Indiana was also up four points at half, but got extremely cold in the 2nd as MSU went on a 52-41 run the rest of the game.
Perhaps the biggest reason for concern coming into the February 24th Indiana at Rutgers matchup is the fact that Trayce Jackson-Davis scored 32 points, while Race Thompson and Armaan Franklin combined for 28 points more and IU still couldn't get the win. Only two other Indiana players scored.
This Hoosiers team looks very top-heavy, and if one of those big three have an off night it's puts a huge damper on Archie Miller's team's chances. That's not a good omen considering Rutgers has the 5th best defense in the Big Ten,
Can Rutgers Find Confidence?
You can't spell the Scarlet Knights offense without RUT right now, as their highest scoring game in the last two weeks was a 79-65 loss at Iowa on February 10th. Steve Pikiell's squad has gone 1-3 during this stretch, holding off Northwestern 64-50 for their lone win over that span.
Rutgers couldn't even find a way to get one over at home against Maryland on Sunday, falling 68-59. Ron Harper, Jr., Rutgers' leading scorer at 15.5, had just 6 points on 1-6 shooting vs. the Terps. The Rutgers defense wasn't exactly stellar either though, giving up at least 11 points to all five Maryland starters.
Harper, Jr. is in a slump, being held to single digits in 4 of the last 7. Stars shine this time of year, not fade. He better get his act together because Harper, Jr. scored 15 points and grabbed 12 rebounds to help lead Rutgers to their first ever win in Bloomington in late January, 74-70 as +5.5 underdogs. The biggest story of that game was the fact that Jackson-Davis was held to 13 points.
Free February 25th Indiana at Rutgers Pick
Rutgers hasn't shown a lot to spark much confidence in laying the -3.5 points on Wednesday night. It would shock nobody if Indiana went into Piscataway and emerged with an outright win. The Scarlet Knights offense is slumping, and IU would very much love the sweet taste of revenge after suffering their first ever home loss to Rutgers a month ago.
Indiana 70 – Rutgers 66
Free Pick: Indiana +3.5