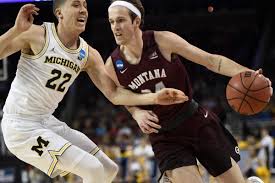 Our Michigan vs Montana preview and pick for Round One of the 2019 NCAA Tournament has the Wolverines at -15.0. This West Region game is scheduled for Thursday, March 21 at 9:20 pm ET. It features the second-seed Michigan Wolverines (28-6) who finished third in the Big Ten. The eighth-rate Wolverines met the Michigan State Spartans in the conference tournament final and lost 65-60. They play the 15th-seed Montana Grizzlies (26-8). The Grizzlies finished atop the Big Sky Conference and went into their tournament as the top seed. Montana won their second-straight Big Sky crown by beating the Eastern Washington Eagles 68-62.
Michigan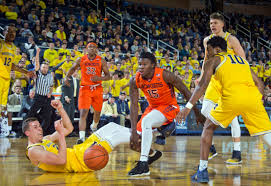 Michigan guard Zavier Simpson is a master a playmaking. The junior is averaging 6.6 APG and scoring 9.2 PPG. The other two Wolverine guards, Jordan Poole and Charles Matthews, are scoring 12.8 and 12.0 points per game respectively. In the frontcourt, center Jon Teske is shooting 52% from the floor and averaging 9.6 PPG. He leads the team in rebounding with 6.9 per game. He's also good for 2.1 BPG. Forward Ignas Brazdeikis tops the team in scoring with 15.1 per game. The Wolverines are good for 70.7 PPG, 35.0 RPG, and 13.9 APG. They are completing 45.1% of their shots from the field and 35.1% from downtown. Michigan is competing 69.5% of their frees.
Montana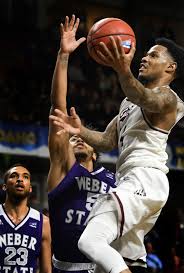 The Grizzlies feature three guards, all of whom are averaging double-digits in scoring. Ahmaad Rorie tops all Montana scorer, averaging 15.1 PPG. He also leads the club in assists with 4.0 per contest. Our Michigan vs Montana preview notes that the other two top scoring guards, Sayeed Pridgett and Michael Oguine, are averaging 15.0 and 13.2 points per game respectively. Pridgett is hitting 61% from the floor and 47.4% from beyond the arc. The trio is grabbing 14.5 RPG.
The team had a strong presence in the paint when forward Jamar Akoh (15.5 PPG, 8.7 RPG, 58.7 FG%) was active. But Akoh has been out since game 16 and no one has stepped up in the paint. The team is shooting close to 50% from the court and 38% from downtown. Those are solid numbers. Plus, Grizzlies are averaging 76.8 PPG.
NCAA Tournament Round One: Michigan vs Montana Preview Pick
Our Michigan vs Montana preview notes that the Wolverines are one of the top teams around. They have a tough and skilled frontcourt and can score points. We expect the Grizzlies will have a difficult time controlling the real estate around the hoop. However, with their pinpoint shooting, they have a good chance of keeping up the the Wolverines. Montana may not make it past round one, but our Michigan vs Montana preview does like their chances of covering the spread. We're taking Montana at +15.0.
Summary West Region, First Round: Michigan vs Montana Preview & Pick – Montana Grizzlies at +15.0