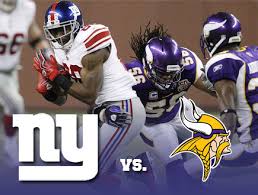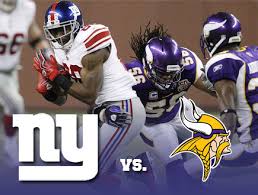 Our 2016 NFL Monday Night Football week four free pick has the New York Giants (2-1) visiting the Minnesota Vikings (3-0). The two teams both score about 21.5 PPG. It's ob defense where the major difference is, as the Giants are allowing 20.3 PPG, while the Vikings are holding teams to 13.3 PPG.
Thus far Minnesota has beaten the Tennessee Titans, Green Bay Packers, and Carolina Panthers. The Giants won their first two games, beating the Dallas Cowboys 20-19 and the New Orleans Saints 16-13. They lost to the Washington Redskins last week 29-27. The Vikings are favored by four points.
New York Offense vs. Vikings D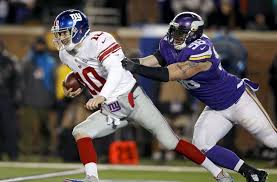 Eli Manning (71.0 COMP%, 4 TDs, 3 INTs, 6 Sacks) may need to move around the pocket a bit more as he faces the Viking pass rush without OT Marshall Newhouse helping to protect him. Manning is vulnerable to the sack and needs to use his running backs to keep opponent defenses honest. Although the Giants have RB Shane Vereen (31 ATT, 147 YDs, 4.7 AVG 1 TD) ready to go tonight, they may be without their other ground attack specialist Rashad Jennings (31 ATT, 104 YDs, 3.3 AVG, 0 TDs). Top receivers include Odell Beckham Jr. (19 REC, 17,7 AVG, 0 TDs) and Sterling Shepard (16 REC, 14.6 AVG, 2 TDs).
The Viking defense can win games. In fact they are winning games. They have accumulated 15 sacks, 7 TFL, 5 INTs, and 13 PD. They also have also forced five fumbles, recovering four. CB Trae Wayner has notched two interceptions and two passes defended. DE Everson Griffen leads the team in sacks with four. LB Eric Kendricks leads the team in tackles with 23. He also has one pick, one forced fumble, and a touchdown. This offense will offer Eli Manning a major challenge. They are capable of scoring 14 points in tonight's game.
Minnesota Offense vs. Giants Defense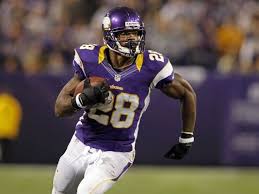 The Viking offense is not spectacular, but they have played overall solid football. QB Sam Bradford (67.8 COMP%, 3 TDs, 0 INTs, 6 Sacks) has played well as Bridgewater's replacement. Stefon Diggs (20 REC, 16.3 AVG, 1 TD) and Kyle Rudolph (14 REC, 11.9 AVG, 2 TDs) are his primary receivers. The Viking running game is weak and needs to be much more effective. They lost their star back, Adrian Peterson, and have not been able to compensate for that loss. We don't expect Minnesota's ground game to have much of an impact in tonight's game.
The Giant defense does not have one pick. Thus far they have made four sacks and eight tackles for a loss while forcing two fumbles. They are excelling in passes defended with 16. The Minnesota offense is not exceptional, but neither is the Giant D. This may basically be a bit of a standoff. Expect the Giants to give up about 10 points in this game. Those points will most likely be through the air.
2016 NFL Monday Night Football Week Four Free Pick
We do expect the Minnesota defense to continue to excel tonight. They should do well against the Giants. Also, the Vikings come into this game relatively healthy. The Giants are dealing with injuries in their secondary, which should put some more points on the board for Minnesota. Take the Vikings at -4.0.
Our 2016 NFL Monday Night Football Week Four free pick is the
2016 NFL Monday Night Football Free Pick: Minnesota at -4.0