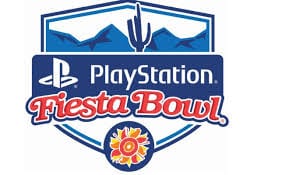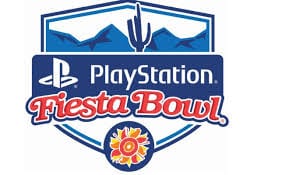 Our 2016 Fiesta Bowl free pick is the second of the College Football Playoff semifinal game. The game features the #3 Ohio State Buckeyes vs. #2 Clemson Tigers. Ohio State is favored by anywhere from 1.5 to 3.0 points and the over/under stands at 58. The Ohio State Buckeyes, who wanted to repeat as national champs last year, are focused on winning it all. This is their first step. The Clemson Tigers have made it to the championship game once before. They'll have to get by a tough team to get there.
For the #3 Ohio State Buckeyes (11-2 Overall, 8-1 Big Ten Conference), it's been a controversial trip to a degree. The Buckeyes did not win the conference championship; they did not even win the Big Ten East, and yet they ended up as one of four semi-final teams. Their one loss was to Penn State, which won the Big Ten. That score was 24-21.
The #2 Clemson Tigers (12-1 Overall, 7-1 Atlantic Coast Conference) finished top on the ACC Atlantic and took the ACC title. Their one loss was to Pittsburgh 43-42. The Tigers beat Virginia Tech 42-35 for the conference championship.
#3 Ohio State Buckeyes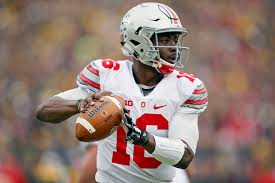 The Buckeyes are averaging 42.7 PPG. They have made 33 rushing touchdowns and 28 passing. Buckeye QB J.T. Barrett (61.9 COMP%, 24 TDs, 5 INTs) will be looking to connect with Curtis Samuel (65 REC, 822 YDs, 12.6 AVG. 7 TDs). Samuel, a running back who has 91 carries for 704 yards and eight touchdowns, is a dual threat. So too is Barret, who has 194 carries for 847 yards and nine rushing TDs. Primary RB Mike Weber (177 ATT, 1,072 YDs, 6.1 AVG, 9 TDs) should get a lot of carries.
The Buckeyes are allowing opponents just 14.2 PPG. Opponents have scored just 15 TDs, Their red zone defense is solid at 72.22%. The OSU turnover margin stands at plus 16. They've made 26 sacks, 80 TFL, and 19 INTs. Plus, they bring 49 PD, 21 QB hurries, and seven forced fumbles.
#2 Clemson Tigers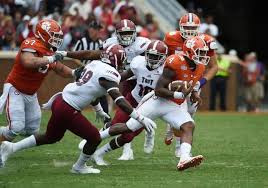 The versatile Deshaun Johnson (67.6 COMP%, 37 TDs, 15 INTs) leads the Tigers, who are averaging 40.0 PPG. Clemson has posted 41 passing TDs and 25 rushing. As a rusher, Johnson has 129 carries for 529 yards and six scores. RB Wayne Gallman (196 ATT, 1,002 YDs, 5.1 AVG, 15 TDs) leads all rushers. Mike Williams (84 REC, 1,171 YDs, 13.9 AVG, 10 TDs) and Jordan Leggett (38 REC, 637 YDs, 16.8 AVG, 7 TDs) are the top pass catchers. Dean Cain has nine receiving TDs.
The Tigers are allowing 18.5 PPG and have a red zone defense at 77.78%. They've got impressive line and linebacking units that have compiled 46 sacks, 112 TFL, and 18 INTs. They also hav PD, 52, 37 QB hurries, and 7 FF. They are even on turnovers.
2016 Fiesta Bowl Free Pick
Both of these teams offer fine defenses and both have excellent offenses. When it comes to raw stats like sacks and TFL, the Tigers have the edge. When it comes to results, meaning points allowed, it's Ohio State. Our 2016 Fiesta Bowl free pick is Ohio State at -3.0. We believe their depth and offensive weapons will prove to be the difference.
The College Football Playoff semifinal at the PlayStation Fiesta Bowl will be held on Dec. 31 at 7 p.m. ET. The game will be played at the University of Phoenix Stadium in Glendale, AZ. You can catch it on ESPN. .
2016 Fiesta Bowl Free Pick: Ohio State at -3.