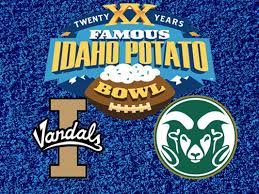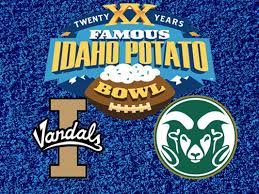 The 2016 Famous Idaho Potato Bowl will kickoff Dec. 22 at 7 p.m. ET from Albertsons Stadium, in Boise, Idaho. The teams are the Idaho Vandals and. Colorado State Buffalos. The Vandals come to this bowl with a season-ending three-game winning streak. An important note regarding the CS Rams in our 2016 Famous Idaho Potato Bowl free pick, Colorado State is coming into this game having beaten San Diego State, the top team in the Mountain West Conference, 63-31 on the road.
For the Idaho Vandals (8-4 Overall, 6-2 Sun Belt Conference), it's been an unusual year. They ended the season with a four-game winning streak and went 6-1 for their last seven. Despite their success and the fact that they landed a bowl berth, the Vandals will be dropping from the FBS ranks to the FCS . That means next year they will transition from the Sun Belt Conference to the Big Sky Conference.
The Colorado State Rams (7-5 Overall, 5-3 Mountain West Conference) finished fifth in the MWC Mountain Division. The Rams went 4-1 for the team's last five, which included the SDS win and a surprise 42-23 win over UNLV.
Idaho Vandals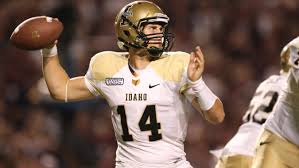 The Vandals come to the game averaging 28.3 PPG. They have 19 rushing TDs and 15 passing scores. QB Matt Linehan (61.5 COMP%, 15 TDs, 10 INTs) is not much of a rusher. Primarily a passing QB, expect him to throw to his TEs Deon Watson (36 REC, 555 YDs, 15.4 AVG, 2 TDs) and Trent Cowan (46 REC, 532 YDs, 11.6 AVG, 6 TDs). RBs Aaron Duckworth (139 ATT, 619 YDs, 4.5 AVG, 4 TDs) and Isaiah Sanders (126 ATT, 584 YDs, 4.6 AVG, 6 TDs) share the rushing duties.
Although the Idaho offense scores a decent number of points, their defense allows more than they should. On average, the Vandals give up 29.8 PPG, putting them just on the minus side in PF/PA. They have made 24 sacks, picked 15 passes and forced nine fumbles. The team's turnover margin is plus eight. They have also posted 63 TFL, 36 PD, and 20 QB hurries.
Colorado State Rams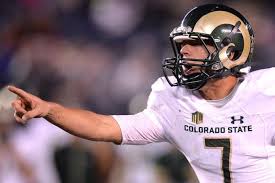 The Colorado State Rams have an offense that has gained about 2,700 yards in the air and 2,700 yards on the ground. On average they are scoring 34.1 PPG. Included are 28 rushing TDs and 24 passing. QB Nick Stevens (65.5 COMP%, 14 TDs, 3 INTs) will be looking to get his passes to the team's top receiver, wideout Michael Gallup (70 REC, 1,164 YDs, 16.6 AVG, 11 TDs). The Ram rush attack features two fine players, Dalyn Dawkins (145 ATT, 801 YDs, 5.5 AVG, 3 TDS) and Izzy Matthews (143 ATT, 704 YDs, 4.9 AVG, 12 TDs). You should expect Colorado State to mix it up quite a bit on offense in an attempt to confuse the Vandals D.
The Colorado State defense is giving up on average 27.8 PPG. That puts them at +6.3 PF/PA, which is quite a bit better than the Vandals. They bring 28 sacks, 11 FF, and 78 TFL to the game. Plus, they have 31 PD, 29 QB hurries, and 8 INTs. Their turnover margin is at plus two.
2016 Famous Idaho Potato Bowl Free Pick
The point spread for our 2016 Famous Idaho Potato Bowl free pick is at -14.5 for Colorado State. You can also get Idaho at +17.00. This is a decent arbitrage situation. For fun, we're taking both- Idaho at +17.00 and Colorado State at -14.5.
If you're unsure of how arbitrage betting works, you bet both teams with different spreads. If, as an example, the Rams win by a score of 38-22, you would win both bets. If you are going with this scheme, place three units on Colorado State at -14.5 and two on Idaho at +17.00. If you win both great, and if you lose one, you'll win a little or lose a bit. If you're making one bet, go with Colorado State at -14.5.
The 2016 Famous Idaho Potato Bowl featuring Idaho vs. Colorado State will be played Dec.22 at 7 p.m. ET at Albertsons Stadium in Boise, Idaho. The game will be on ESPN.
2016 Famous Idaho Potato Bowl Free Pick: Idaho at +17.00 and Colorado State at -14.5