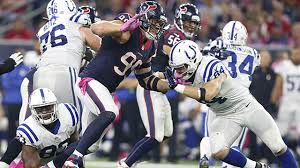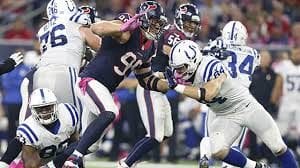 There is a lot at stake in this 2016 week 14 NFL free pick as the Houston Texans (6-6) play the Indianapolis Colts (6-6) at Lucas Oil Stadium. Houston, Indianapolis, and Tennessee are all in a virtual tie for first in the AFC South. Tennessee hosts Denver on Sunday at 1 p.m. in a game that is presently listed as even.
After starting the season with a 6-3 record, the Houston Texans have lost three straight. The Texans' last two wins were against the Lions 20-13 on Oct. 30 and the Jaguars 24-21 on Nov. 13. They then lost to Oakland 27-20, San Diego 21-13, and Green Bay 21-13.
The Colts have gone 3-2 for their last five. On Oct. 30, they lost to Kansas City 30-14. They then won two in a row, beating the Packers 31-26 and Titans 24-27. On Nov 24, Pittsburgh beat the Colts handily 28-7, and on Dec 5, after their bye-week, Indy took down the Jets 41-10.
In their first meeting this season, the Colts lost to the Texans 26-23. At this point Houston tops the division due to the fact that they hold the tiebreaker. If they lose tomorrow, however, that won't matter.
Houston Offense vs. Colts Defense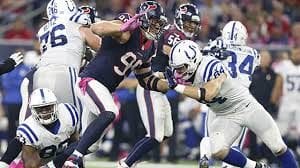 The Texans are scoring a mere 17.3 PPG. That makes them 28th in average PPG and barely ahead of the Jets, Chicago, and Cleveland. Of Houston's 330.3 YPG of offense, 121.2 YPG is on the ground. That leaves only 209.1 for the air game. It's hard to imagine the Texans winning this game on offense.
QB Brock Osweiler (59.8 COMP%, 14 TDs, 13 INTs, 22 Sacks) has been a disappointment. He's got some sound pass catchers to toss to, including DeAndre Hopkins (58 REC, 668 YDs, 11.5 AVG, 4 TDs) who has caught just one touchdown pass over the last seven games.
RB Lamar Miller (225 ATT, 903 YDs, 4.0 AVG, 3 TDs) had a solid game in the Oakland loss, running for 104 yards and scoring a touchdown. He's listed as questionable for the game. The Houston offense has suffered 13 forced fumbles and given up seven of those drops. Houston red zone scoring is 45.16%. That places them 30th in the league.
The Colt defense is allowing 25.9 PPG, placing them 25th in that category. The Colts are in the upper third of red zone defense at 52.63% (12th). Still, their stats are less than impressive as they have made 23 sacks, taken 27 TFL, and grabbed six picks. They've also forced nine fumbles and defended 44 passes. LB Eric Walden leads the team with eight sacks and two forced fumbles. CB Darius Butler has notched three interceptions, six passes defended, and one forced fumble.
Indianapolis Offense vs. Texans Defense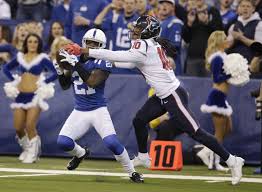 The Colts are averaging as many points on offense as they are allowing on defense, 25.9 PPG. The Indy offense is fifth in red zone scoring at 65.85%. Qb Andrew Luck (64.0 COM%, 23 TDs, 8 INTs, 36 Sacks) is a target for rushing linemen and linebackers. He's dealing with a shoulder injury and must be protected. WR T.Y. Hilton (69 REC, 1,088 YDs, 15.8 AVG, 5 TDs) is having a fine season, while TE Dwayne Allen (28 REC, 328 YDs, 11.7 AVG, 5 TDs) and WR Donte Moncrief (28 REC, 277 YDs, 9.9 AVG, 6 TDs) are extremely viable outlets. The ground game has been fairly sluggish, but Frank Gore and Robert Turbin have each had four TDs.
The Texan defense is holding teams to 21.4 PPG, which is 13th in the NFL. The loss of J.J. Watt near the start of the season has hurt this squad. The best stats on this side of the ball are 40 TFL and 46 PD. They also have 21 sacks, six picks, and seven forced fumbles. Top performers on D include LBs Benardrick McKinney (106 TCKLs, 4.0 Sacks 4 TFL, 1 FF) and Whitney Mercilus (45 TCKLs, 5.5 Sacks, 8 TFL, 1 FF), and CB A.J. Bouye (46 TCKLs, 1 Sack, 11 PD, 1 INT). Houston's red zone defense is 13th at 52.78%. That's almost equal to Indy's.
2016 Week 14 NFL Free Pick: Houston At Indianapolis
In making our 2016 week 14 NFL free pick for the Houston at Indianapolis game, we're a tad tentative due to Luck's health issue. Still, when we add up everything we see that Indy has a decided advantage. We are taking the Colts at -6.5.
2016 Week 14 NFL Free Pick: Houston At Indianapolis: Indy Colts at -6.5