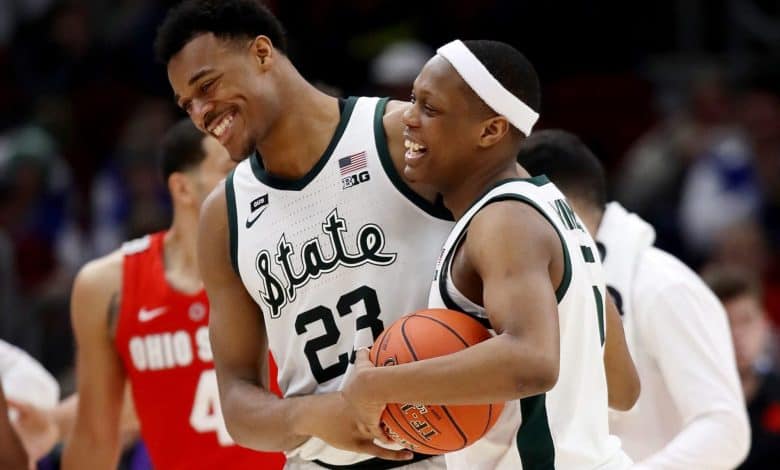 College basketball fans are in for a midweek treat when the #4 Michigan State Spartans (5-0, 1-0 away) take on the #18 Virginia Cavaliers (3-1, 2-0 home) on Wednesday night. The matchup is part of this week's ACC/Big Ten Challenge that features a team from each conference facing each other. The tip-off is set for 9:15 p.m. EST inside John Paul Jones Arena in Charlottesville, VA. Virginia is a 1.5-point favorite, according to oddsmakers.
What to Know – Michigan State Spartans
The Spartans enter undefeated after a 79-61 victory at home Sunday over in-state foe Western Michigan. Wednesday's contest will be the fourth game in nine days for the Spartans, who also own a road victory over the Duke Blue Devils this season. Michigan State is 8-12 all-time participating in the ACC/Big Ten Challenge.
Redshirt junior Joey Hauser tallied his third double-double of the season against the Broncos, scoring a game-high 24 points and grabbing 10 rebounds. The forward is averaging 14 points and 10 rebounds per game this season. Hauser will be facing his older brother Sam Hauser, who is a redshirt senior for the Cavs.
Rocket Watts scored a career-high 23 points against Detriot earlier in the season and has scored in double figures in the last four games. The sophomore guard has chipped in 4.2 assists per game.
Preseason All-Big Ten selection Aaron Henry is filling up the stat sheet early on in his junior campaign. Henry is averaging 11.6 points, 6.2 rebounds, and 5.2 assists per game.
What to Know – Virginia Cavaliers
When the Cavaliers take the floor Wednesday night, it will be against their first ranked opponent of the season. In their last time on the floor, the Cavaliers were tested at home by Kent State, who took the host to overtime before the Cavs eventually won, 71-64. Virginia is 7-2 all-time in the ACC/Big Ten Challenge when hosting and 13-7 overall.
The eldest Hauser is Virginia's leading scorer (14.5 PPG) and rebounder (6.8 RPG) to start the season. Hauser, a preseason All-ACC selection, is shooting 58.5-percent from the floor and 43.8-percent from the 3-point line. 
Forward Jay Huff chipped in a career-high 18 points and grabbed 11 rebounds last Friday against Kent State for his first double-double of the season. The redshirt senior averaged 8.5 points and 6.2 rebounds per game over 30 games last season.
Junior Trey Murphy III scored 21 points off the bench in the season-opener against Towson and followed it up with a 10-point showing against Saint Francis. Murphy is the team's third-leading scorer, averaging 10.8 points per game off the bench.
The Pick is In
The Spartans are riding on short rest, having played four games in nine days, but Michigan State has shown it can go into a challenging venue and leave with a victory.  Virginia will continue to control the clock offensively and establish their style of basketball, but the athletic lineup and veteran leadership of the Spartans will prevail.
The Pick:  Michigan State +1.5